They made the Ultimate Sacrifice
Lloyd Frederick Canavan

Stoker 1st Class, V25810, RCNVR

Born: 10 Mar 1919, Hillsvale, Hants Co., Nova Scotia

Died: 10 Feb 1942 at sea

Book of Remembrance
CANAVAN, Lloyd Frederick, Sto 1c, V25810, RCNVR, MPK - 10 Feb 1942, HMCS SPIKENARD - Son of Charles J. and Mary Viola Canavan; husband of Amy Alberta Canavan, all of Upper Newport, Nova Scotia.
Stoker Canavan survived the sinking of the Armed Merchant Cruiser HMS RAJPUTANA.
Stoker Canavan died when his ship, HMCS SPIKENARD, was torpedoed and sunk by U-136, about 465 nautical miles west of Malin Head, Ireland while escorting convoy SC-67. Of her crew of 65, there were only 8 survivors.
Ships served in:
SPECIAL SERVICE DIVISION RCNVR - Enlisted 27 Nov 1940. Commenced Active Service as a Sto 2c, RCNVR
HMCS STADACONA - Drafted to STADACONA 27 Nov 1940 as a Sto 2c, RCNVR
HMS RAJPUTANA - Drafted to RAJPUTANA 12 Feb 1941 as a Sto 2c, RCNVR. Survived the sinking of HMS RAJPUTANA on 13 Aug 1941
HMCS STADACONA - Drafted to STADACONA 26 Apr 1941 as a Sto 2c, RCNVR
HMCS VENTURE - Drafted to VENTURE 06 Jun 1941 a a Sto 2c, RCNVR
HMCS STADACONA - Drafted to STADACONA 02 Aug 1941 as a Sto 2c, RCNVR
HMCS AVALON - Drafted to AVALON 16 Aug 1941 as a Sto 2c, RCNVR
* Rated Sto 1c 22 Sep 1941
HMCS WETASKIWIN - Drafted to WETASKIWIN 19 Dec 1941 as a Sto 1c, RCNVR
HMCS AVALON II - Drafted to AVALON II 16 Jan 1942 as a Sto 1c, RCNVR
HMCS SPIKENARD - Drafted to SPIKENARD 02 Feb 1942 as a Sto 1c, RCNVR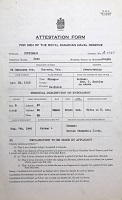 Documents from the Service File of Lloyd Canavan
---
Second World War Casualty Index