They made the Ultimate Sacrifice
Norman Jack Edwards

Stoker 1st Class, V6522, RCNVR

Born: 08 Aug 1915, Westboro (Ottawa), Ontario

Died: 10 Feb 1942 at sea

Book of Remembrance
EDWARDS, Norman Jack, Stoker 1c, V6522, RCNVR, MPK - 10 Feb 1942, HMCS SPIKENARD - Son of William B. and Mary Edwards, of Ottawa, Ontario; husband of Margaret Edwards, of Ottawa.
Stoker Edwards died when his ship, HMCS SPIKENARD, was torpedoed and sunk by U-136, about 465 nautical miles west of Malin Head, Ireland while escorting convoy SC-67. Of her crew of 65, there were only 8 survivors.
Norman Jack Edwards was born Laurentian View, (Ottawa, Ontario). Jack Edwards was better known to his friends as "Farmer" and had a wide circle of friends. He enlisted in the Navy at the Depot in Ottawa in June, 1940. On leaving school he worked as a druggist's clerk before his departure for Halifax on October 01, 1941, in the R.C.N.V.R. He was reported on February 19, 1942, as lost on HMCS Spikenard, which was sunk by enemy action. Stoker Edwards married Margaret Galt on October 28, 19941, who survives him at 200 Rosemere Ave., Ottawa, Ontario. He made his home in Ottawa before joining the service.
Ships served in:
OTTAWA DIVISION RCNVR - Enlisted 21 Jun 1940. Commenced Active Service 17 Sep 1940 as a Sto 2c, RCNVR
HMCS STADACONA - Drafted to STADACONA 02 Oct 1940 as a Sto 2c, RCNVR
HMCS SPIKENARD - Drafted to SPIKENARD 04 Dec 1940 as a Sto 2c, RCNVR
* Rated Sto 1c 17 Jun 1941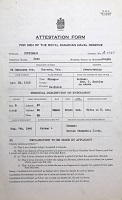 Documents from the Service File of Norman Edwards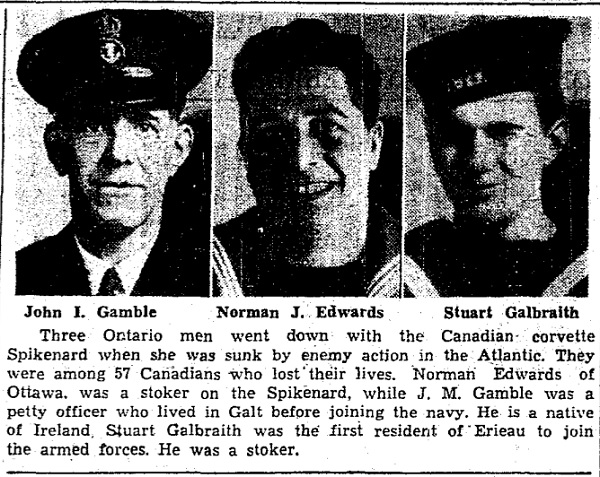 Article from the Toronto Star Feb 1942
---
Second World War Casualty Index