They made the Ultimate Sacrifice
George William Oxborough

Leading Seaman Higher Submarine Detector, 3009, RCN

Born: 05 Aug 1920, Calgary, Alberta

Died: 10 Feb 1942 at sea

Book of Remembrance
OXBOROUGH, George William LS, 3009, RCN MPK - 10 Feb 1942, HMCS SPIKENARD - Son of William Madden and Marie Oxborough, Banff, Alberta.
LS Oxborough died when his ship, HMCS SPIKENARD, was torpedoed and sunk by U-136, about 465 nautical miles west of Malin Head, Ireland while escorting convoy SC-67. Of her crew of 65, there were only 8 survivors.
George's brother, Donald Campbell Oxborough also served in the RCN.
Ships served in:
HMCS NADEN - Enlisted 12 Jul 1937 as a Boy Seaman, RCN
HMCS ST LAURENT - Drafted to ST LAURENT 22 Apr 1938 as a Boy Seaman, RCN
* Rated OS 08 May 1939
HMCS NADEN - Drafted to NADEN 05 Jul 1939 as an OS, RCN
* Rated AB 08 Aug 1939
HMS VICTORY - Drafted to VICTORY 15 Nov 1939 as an AB, RCN
HMS OSPREY - Drafted to OSPREY 12 Dec 1939 as an AB, RCN
* Rated SD 29 Jan 1940
HMCS VICTORY - Drafted to VICTORY 03 Apr 1940 as an AB, RCN
HMCS STADACONA - Drafted to STADACONA 15 Apr 1940 as an AB, RCN
* Rated HSD 10 May 1941
HMCS SKEENA - Drafted to SKEENA 17 Apr 1940 as an AB, RCN
* Rated A/LS 01 Dec 1940
HMS OSPREY - Drafted to OSPREY 07 Feb 1941 as an A/LS, RCN
HMS NIMROD - Drafted to NIMROD 16 Mar 1941 as an A/LS, RCN
HMS OSPREY - Drafted to OSPREY 10 May 1941 as an A/LS, RCN
HMCS NIOBE - Drafted to NIOBE 13 May 1941 as an A/LS, RCN
HMCS STADACONA - Drafted to STADACONA "for Ocean Passage" 21 May 1941
HMCS STADACONA - Drafted to STADACONA 11 Jun 1941 as an A/LS, RCN
HMCS AVALON - Drafted to AVALON 22 Sep 1941 as an A/LS, RCN
HMCS SPIKENARD - Drafted to SPIKENARD 30 Jan 1942 as an A/LS, RCN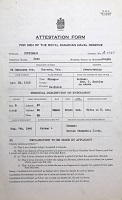 Documents from the Service File of George Oxborough
---
Second World War Casualty Index