They made the Ultimate Sacrifice
William Dawson Stephens

Able Seaman Radio Direction Finder Operator 3rd Class

V16322, RCNVR

Born: 05 Jan 1915, Saskatoon, Saskatchewan

Died: 10 Feb 1942 at sea

Book of Remembrance
STEPHENS, William Dawson, AB, V16322, RCNVR, MPK - 10 Feb 1942, HMCS SPIKENARD - Son of Percy S. and Mary E. Stephens, Saskatoon, Saskatchewan.
AB Stephens died when his ship, HMCS SPIKENARD, was torpedoed and sunk by U-136, about 465 nautical miles west of Malin Head, Ireland while escorting convoy SC-67. Of her crew of 65, there were only 8 survivors.
Leading Seaman William Dawson Stephens of Saskatoon was the son of Percy S. and Mary E. Stephens. William was born at Saskatoon and worked for the Bank of Montréal at branches in Saskatchewan, Manitoba, and at Thunder Bay, Ontario, where he enlisted on January 13, 1943 Thunder Bay, Ontario. He received his education at the elementary and High School, and City Park Collegiate in his native city. Fond of music, he was a member of the Saskatoon Boy's Band and later while in High School, belonged to the band of The Saskatoon Light Infantry. He was active in the Boy Scout movement and gave much of his time to that work, serving as a Scout Leader in the largest Troop in the city. He also played hockey with several amateur clubs and was fond of outdoor life, spending many of his holidays in the woods of northern Saskatchewan. He continued many of his interests after entering the Bank of Montréal at Saskatoon in June, 1933, and later while serving at other branches in the Province of Manitoba. He found time, to become a promising amateur photographer and to be a member of the Kinsmen Club at Fort William. Able Seaman William D. Stephens of Saskatoon is a nephew of Phillip Locke, Winnipeg barrister.
Ships served in:
PORT ARTHUR DIVISION RCNVR - Enlisted 13 Jan 1941. Commenced Active Service 30 Apr 1941 as an OS, RCNVR
HMCS STADACONA - Drafted to STADACONA 17 Jun 1941 as an OS, RCNVR
HMC SIGNAL SCHOOL - Drafted to HMC SIGNAL SCHOOL 01 Jul 1941 as an OS, RCNVR
* Rated RDF 3c 19 Jul 1941
HMCS SPIKENARD - Drafted to SPIKENARD 05 Aug 1941 as an OS, RCNVR
* Rated AB 28 Jan 1942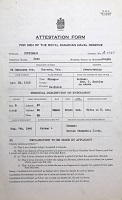 Documents from the Service File of Williams Stephens
---
Second World War Casualty Index