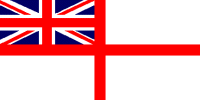 For Posterity's Sake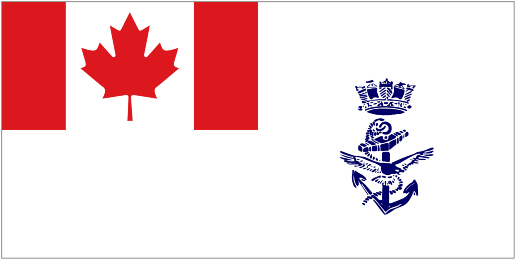 A Royal Canadian Navy Historical Project
They made the Ultimate Sacrifice
Joseph Patrick René Trudel, C.D.

Petty Officer 1st Class, 9833-H, RCN

Born: 29 Apr 1928, Cap de la Madeline, Quebec

Died: 25 Oct 1963, Levis, Quebec

Book of Remembrance
TRUDEL, Joseph Patrick René, PO1, RCN, 9833-H, RCN, killed - 25 Oct 1963, HMCS PROVIDER
Naval Man Victim of Fatality
Tuesday, October 29, 1963, Halifax Mail-Star, Page 1
Quebec (CP) - A crew member of HMCS PROVIDER who died last Friday in an accident on the ship at nearby Lauzon was identified Monday as Petty Officer Rene Trudel, 35, of Halifax. Petty Officer Trudel, originally of Montmagny, Que., died after being struck by the crank of a windlass. The PROVIDER, largest naval vessel ever built in Canada, recently was commissioned as a supply vessel and will be based in Halifax. Trudel leaves a wife, Huberie, and two children, aged four and eight months, who live on Elm Street, Halifax. A Naval information officer said today that Trudel died in hospital at Levis, Quebec, on Friday, after being struck on the head by the handle of a boat davit. His family is staying temporarily at Moncton where the funeral will take place later this week.
Summary from BOI report: PO1 R.P.J. Trudel, 9833-H, was presumably killed when he inadvertently left the handle shipped for manually raising the whaler at the starboard after davit, then started the electric motor to raise the boat to the davit head. The handle appeared to have struck several blows, inflicting fatal injuries. PO1 Trudel was on duty at the time of his death. His death was ruled accidental by the civilian coroner. The death of PO1 Rene P.J. Trudel was attributable to military service.
* note: while PO1 Trudel's death was attributable to military service, he was not added to the Book of Remembrance until 2019 and that was after queries were made by his daughter and several retired sailors about his omission from the Books of Remembrance.
The death of PO1 Trudel - submitted by Gerry Denouden: "PO Trudel was duty PO that evening I was duty also. I was in the whaler as crew with PO2 Vogely as boat cox'n doing the arc of visibility of Nav Lights. When we returned the falls were short of hooking on. We hollered to the ship and PO Trudel answered as he was on duty and was in the brow area. We hollered we needed hoisted and needed some slack. These falls are gravity fed so lifting the brake would not give slack, what needed to be done was put the crank on the winch and crank out some slack. In the mean time a boat (I think) wave lifted the whaler enough to hook on. Boat Cox'n hollered '' Hooked on - hoist away'' and at that time PO Trudel pushed the power button and hoisted the boat. He left the crank on the winch. The boat was slowly going up we heard a lot of banging noises from the boat deck. I jumped out and ran up from the tank deck to the boat deck. A person can do that faster then the hoist. I stopped the boat at boat deck level and saw PO Trudel on the deck. Seconds later other arrived and also the ships "Doc". It was too late.... RIP PO Trudel"
Ships served in:
(RT01) Portrait of René Trudel
(RT02) PO Trudel on HMCS PROVIDER
(RT03) PO Trudel, location unknown
(RT04) Newspaper articles on the death and funeral of PO1 René Trudel
(RT05) Article from the Halifax Mail-Star, 29 Oct 1963, on the death of PO Trudel
(RT06 - RT07) Memorial for PO1 Trudel
(RT08) VAC headstone for PO1 Rene Trudel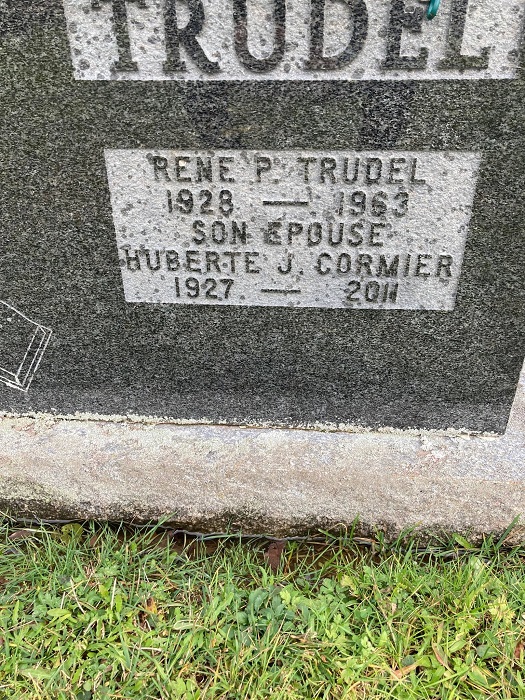 (RT09) Headstone for Rene Trudel
---
In Service of Canada - RCN Peacetime Casualty Index