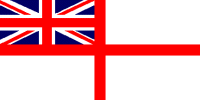 For Posterity's Sake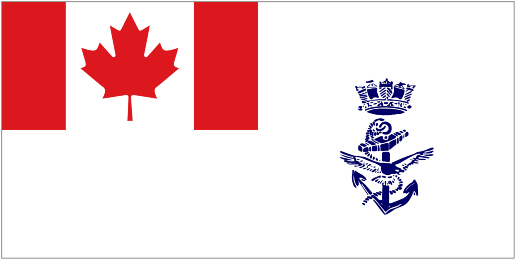 A Royal Canadian Navy Historical Project
They made the Ultimate Sacrifice
Edgar Edward (Eddie) Bieber

Sto PO, V9844, RCNVR

Born: 13 Nov 1916, Winnipeg, Manitoba

Died: 29 Apr 1944 at sea

Book of Remembrance
BIEBER, Edgar Edward (Eddie), Sto PO, V9844, RCNVR, MPK - 29 Apr 1944, HMCS ATHABASKAN - Son of Andrew Phillip and of Caroline Bieber, of Winnipeg, MB.
Sto PO Bieber died when his ship, HMCS ATHABASKAN G07, was sunk in the English Channel on April 29, 1944. The province of Manitoba honoured Petty Officer Stoker Bieber by naming Bieber River in his honour.
Stoker Petty Officer E. E. Bieber was born in Winnipeg and attended Ralph Brown Machray and St. John's Schools and prior to enlistment in June 1940 was employed at the Federal Cold Storage as assistant engineer. Besides his mother he is survived by three sisters, Hazel, Ruth and Wilma, at home and three brothers, Carl, with the R.C.N.V.R. at Sydney, Nova Scotia and Harold with the R.C.A.F. at White House, Yukon Territory and Norman at home.
Ships served in:
WINNIPEG DIVISION RCNVR - Enlisted 22 May 1940. Commenced Active Service 22 May 1940 as a Stoker 2nd Class, RCNVR
HMCS NADEN - Drafted to NADEN 15 Jun 1940 as a Sto 2c, RCNVR
HMCS PRINCE ROBERT - Drafted to PRINCE ROBERT 09 Oct 1940 as a Sto 2c, RCNVR
HMCS NADEN - Drafted to NADEN 17 Apr 1941 as a Sto 2c, RCNVR
HMCS ROYAL ROADS - Drafted to ROYAL ROADS 18 Apr 1941 as a Sto 2c, RCNVR
* Rated Sto 1c 22 Feb 1941
HMCS NADEN - Drafted to NADEN 06 Oct 1941 as a Sto 1c, RCNVR
HMCS OUTARDE - Drafted to OUTARDE 04 Dec 1941 as a Sto 1c, RCNVR
HMCS NADEN - Drafted to NADEN 17 Dec 1941 as a Sto 1c, RCNVR
HMCS STADACONA - Drafted to STADACONA 11 Jan 1942 as a Sto 1c, RCNVR
* Rated A/L/Sto 01 Apr 1942
HMCS MONCTON - Served in MONCTON 23 Apr 1942 - 15 Jun 1942 as an A/L/Sto, RCNVR
HMCS STADACONA - Drafted to STADACONA 16 Jun 1942 as an A/L/Sto, RCNVR
HMCS HOCHELAGA - Drafted to HOCHELAGA 05 Aug 1942 as an A/L/Sto, RCNVR
HMCS SARNIA - Drafted to SARNIA 14 Aug 1942 as an A/L/Sto, RCNVR
HMCS STADACONA - Drafted to STADACONA 10 Sep 1942 as an A/L/Sto, RCNVR
HMCS NIOBE - Drafted to NIOBE 28 Oct 1942 as an A/L/Sto, RCNVR
HMCS ATHABASKAN - Drafted to ATHABASKAN 04 Feb 1943 as an A/L/Sto, RCNVR
* Rated L/Sto 01 Apr 1943
* Rated A/Sto PO 15 May 1943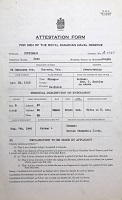 Documents from the Service File of Edward Bieber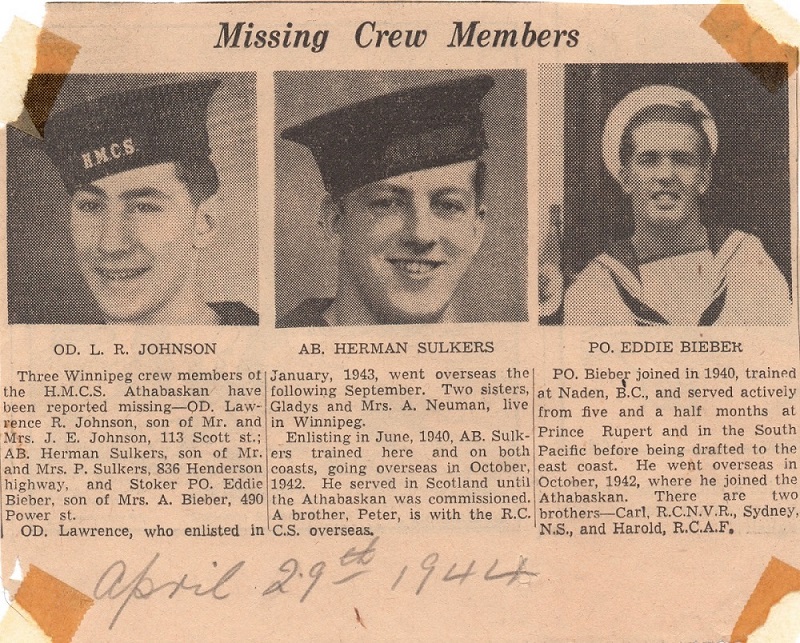 ---
Second World War Casualty Index