Ships served in:
HMCS CORNWALLIS - Served in CORNWALLIS for training 02 Jun 1943 - 02 Jul 1943 as a Prob. SLt, RCNVR
HMCS KINGS - Served in KINGS for training 03 Jul 1943 - 02 Oct 1943 as a Prob. SLt, RCNVR. Note: his record of pay shows he was at KINGS until 03 Oct 1943
HMCS KENORA - Served in KENORA from 04 Oct 1943 - 07 Feb 1945 as a SLt and A/Lt, RCNVR
HMS LISCOMB - Appointed to LISCOMB 08 Feb 1945
HMCS RESTIGOUCHE - Served in RESTIGOUCHE after VE-day when she was ferrying troops back to Canada
* Appointment Terminated (Demobilized) 02 Jan 1946 as an A/Lt, RCN(R) (Navy List Apr 1946)
HMCS STAR (Retired List) - as a Lt, RCN(R) (seniority 25 Aug 1948) (Navy List Jul 1952)
* Last noted on the Retired List at HMCS STAR as a Lt, RCN(R) (Navy List Jan 1960)
---
Service Documents
(AB00a - AG00b) A letter requesting Alexander Gow report in for an interview to discuss commencement of active service and a letter giving a date of 17 Dec 1942 for commencement of Active Service
(AG00c) Statement of pay as a Prob. SLt (AG00d) Flimsy for HMCS CORNWALLIS (AG00e) Flimsy for HMCS KINGS 03 Jul 1943 - 02 Oct 1943 (AG00f) Promotion to A/Lt, RCNVR effective 24 May 1944 (AG00g) Flimsy for HMCS KENORA 04 OCT 1943 - 07 FEB 1945
---
Photos
(AG01) SLt Alexander Murray Gow on HMCS KENORA (AG02) Lt, Douglas Wilson Lowe, CO, HMCS KENORA (AG03) Officers on HMCS KENORA L-R: Jack Morgan, Johnny Steedman, Lt Doug Lowe, CO, Alexander Gow, Dave Stevens and Andrew (Scotty) Scott
Up Spirits on HMCS KENORA J281
Alexander Gow can be seen in photos AG04-AG07 in the white dress shirt with sleeves rolled up.
---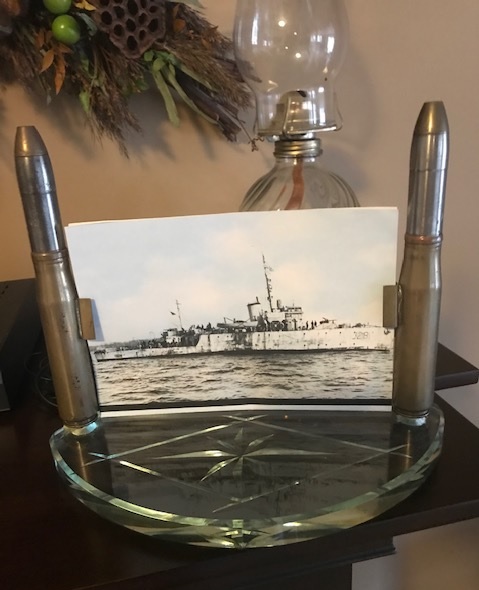 Photograph holder that Alexander Gow had made from a piece of a broken bridge window and two Oerlikon shells from HMCS KENORA
Courtesy of Doug Gow
---