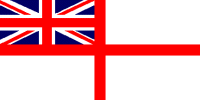 For Posterity's Sake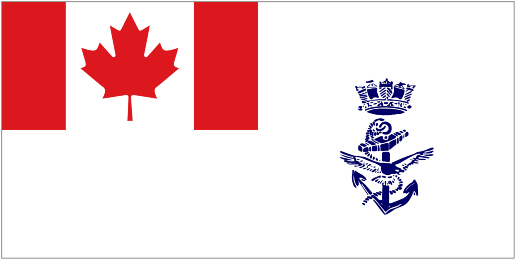 A Royal Canadian Navy Historical Project
In memory of those who have Crossed the Bar
John Ronald (Jack) Gorman

RCN / C.A.F.

Born: 16 Feb 1939 Died: 09 Mar 2019
GORMAN, John Ronald (Jack), RCN / C.A.F. (16 Feb 1939 - 09 Mar 2019) - In one of the darkest moments of our lives, we the wife and sons of Jack cannot find the appropriate words to express our deepest sorrow for the loss of a dear husband, father, grandfather and great grandfather. Jack passed away peacefully surrounded by his family, from complications due to a long battle with Non-Hodgkin Lymphoma which he kept at bay for many years due to his strong will.
Jack was the son of the late Harold and Eleanor (Roy) Gorman. Jack had a strong work ethic and was gainfully employed from the age of 17 to 79. He joined the Navy in 1956 in which he served honourably and with great passion. Jack was very proud of his three sons, John, Darin and Blair who all served in the Canadian armed Forces. Jack served on many ships during his 23 years in the Navy and loved going to sea which enabled him to see and experience many places around the world. He was equally very happy to return to his home port and his family. In 1974 Jack spent 6 months serving alongside the Air Borne Regiment in Cyprus. Jack retired in 1978 and went to the Canadian Coast Guard. Following his time there he went to the Oil Rigs.
In 1987 Jack and Diane moved to Florida for 14 years where they met many wonderful people who became lifelong friends. A special family came into their lives and made life very happy for them. The Carlyn family became our family when we were far away from our own family. We will be forever thankful for all their help and love. Jack loved to play golf during his years in Florida and in his younger years. He belonged to Avon Valley Golf Club. He eagerly waited for his family from Nova Scotia to visit in Florida so he could take his grand-kids to Disney World. Jack loved to make lawn ornaments in his spare time and spent many hours painting them. He also loved oil painting on Canvas. Jack was known for being very neat and tidy and a perfectionist in everything he did. Jack also loved to travel with Diane. He wasn't much for making plans himself but never turned down the chance to go especially if his sister-in-law Janice and husband Neil called to suggest a trip. He'd say where and when, that's all it took. The last trip on his bucket list was Las Vegas, a wonderful end of seeing many great places. After his return from Florida he joined the Commissionaires retiring in May 2018, due to ill health, after serving 17 years.
Jack is survived by Diane (Clark) his wife of 58 years; sons John (Cathy), Darin (Annie), Blair (Christa). Grandchildren who he loved very much and was very proud of: Christopher (Tuyet), Jared (Lindsey), Julia (Taylor), Alexander (Ashley), Jessica (Kolton), Nicole and D.J. Great grandchildren Cassandra and Liam; Sisters Geraldine Bagnell (Ont.), Barbara Smith (NB), Joan Pierce (Calgary), Veronica Wagner(Halifax), brother Bill (Halifax), Many nieces and nephews. In-laws Wayne & Rita Clark, Mike & Barb Clark, Paulette & Frank Bishop, Janice Clark & Neil Bosch, Marina Gorman and Madeline Lane. Also the Carlyn's "his American family", Lewis, Tammy, Cody, Serena (Drew & Jameson), Breana ( Justin & Jayden). Predeceased by his parents Harold & Eleanor; brothers Harold, Leo, Tom, Ed; Sisters Shirley Huntley, Sharon Thomas, father and mother in-law Fred and Margaret Clark; brother-in-law Barry Clark. Jack will be loved eternally and never forgotten by all his family.
The family is grateful to Dr. Hasagawa, Dr. Humphrey, Palliative Care, Home Care, and Veteran's Affairs for all their help in making Jack's last weeks as peaceful as possible.
Funeral Service will be held 2 PM, Friday, March 15th in J. A. Snow Funeral Home, 339 Lacewood Dr., Halifax with a reception following. Visitation is 1 hour before Funeral Service. Family burial to take place at a later date. In lieu of flowers donations may be made to the Cancer Society or a charity of your choice. (Halifax Today 12 Mar 2019)
Ships served in: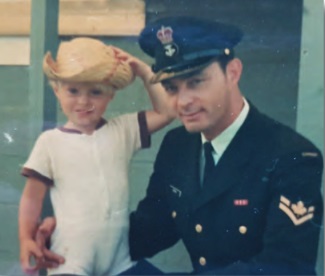 John (Jack) Gorman with his son Blair
Source: RCL Veteran's Service Recognition Book, Nova Scotia / Nunavut Command, Vol 15
---