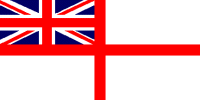 For Posterity's Sake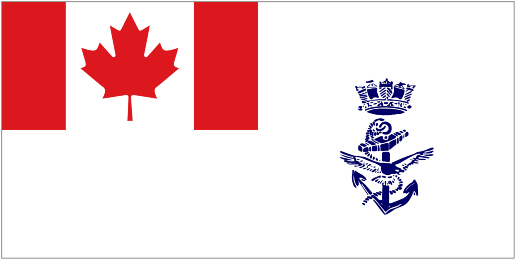 A Royal Canadian Navy Historical Project
In memory of those who have Crossed the Bar
DOWDALL, Francis Theodore (Frank) - Passed away suddenly, yet peacefully in Perth Hospital, Ontario, on December 18, 2019 in his 90th year. Born on May 15, 1930, Frank was the son of Frank and Carmel Dowdall of Sharbot Lake, Ont. At 18 he joined the Royal Canadian Navy and served his country for 29 years. He spent most of his time in Naval Air serving at HMCS Shearwater, onboard the aircraft carriers HMCS Magnificent and HMCS Bonaventure and at Maritime Command in Halifax. In 1992, after 13 years with the Public Service, he retired and moved back to Sharbot Lake, after an absence of 42 years. He was predeceased by his parents; younger brother, Ronnie; younger sister, Gwendolyn; and Barbara (Allen), the mother of daughters Debbie and Brandy.
Frank arrived at HMCS Stadacona on November 11, 1948 after completing basic training at HMCS Naden in Victoria. He moved to HMCS Shearwater April 2, 1951 and was trained as an Aircraft Instrument and Electrical Technician. During his years at Shearwater he worked on Seafuries at 871 Squadron, Banshees at 870 Squadron, Trackers and Seakings at VX10 Squadron and at the Base Electrical Shop. On April 15, 1966 Frank was commissioned from the ranks and posted to Shearwater as Base Avionics Electrical Officer. On May 15, 1967 he was posted to VS880 as Squadron Electrical Officer and went on to become Squadron Aircraft Maintenance Officer. In 1972 Frank decided to get involved in the world of computers. After programmer training, he was posted to NDHQ at the DND Computer Centre in Tunney's Pasture where he worked on the development of the automated Canadian Forces Supply System. On October 28, 1974 he was posted back to Halifax to MARCOM (Air) as Staff Officer Instrument and Electrical. On September 1, 1976 he moved to MARCOM Computer Systems and retired from the Canadian Forces on November 3, 1978, however, continued to work in Computer Systems as a CS member of the Public Service in MARCOM and then NDHQ.
Francis will be deeply missed by his best friend, companion and devoted spouse Frona Brash with whom he spent many years of enjoyable retirement. Dear father of Debbie MacNeil (Frank) and Brandy Dowdall. Cherished Dad to Jean Paul Dowdall, Janice Kellar (David), Michael Brash (Keena) and Jamie Brash (Sandra). Greatly missed by treasured grandchildren, Allison, Andrew, and Ashley (Josh) MacNeil and Sam Weinberg; and great-granddaughters, Addison and Jade. Loving "grandpa Francis" to Ben Kellar (Stephanie), Cortney Prentice (Jeff), Ashley Gray (Joel), Carlye and Matthew Brash; and great-grandchildren, Parker, Cole, Owen, Olivia, Aria, Emmerson, Chloe, Ava, Ashton and Liam. Frank will be sadly missed but never forgotten by his sister, Vi Cureston; and brother, Paul (Pat); his nephews and nieces and many friends in Toronto and Spider Lake Road, Waverley. Cremation has taken place and family and friends attended a Celebration of Life on December 21st in Parham, Ont., followed by a reception at Sharbot Lake Country Inn. Should you wish, donations in memory of Frank Dowdall can be made to Shearwater Aviation Museum Foundation, 12 Wing, PO Box 99000/ Stn Forces, Halifax, NS B3K 5X5 or charity of choice. As per Frank's wishes, the family will have an intimate celebration of his life at his favourite Nova Scotia beach when the fine weather returns.
Frank served in the Royal Canadian Navy/Canadian Forces 1948 - 1953 and 1955 - 1978 - retiring on 03 Nov 1978.
Ships served in:
"Prangs on the Maggie" circa 1949
These photos show the dangers of landing on an aircraft carrier
(FD01) A Firefly and Crane encounter
"Prangs on the Maggie" circa 1949
"I spent 29 years in the RCN/CF with all of my sea time on MAGNIFICENT and BONAVENTURE. I spent several months on Maggie as the crane operator during flying stations. My crane was hit twice on the same day and as a result I could no longer stay in the crane during aircraft recovery but had to stay in a position aft of the crane ready to operate it if necessary. To my knowledge, I was the last crane operator on Maggie to remain in the crane during recovery. I am not sure what the policy was on Bonnie. The angled deck on Bonnie made it less likely to be hit by an aircraft on recovery."
(FD09) Maggie's electrician enjoying a beer at the PX in Guantanamo Bay - Nov 1949 // (L-R) Harry Abbott, Frank Dowdall, Bucky Cannon, 'Bish' Bishop, Jack (John) Sproxton and Don Fredette
(FD10) Funeral service on board HMCS MAGNIFICENT for Lt. Peever - 18 Feb 1950 // Lt. Peever was killed while making a free launch in a Firefly enroute to Charleston SC
(FD11) "Maggie's crash crew ham it up" - June 1952 // (L-R) Frank Dowdall, Bob (Suds) Sutherland, Dick Jamer and Mick Owens
(FD12) Working on Maggie's flight deck in rough weather - 1953
(FD13) HMCS MAGNIFICENT visiting Havana, Cuba - Mar 1950
(FD14) (FD16) Then - 1949 and Now - 2011 - The top photo is cropped from Best Mess photo, Bermuda, Nov 1949. The young sailors are Lyal Anderson, Frank Dowdall, Vaughn Raeside and Jack Cribb. I (Frank Dowdall) have kept in touch with these three former messmates for 60 + years and in Sep 2011 my wife and I flew to Vancouver to have our own reunion. The bottom photo shows the four of us in the same positions left to right as in the original photo taken in 1949.
(FD15) HMCS MAGNIFICENT, Rotterdam, Mar 1950 - "A group of us were on a catamaran waiting to go ashore and catch a bus to Nijmegen War Cemetery when a canal barge narrowly missed us and hit the Captains Barge. I am not sure if it actually hit the Maggie. At any rate, it was the end of our bus tour."
(FD16) HMCS MAGNIFICENT, Gibraltar, 06 Nov 1950 - Offloading a sailor with appendicitis to a hospital in Gibraltar with the ships crane. Frank Dowdall was the crane operator
(FD17) HMCS MAGNIFICENT'S Christmas day menu for 1949
(FD18) HMCS MICMAC 214 refueling from HMCS MAGNIFICENT. Francis Dowdall was a crane operator during this refueling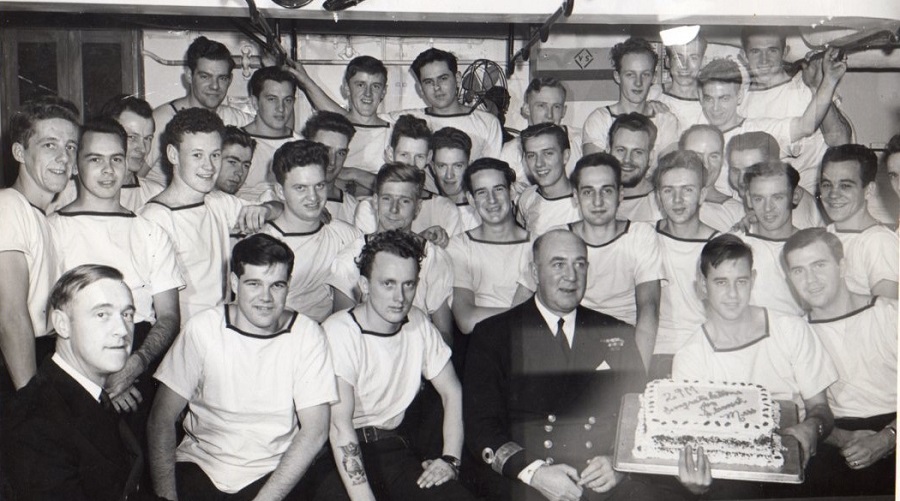 (FD19) HMCS MAGNIFICENT, Friday Rounds, Best Mess - M29 Mess, Bermuda, Nov 1949
Click here to view the back of the photo
Front Row (L-R) Cmdr Boulton, "Ollie" Carlson, Jack Webb, Commodore Adams, George Fry, "Dan" Dandeno
2nd Row (L-R) "Andy" Anderson, Frank Dowdall, John Cribb, Jim Leclair, Jim Power, "Pat" Pattison, Brill Bruce, "Frenchy" Renaude, Nodwell, Jean-Guy LaPlante, Carl Jarvis
3rd Row (L-R) Vaugn Raeside, "Cop" Copping, "Mac" McKelvie, "Bones" Mattatall, "Mac" McArthur, John Radburn, Merv Pipe, Jim Glover, "Doc" Watson
4th Row (L-R) Bernie Kynaston, Avard Murphy, "Dunc" Duncan, Henry Janicki, Jim Holden, "Rick" Braithwaite, Orville Boicey
2 guys in rear-right (L-R) "Don" Fredette, Jack (John) Sproxton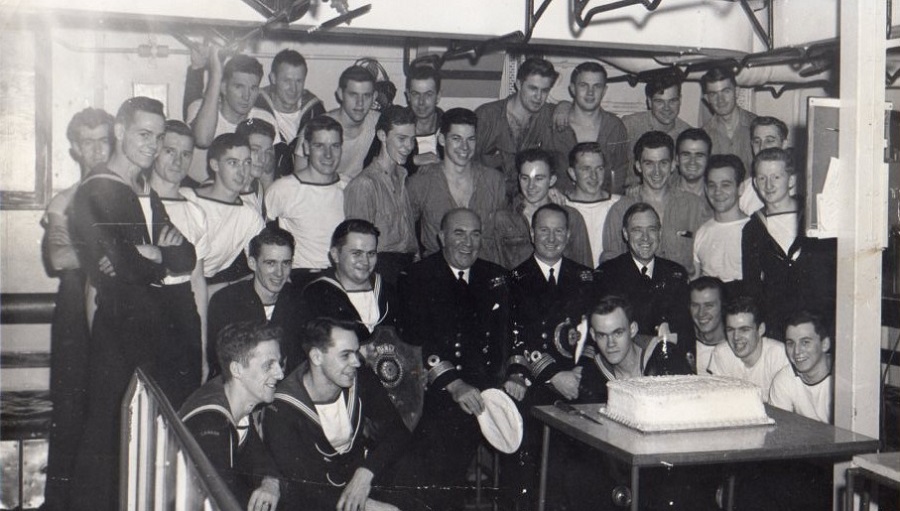 (FD20) HMCS MAGNIFICENT, Friday Rounds, Best Mess - circa 1950
Click here to view the back of the photo
Kneeling in Front (L-R) - "Andy" Anderson, Frank "Paco" Dowdall
Front Row (L-R) "Skip" Mathewson, Carl Jarvis, "Doc" Watson, Commodore Adams, Commander "Bulb" Burchell, Commander Boulton, "Chas" Donkin, "Slip" Radburn, "Gabby" Reynolds, Fritz Wood
2nd Row (L-R) - "Cop" Copping, "Mitch" Mitchell, Paul Coade, "Alice" Gibson, Graham Currie, "Mus" Muschamp, Harry Abbott, "Shep" Sheppard, Keith Watts, Harvey Ayres, "Dick" Dickenson, Jean Guy LaPlante, "Red" Easton
3rd Row (L-R) - Jack (John) Sproxton, Vaughn Raeside, Huntley Heard, "Mac" McLlelland, Jim Frost, Boyd Bishop, "Ollie" Carlson, Harry Bryan, Bob Foster
---