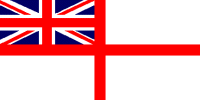 For Posterity's Sake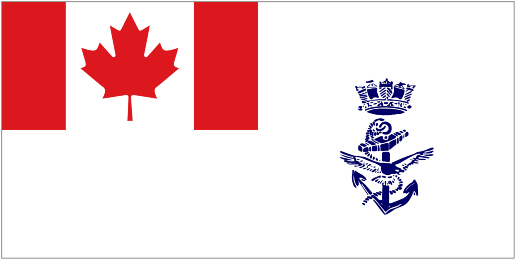 A Royal Canadian Navy Historical Project
In memory of those who have Crossed the Bar
Michael Anthony Ryan, C.D.

Petty Officer 2nd Class, Electrician, C.A.F. (Navy)

Born: 24 Sep 1952, Corner Brook, Newfoundland

Died: 25 Feb 2020
RYAN, Michael Anthony - age 67. It is with heavy hearts and extreme sadness that the family of Michael Anthony Ryan of Hubley announces his sudden passing on February 25, 2020. Michael was born on September 24, 1952 in Corner Brook, N.L. He was the eldest child of the late William and Dorothy Ryan. Michael served in the Royal Canadian Navy from 1977 to 2007, mainly as a Submariner on the Oberon-Class Submarines. Michael was known as an "electrical genius" by his shipmates as Michael could "MacGyver" any electrical concern to get the ship and the crew back to port safely. Michael's true passion was British motorcycles and muscle cars. He was the "go to" man when his many motorcycle enthusiast friends needed help fine tuning their vehicles. Michael was predeceased by both his parents, William and Dorothy Ryan; infant sister, Elizabeth. Michael leaves behind to mourn, brothers, William (Gertrude), John (Isolde) and Ted; sister, Jean (Allan); and numerous nieces and nephews. Arrangements and cremation are under care of T.J. Tracey Cremation and Burial Specialists, 71 McQuade Lake Cres., Halifax, (902)-835-4212. A celebration of Michael's life will be held at a later date in the summer. In lieu of flowers, donations can be made to Diabetes Canada.
Mike enlisted in the C.A.F. (Navy) at the CF Recruiting Centre St. John's det Corner Brook, Newfoundland on 11 Jul 1977. He commenced basic training at CFRC Cornwallis (CFB Cornwallis) on 22 Jul 1977. Mike took his release on 05 Aug 1979 and re-enlisted on 13 Mar 1980. He served until his retirement on 01 Mar 2007.
Mike served for a total of 30 yrs, 111 days.
Ships served in:
HMCS OKANAGAN - Served in Okanagan 28 Apr 1978 - 27 Jun 1978
HMCS ONONDAGA - Served in Onondaga 27 Jun 1978 - 26 Jul 1979
HMCS ONONDAGA - Served in Onondaga 20 May 1980 - 18 Jan 1982
HMCS OJIBWA - Served in Ojibwa 18 Jan 1982 - 31 Mar 1982
HMCS OJIBWA - Served in Ojibwa 22 Nov 1982 - 19 Dec 1983
HMCS GATINEAU - Served in Gatineau 10 Jan 1985 - 10 Jan 1986
HMCS MACKENZIE - Served in Mackenzie 10 Jan 1986 - 02 Jun 1986
HMCS QU'APPELLE - Served in Qu'Appelle 02 Jun 1986 - 17 Jul 1987
HMCS OJIBWA - Served in Ojibwa 08 Jan 1988 - 08 Jan 1988 - 12 Jan 1990
HMCS ONONDAGA - Served in Onondaga 01 Feb 1988 - 20 Apr 1988 (Attached posted to Onondaga while posted to Ojibwa)
HMCS ONONDAGA - Served in Onondaga - 06 Dec 1988 - 12 Jan 1990 (Attached posted to Onondaga while posted to Ojibwa)
HMCS CORMORANT - Served in Cormorant 24 Jan 1990 - 20 Mar 1990 (Attached posted to Cormorant while serving in FMG(A))
HMCS CORMORANT - Served in Cormorant 20 Mar 1990 - 28 Aug 1992
HMCS ATHABASKAN - Served in Athabaskan 06 Jan 1995 - 15 Jul 1997
HMCS ATHABASKAN - Served in Athabaskan 01 Apr 1999 - 16 Oct 2003
HMCS SUMMERSIDE - Served in Summerside 16 Jun 2006 - 22 Jun 2006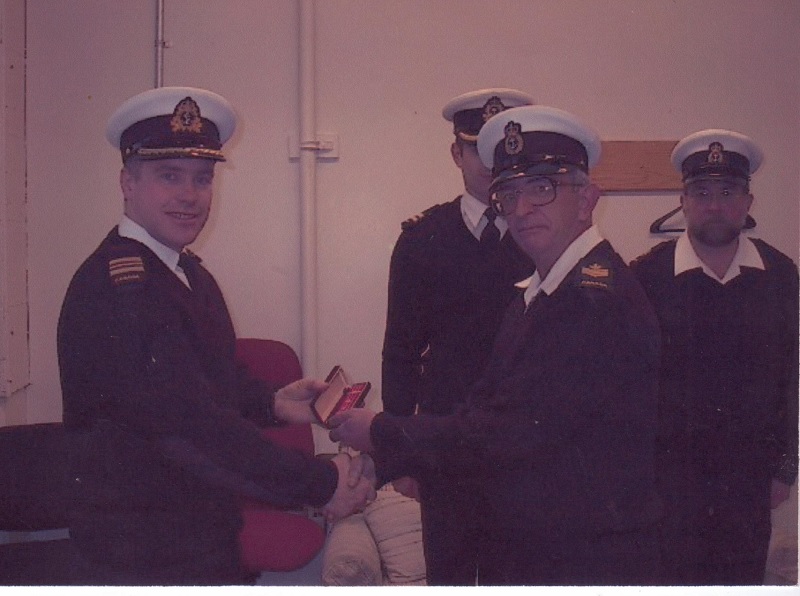 PO2 Mike Ryan receiving the clasp for his CD (22 years meritorious service)
Courtesy of Ted Ryan
---