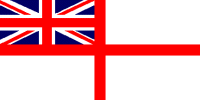 For Posterity's Sake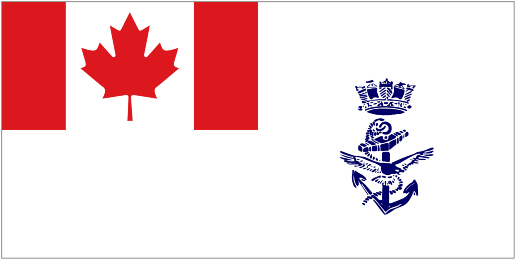 A Royal Canadian Navy Historical Project
In memory of those who have Crossed the Bar
Herbert Russel Knight, M.I.D.

Leading Seaman, V19140, RCNVR

Born: 08 Oct 1920, Cottom, Essex, Ontario

Died: 16 Apr 1945 at sea

Book of Remembrance
KNIGHT, Herbert Russel, M.I.D., LS, V19140, RCNVR, killed - 16 Apr 1945, HMCS ESQUIMALT - Son of Thory and Linnie Knight; husband of Louise Knight, and father of Herbert James Knight (born 02 May 1945) all of Leamington, ON.
LS Knight died when his ship, HMCS ESQUIMALT, was torpedoed and sunk by U-190 off the approaches to Halifax harbour. His body was recovered and he was buried in the Evergreen Memorial Park, Leamington, Ontario.
LS Knight was originally qualified as a Submarine Detector (SD). In Jan 1944 he was re-mustered to the Seaman Division. LS Knight is buried in the Evergreen Memorial Park Cemetery, Leamington, ON. Knight Lake (see map below) in Eastern ON, located about 30 minutes northwest of Atikokan, ON on highway 622 was named in honour of LS Herbert Knight
---
Citation for Mentioned in Despatches:
KNIGHT, Herbert Russell, Leading Seaman, V19140, Mentioned in Despatches (Posthumous), RCNVR, HMCS ESQUIMALT - Awarded as per Canada Gazette of 5 January 1946 and London Gazette of 1 January 1946.
"After the torpedoing of HMCS Esquimalt, Leading Seaman Knight found himself on a carley float which was overcrowded and without hesitation swam to another. Later, he re-entered the water and took a leading part in getting two of the floats secured together. His subsequent death is believed to have been partly due to these exertions and the additional time in the water. His bravery, resource and devotion to duty were in keeping with the high standards of the Canadian Naval Service."
** Note: The actual citation reads "Robert Russel Knight". It has been corrected here in order to pay proper respects to LS Herbert R. Knight.
---
Ships served in:
WINDSOR DIVISION RCNVR - Enlisted 01 Oct 1949. Commenced active service 03 Nov 1940
HMCS STADACONA - Drafted to STADACONA 19 Nov 1940 as a OS, RCNVR
* Rated SD 03 May 1941
HMCS HOCHELAGA - Drafted to HOCHELAGA 06 May 1941 as an OS, RCNVR
HMCS BADDECK - Drafted to BADDECK 18 May 1941 as an OS, RCNVR. Commissioning crew
HMCS STADACONA - Drafted to STADACONA 10 Aug 1941 as an OS, RCNVR
HMCS ANNAPOLIS - Drafted to ANNAPOLIS 19 Aug 1941 as an OS, RCNVR
* Rated AB 04 Nov 1941
HMCS HOCHELAGA II - Drafted to HOCHELAGA II 14 Jun 1942 as an AB, RCNVR
ML Q075 - Drafted to Q075 23 Jun 1942 as an AB, RCNVR
HMCS STADACONA - Drafted to STADACONA 02 Dec 1942 as an AB, RCNVR
HMCS PROTECTOR - Drafted to PROTECTOR 04 Dec 1942 as an AB, RCNVR
ML Q053 - Drafted to Q053 05 Dec 1942 as an AB, RCNVR
HMCS STADACONA - Drafted to STADACONA 05 Feb 1943 as an AB, RCNVR
HMCS SWIFT CURRENT - Served in Swift Current 13 Feb 1943 as an AB, RCNVR
HMCS STADACONA - Drafted to STADACONA 25 May 1943 as an AB, RCNVR
HMCS CORNWALLIS - Drafted to CORNWALLIS 06 Aug 1943 as an AB, RCNVR
HMCS STADACONA - Drafted to STADACONA 31 Aug 1943 as an AB, RCNVR
HMCS HOCHELAGA II - Drafted to HOCHELAGA II 09 Sep 1943 as an AB, RCNVR
HMCS ATHOLL - Drafted to ATHOLL 14 Oct 1943 as an AB, RCNVR
* Rated A/LS 15 Jan 1944
* SD cancelled. Transferred to Seaman branch
HMCS AVALON - Drafted to AVALON 23 May 1944 as an A/LS, RCNVR
HMCS ESQUIMALT - Drafted to Esquimalt 25 May 1944 as an AB, RCNVR
* Rated LS 15 Jan 1945
(HK01) OS Herbert Knight
(HK02) Documents from the Service File of Herbert Knight
(HK03) Article from the Leamington Post on the funeral for LS Knight - 26 Apr 1945
(HK04) Article from the Leamington Post on Herbert Knight being awarded M.I.D - 14 Feb 1946
(HK05) Article on LS Knight's actions when HMCS ESQUIMALT was sunk - Toronto Star - 10 May 1945
(HK06) Newspaper article on the sinking of HMCS ESQUIMALT by U-190
(HK07) Newspaper article U-190's pending demise as a target ship - The Windsor Daily Star 17 Jul 1947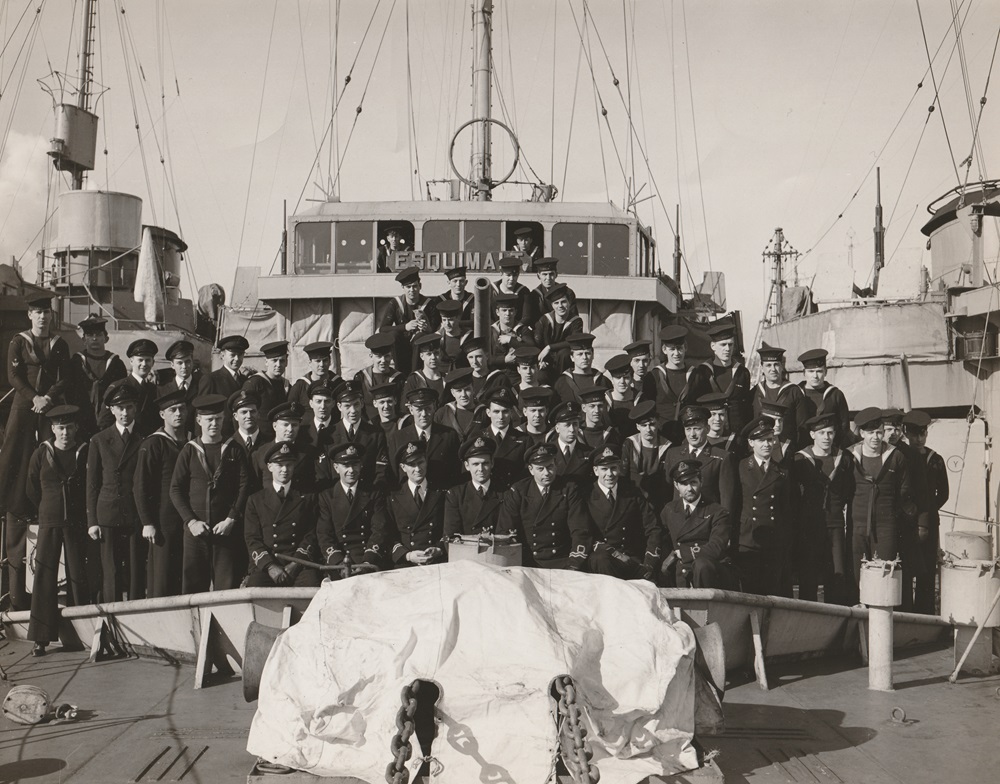 HMCS ESQUIMALT J272
Ship's Company photo - Halifax, March 1945
This photo is also posted on the Ship's Company Photo page for HMCS ESQUIMALT
---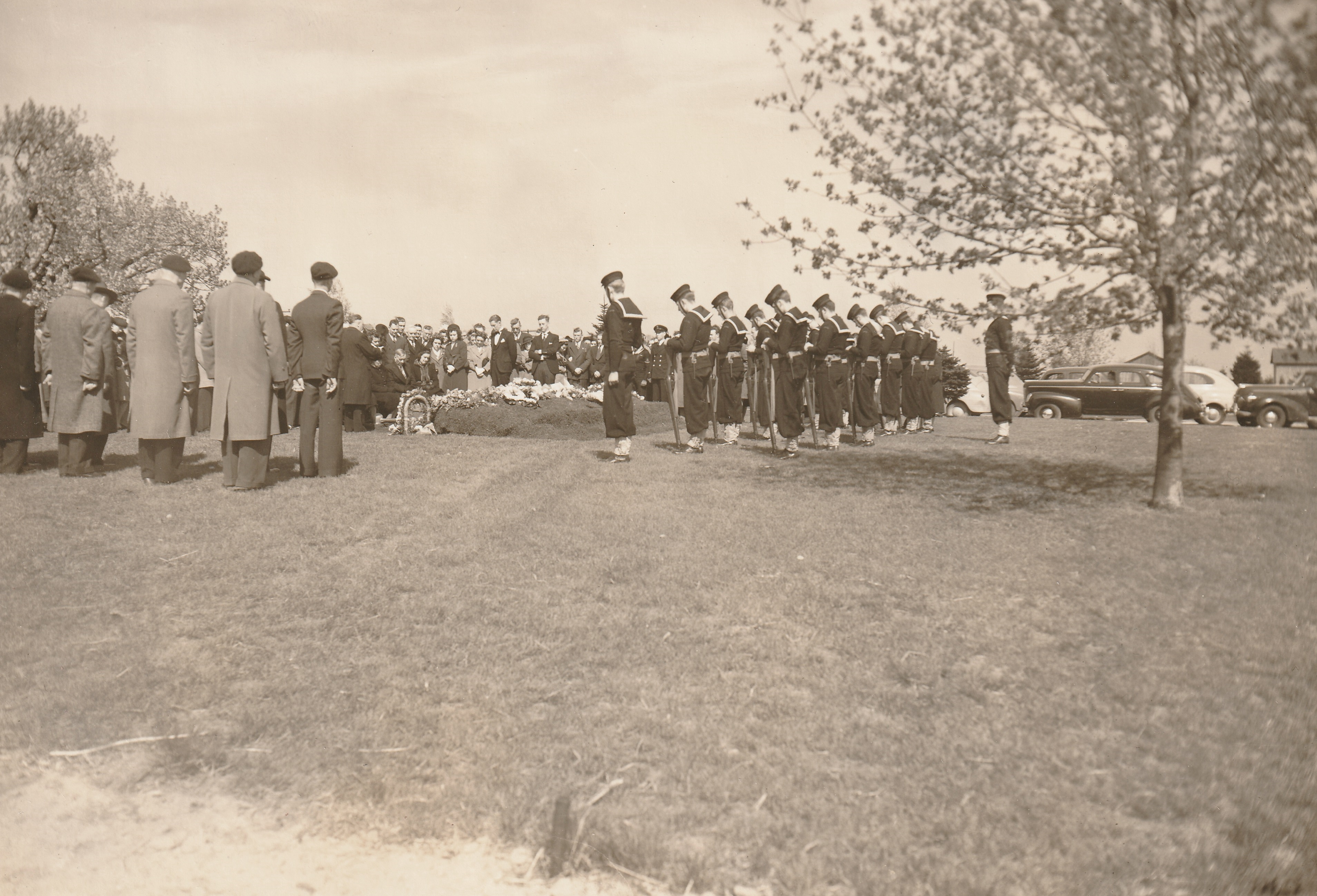 Funeral service for the casualties from HMCS ESQUIMALT
---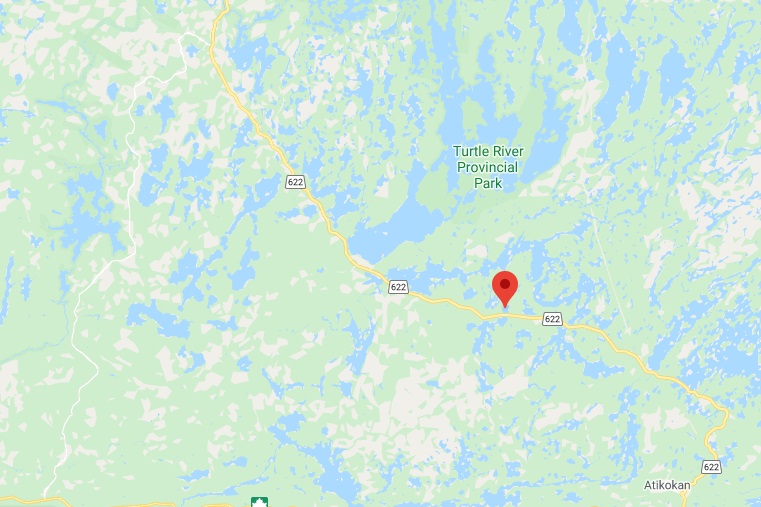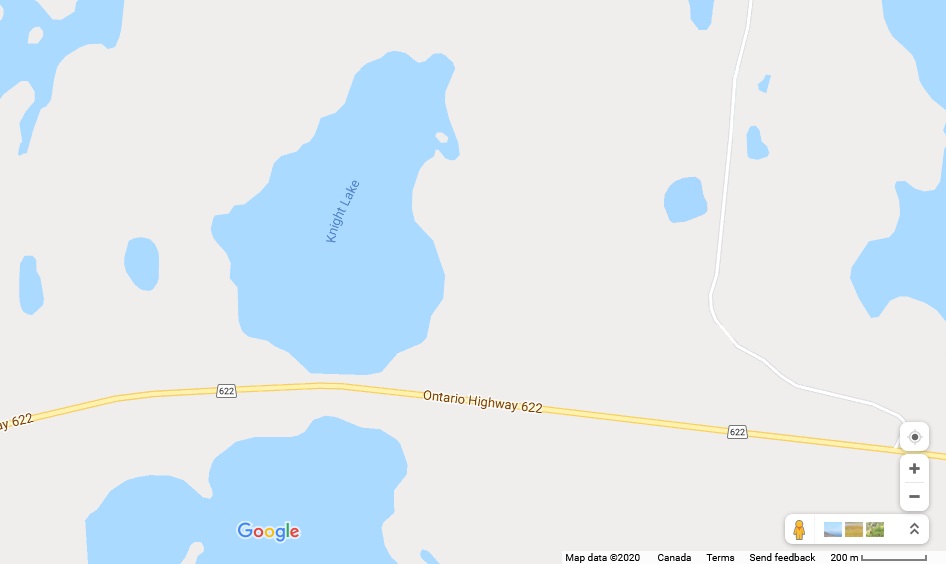 ---