In memory of those who have Crossed the Bar
Aubrey Francis McGee, M.I.D.

Chief Petty Officer 2nd Class, Aircraft Controlman, 2580, RCN

Born: 18 Mar 1914, Ilderton, Ontario

Died: Date of passing unknown
Citation for Mentioned in Despatches: McGEE, Aubrey F., Acting Petty Officer, 2580, Mention in Despatches, RCN, HMCS WASKESIU - Awarded as per Canada Gazette of 9 September 1944 and London Gazette of 4 July 1944. "For good service in the destruction of an enemy submarine. For courage, resolution and skill in HMCS WASKESIU in successful operations against U-Boats in the Atlantic."
A/PO McGee joined the RCN in February 1931 as a Boy Seaman. On 25 July 1936, he was part of the Ship's Company of HMCS SAGUENAY which marched to the unveiling of the Vimy Memorial on Hill 145, west of the village of Petit Vimy. He was Commended for Gallantry in August 1936. He served in Royal Navy Establishments HMS Excellent and HMS Victory; RN ships HMS NELSON, HMS HOOD; and RCN ships HMCS CHAMPLAIN, HMCS SAGUENAY, HMCS SKEENA, HMCS FUNDY, HMCS KENOGAMI, HMCS ST FRANCIS, HMCS WASKESIU, HMCS WARRIOR; and served in RCN establishments STADACONA, GIVENCHY (Esquimalt), NIOBE, SHEARWATER, PEREGRINE and BYTOWN. He retired on 01 March 1951 in Halifax at age 37.
Ships served in:
HMS NELSON
HMCS SAGUENAY - Served in SAGUENAY in 1936
HMCS WASKESIU - A/PO McGee was serving in WASKESIU when she sunk U-257 in Feb 1944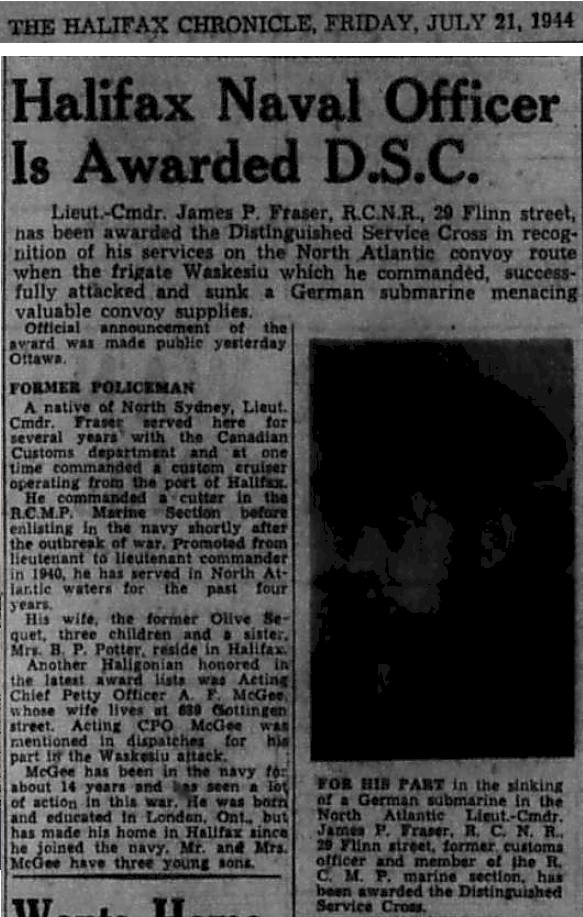 Article that mentions A/PO McGee being awarded M.I.D.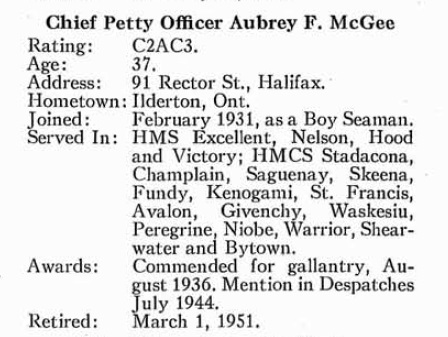 Retirement announcement for C2 A.F. McGee from the April 1951 issue of the Crowsnest magazine
---