In memory of those who have Crossed the Bar
P. Fred Bro

Petty Officer 2nd Class, 17521, RCN

Born: 1934 Died: Sep 1977, age 43
AB Bro was married in Calgary in 1954.
Ships served in:
HMCS TECUMSEH - Enlisted
HMCS ATHABASKAN - Served in ATHABASKAN in 1952-1953 Korean War tour.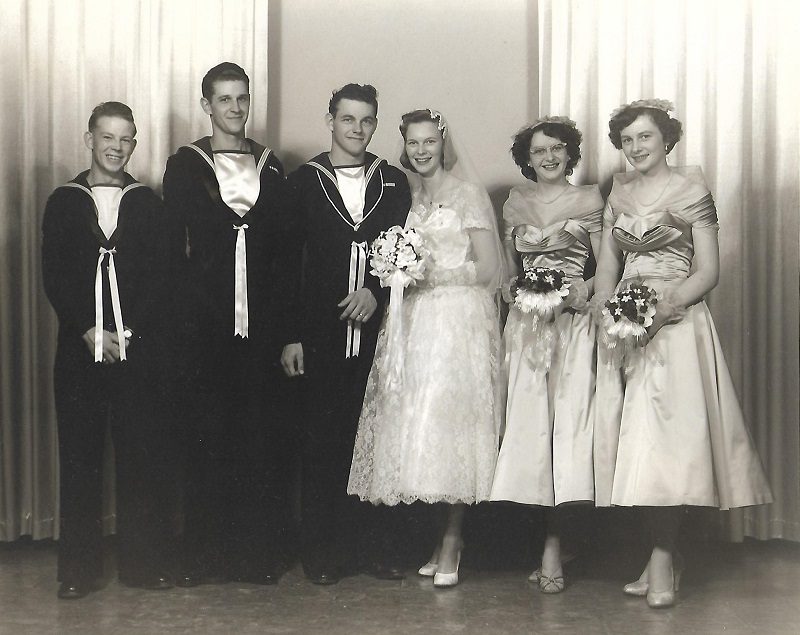 The wedding of Fred Bro
Story submitted by Steve Hlasny, best man:
I knew Fred through ship mates. In Aug 1954 I went to Calgary from Drumheller, a 2 hr drive, for a get together and a few beers. Fred was there, his best man out of town could not make it to the wedding with the wedding the next day. Fred says Steve will you be my Best Man. Yes! Back to Drum that evening , Get my uniform in shape - drive back to Calgary the next day noon, hot as hell. My brotherís car gets a ticket a few months later by airplane photos. In my bell bottoms and Gun shirt, I get a blow out doing 60. I changed the tire got back into Calgary for the wedding. We became shipmates later.
There's another trip with him from Aldergrove to Calgary - Fred says no need to stop for gas, we will make it. We an out of gas half way to Calgary from Banff No station in sight. Hitched hiked back a few miles to a station for plastic container & gas. Had to pay for the bleach bottle container also. His car a Buick, gas tank cap is under the license plate ... I had to strip my pack of Players make a funnel to get some gas in the tank with some spillage. Them were the days.
---