In memory of those who have Crossed the Bar
HORNER, Albert Brittain (Bert) - Suddenly at his home on Saturday November 19, 1977, Albert, beloved husband of Agnes, dear father of Doug, Gord, and Bruce. Brother of William, Arthur, Robert, and Dorothy (Mrs. Beckett). Dear son of Mrs. May McFadyen and loving grandfather of Paul, Todd, Angela and David. Resting at the Paul O'Connor Funeral Home, 1939 Lawrence Ave. E. (east of Pharmacy). Service on Tuesday afternoon at 1 p.m. Interment Pine Hills Cemetery. In lieu of flowers, donations to the Canadian Diabetic Association would be appreciated.
Ships served in:
(BH01 & BH02) Bert Horner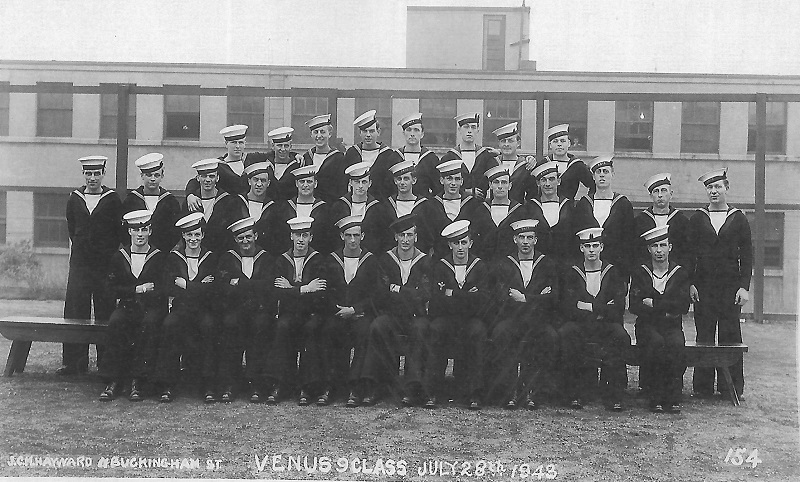 (BH03) Stoker Training Course - Venus 9 Class - 28 Jul 1943
Bert Horner - 2nd Row - 2nd from left
(BH04) Newspaper article on minesweepers clearing the approaches to St. John's, Newfoundland. Ships mentioned: HMCS SARNIA, HMCS STRATFORD, HMCS LOCKEPORT, HMCS MEDICINE HAT, HMCS GRANDMERE, HMCS VEGREVILLE, HMCS CANSO, HMCS BURLINGTON, HMCS CARAQUET and ML Q091 is the Fairmile mentioned that towed in the mines.
Sailors mentioned: Lt George Rundle of Montreal, QC; PO J.W. Wells of Grand Bay, NFLD and Lt George Gordon McClelland ML Q091
(BH05) HMCS LOCKEPORT pennant (BH06) Sailors on HMCS LOCKEPORT. Bert Honer standing, 2nd from left (BH07) Sailors on HMCS LOCKEPORT. Bert Horner, 1st on right (BH08) Bert Horner on HMCS LOCKEPORT at St. John's, NFLD
(BH09) HMCS LOCKEPORT departing St. John's, NFLD (BH10) Unknown sailor on HMCS LOCKEPORT (BH11) Unknown sailor on HMCS LOCKEPORTE (BH12) Bert Horner on HMCS LOCKEPORT (BH13) Unknown sailors on HMCS LOCKEPORT
(BH14) Unknown minesweeper seen from HMCS LOCKEPORT (BH15) Unknown CPO on HMCS LOCKEPORT (BH16) Unknown sailor on HMCS LOCKEPORT (BH17) Minesweeping gear on the sweep deck/quarterdeck of HMCS LOCKEPORT (BH18) Unknown sailor on HMCS LOCKEPORT
(BH19) Quarterdeck of HMCS LOCKPORT. Unknown vessel in drydock at St. John's, Nfld - Signal Hill in the background
(BH20) Friends / shipmates by unknown memorial (BH21-BH22) Bert Horner (right) with friend / shipmate in from on unknown memorial
---
Post war photos and documents
(BH23) Article on Albert Horner injured in motorcycle accident while on duty (BH24) Albert Horner and co-workers on their police motorcycles (BH25) Toronto Police Association Newsletter on the passing of Albert Horner
---