---
HMCS DRUMMONDVILLE J253
Bangor Class Minesweeper
---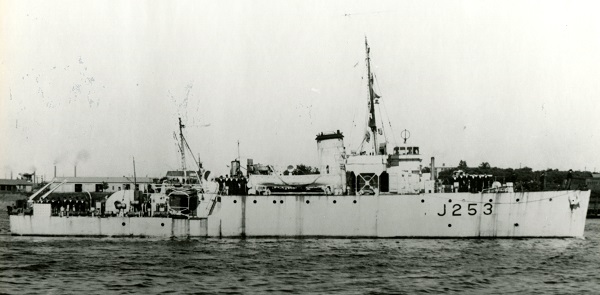 HMCS DRUMMONDVILLE J253
DND / RCN photo
Click on the above photo to view a larger image
Battle honours and awards: Atlantic 1942-45, Gulf of St. Lawrence 1942
Laid down: 01 Oct 1941

Launched: 21 May 1941

Commissioned: 30 Oct 1941

Paid off: 29 Oct 1945

Fate: Sunk 08 Dec 1963. Later raised and broken up.
Built at Montreal, she was commissioned there on 30 Oct 1941. She arrived at Halifax on 11 Nov 1941 and served at various times with WLEF, Gulf Escort Force, Halifax Local Defence Force, and Sydney Force before joining Newfoundland Force in Feb 1944.
On 06 Jul 1942, U-132 torpedoed SS Hainaut, SS Dinaric and SS Anastassior Pateras in the St. Larwrence near Sainte-Anne-des-Monts, Quebec. These ships were part of Convoy QS15, escorted by HMCS DRUMMONDVILLE, the sole escort.
Following a major refit at Louisbourg, she proceeded to Bermuda in mid-Aug 1944 to work up, returning to St. John's early in Oct 1944. The Newfoundland Force was disbanded in Jun 1945, and from then until Oct 1945 DRUMMONDVILLE was employed at miscellaneous duties on the east coast. She was paid off at Halifax on 29 Oct 1945, and in 1946 placed in strategic reserve at Sorel. Re-acquired by the RCN in 1952, she was placed in reserve at Sydney but never re-commissioned, and in 1958 she was sold for conversion to a merchant ship. As SS Fort Albany she was sunk by collision near Sorel on 08 Dec 1963, and raised and broken up there they following year.
---
Photos and Documents Ship's company photo
---
Commanding Officers
Lt James Philip Fraser, RCNR - 30 Oct 1941 - 16 Jan 1942

Lt James Philip Fraser, RCNR - 05 Feb 1942 - 12 Jan 1943

Lt Donald McIntosh Stewart, RCNR - 13 Jan 1943 - 01 Mar 1943

Lt James Philip Fraser, RCNR - 02 Mar 1943 - 09 May 1943

Lt Henry Clifford Hatch, RCNVR - 10 May 1943 - 07 Apr 1944

Skpr/Lt F.W.M. Drew, RCNR - 08 Apr 1944 - 09 Apr 1945

Lt George Enderby Cross, RCNVR - 10 Apr 1945 - 23 Jun 1945
---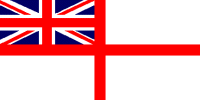 In memory of those who have crossed the bar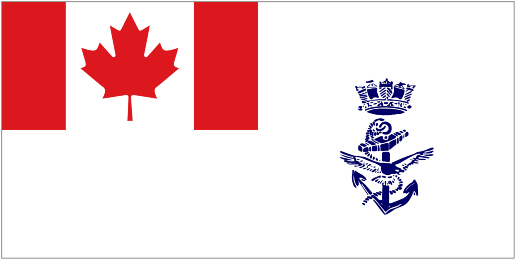 They shall not be forgotten
---
Former Crew Members
Barry, Tom, Coder

Colter, Harold Moorhouse, Lt, RCNVR - 10 May 1942

Dawson, James Frederick, SLt, RCNVR - 20 Jul 1944

Dooley, Bob, Coder

Drysdale, George, O/Sig

Dupre, Yvon A., SLt, RCNR - Jan 1943

Flynn, Jack (Slim), Tel

Grant, Stephen Robert, SLt, RCNVR - 08 Apr 1944

Halloran, Leo, Sig

Horton, Sam, Coder

Isbister, Robert David, Lt, RCNVR - 12 Jul 1943

Lawatsky, Bill, Tel

MacMillan, Gord, L/Tel

Mansell, Richard Tennant, SLt (E), RCNVR - 25 Apr 1944

McIlhargey, Ross Leo, SLt, RCNVR - 05 Jul 1944

McLaughlin, William Gordon, SLt (E), RCNVR - Jan 1944

Noel, Joseph Sevrin Roger, Ch/Skpr, RCNR - 29 Jan 1945

Ouiona, Ed, Yeoman of Signals

Rennie, Frederick James, Lt (E), RCNR - 18 Jun 1943

Samuelsen, Sigurd, Cd (E) Lt (E), RCNR - Jan 1942 / 04 Feb 1942 / 13 Mar 1942

Sanderson, Donald McLean, SLt, RCNVR - 26 Jan 1945

Shove, Graham Frederick, Lt, RCNVR - 12 May 1944 / 15 May 1944

Walker, Howard, Tel

Watkins, William John, SLt, RCNVR - 20 Apr 45
---
Photos and Documents
Ships in HMC Dockyard, Halifax

Outboard destroyer, HMCS Annapolis I04, outboard minesweeper, HMCS DRUMMONDVILLE J253

From the collection of Albert William Abercrombie

Courtesy of Bill Abercrombie

HMCS DRUMMONDVILLE Adopted by Group Here

The Windsor Star 20 Jul 1943

Courtesy of Anne Gafiuk

Offices of HMCS DRUMMONDVILLE

Lt W.J. Wyleth, Vancouver, First Lieutenant; Lt H. Clifford Hatch, CO; Lt S. Samuelsen, Chief Engineer, Norway; Lt R.D. Isbister, Second Officeer, Hamilton; SLt D.A. Sim, Winnipeg, Navigating Officer; SLt N.A. Laughan, Calgary, Signal Officer; SLt S.A. Dick, Montreal, Second Engineer; SLt Y. Dupre, Montreal, Gunnery Officer

The Windsor Star 26 Jul 1943

Courtesy of Anne Gafiuk
---
(JM26) HMCS DRUMMONDVILLE J253 - RCN photo
(JM27) HMCS DRUMMONDVILLE J253, St. John's, Newfoundland - Mar 1942
(JM28) HMCS DRUMMONDVILLE Christmas Card
From the collection of John Murphy, ERA 4c, RCNVR
Courtesy of Thomas Murphy
---