In memory of those who have Crossed the Bar
CRAIK, James Norman - Passed away May 17, 1975 at the age of 58. Survived by his beloved wife and companion, Gwyneth. Loving father of Sharon, Heather, Ross, Norma and Ron. Norman will be remembered by family and friends for his willingness to help others and for his entrepreneurial spirit. Together with Gwyneth he moved the family to Kentville, NS in 1958 where they operated North America's largest China shop, souvenir shop, trailer tent park. This grew into land development and construction of a motel & Palmeter's Country Home, a modern 70+ bed nursing home. Norman was Administrator and manager of the nursing home at the time of his passing. Proud Canadian and RCNVR WWII veteran he was based out of Halifax where he met and married Gwyneth. He always expressed his wish to be buried at sea.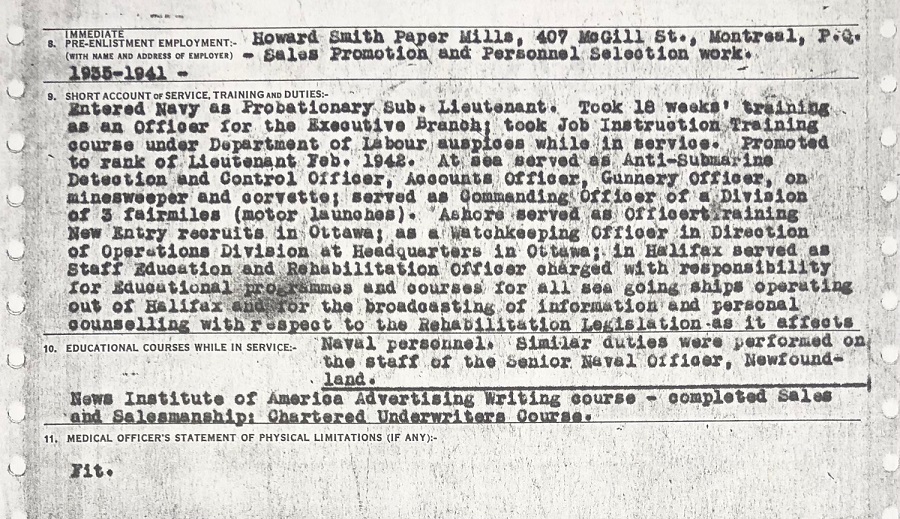 Summary of Service for Lt Norman Craik
---
Ships served in:
MONTREAL DIVISION RCNVR - Enlisted as a Prob. SLt, RCNVR (Navy List Aug 1941)
HMCS KINGS - Appointed to KINGS 27 Aug 1941 as a Prob. SLt, RCNVR (Navy List Oct 1941)
HMCS MEDICINE HAT - Appointed to MEDICINE HAT 28 Dec 1941 as a SLt, RCNVR (seniority 28 Dec 1941) (Navy Lists Jan - Sep 1943 / British Navy List Dec 1942 - Feb 1943)
ML Q051 Appointed to ML Q051 05 Jan 1942 as a SLt, RCNVR (British Navy List Apr 1942 Ver. 2 / Jun 1943)
* Appointed Lt, RCNVR (seniority 15 Feb 1943) (Navy List Mar 1943)
ML Q075 - Appointed to Q075 05 May 1943 as a Lt, RCNVR (British Navy List Oct 1943)
ML Q081 - Appointed to Q081 09 Jun 1943 as a Lt, RCNVR (Navy List Aug 1943 / British Navy List Feb 1944)
HMCS CARLETON - Appointed to Carleton 27 Sep 1943 as a Lt, RCNVR. (Navy List Oct 1943). Seniority backdated to 15 Feb 1942 (Navy List Feb 1944)
NAVAL SERVICE HEADQUARTERS - Appointed to NSHQ OTTAWA, Operations Division 27 May 1944 as a Lt, RCNVR (Navy List Jul 1944 - Sep 1944)
HMCS STADACONA - Appointed to STADACONA, Add'l for Disposal or Under Training 30 Oct 1944 as a Lt, RCNVR (Navy List Nov 1944)
HMCS STADACONA - Appointed to STADACONA, Staff of Capt (D) 13 Nov 1944 as a Lt, RCNVR (Navy List Jan - May 1945)
* Retired List as a Lt, RCN(R) (seniority 15 Feb 1942) (Navy List Apr 1946)
---
(JC01) Portrait of SLt James N. Craik (JC02) James Craik's identity tag (JC03) Post war portrait of James N. Craik (JC04) Wedding Announcement for James N. Craik to Gwyneth Joyce Quigley
(JC05) Lt Craik (seated, centre, looking left) explaining benefits and programmes available for those returning to civilian life after the war (RCN photo)
---
The Grounding of ML Q082
(JC06-JC08) ML Q082, aground on Prince Edward Island, after being forced ashore in a storm - Dec 1942
The grounding on PEI was described as pitch dark, gale, blizzard conditions. The captain ordered a member of the crew up the mast to search for land. At first light some men climbed up the embankment and walked toward the nearest village. Turned out the people in the town shunned technology and there were no telephones to report the location of the ship and her crew. The men were well treated with hot food and blankets.
---
---
Photos from the collection of Len Quigley, Lt James N. Craik's father-in-law
Courtesy of Sharon Kenney
Len Quigley moved to Halifax during the First World War shortly after the Halifax Explosion on 07 Dec 1917. The photos on the 1st album page show never before seen / published photos of the devastation in Halifax caused by Halifax Explosion.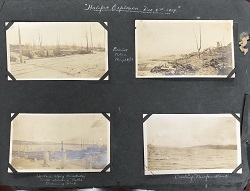 Album page 1
Photos of the devastation in Halifax taken 26 May 1918
In photo LQ03 - HMCS NIOBE - Depot / Training ship can be seen to the right of the photo
(LQ04) Curling, Newfoundland
---
In 1919, the Prince of Wales, the future King George VIII made a Royal Visit to Canada aboard the Royal Navy Battlecruiser HMS RENOWN to acknowledge Canadian contributions to the First World War.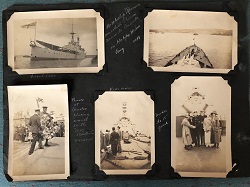 Album page 2
HMS RENOWN in Halifax harbour
(LQ05) Stern of HMS RENOWN - ship's awning covering her after 15-inch turret
(LQ06) Fo'c's'le and forward turrets of HMS RENOWN. Directly ahead of RENOWN is the Halifax/Dartmouth Ferry, and off to the left are a couple of TRs.
(LQ07) HRH Prince of Wales laying a wreath at the monument for General's Wolf and Montcalm
(LQ08-LQ09) Under the 15-inch guns
---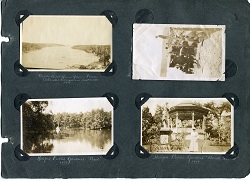 Album page 3
(LQ10) Northwest Arm from Tower. Atlantic Ocean in distance - 1917
(LQ11) Halifax Public Garden - Pond - 1917
(LQ12) Halifax Public Gardens - Band Stand - 1917
(LQ13) No caption
---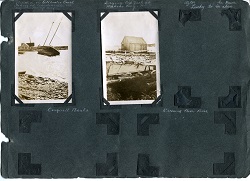 Album page 4
(LQ14) Beached on Atlantic Coast. Taken at Acadiaville, NS in St. Mary's Bay
(LQ15) Drying Cod fish at Mahone Bay, NS
(LQ16) Crossing Bear River
---
(LQ17) The Locks, Dartmouth Lakes - 1917
(LQ18) Dartmouth Lakes, NS - 1917
(LQ19) "Olympic" Halifax Harbour 1917
---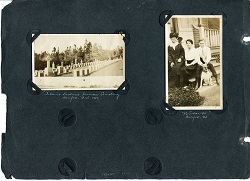 Album page 7
(LQ20) "Titanic Victims" Fairview Cemetery, Halifax, NS - 1917
(LQ21) 85 Cedar St., Halifax, NS
---
Loose photos
(LQ22) Unknown person on a motor cycle
(LQ23) Dozens of paid off TRs (minesweeping trawlers) nested in the North West Arm, Halifax after the First World War awaiting disposal. Photo taken from the Dingle Tower.
(LQ24) Northwest Arm from Tower
(LQ25) Northwest Arm from Tower
(LQ27) Maretania - "This is a sample of the way most of my films were. No fault of the camera"
---
V.E. Day in Halifax
---