Service information for:
T. Michael King, C.D.

Petty Officer 1st Class Boatswain, RCN / C.A.F. (Navy)
Ships served in:
* Enlisted in the Naval Reserves Sep 1971
HMCS DONNACONA - Served in DONNACONA as an OS
HMCS PORTE ST JEAN - Served in PORTE ST JEAN as an OS
* transferred to the Reg Force
HMCS CORNWALLIS - Served in CORNWALLIS for basic recruit training as an OS
CFB WINDSOR PARK - Served in WINDSOR PARK for trades training as an OS
HMCS PROVIDER - Posted to PROVIDER 3 times, serving in her as an OS, LS and PO1
HMCS ST CROIX - Served in ST CROIX as an AB
HMCS YUKON - Posted to YUKON 2 times as a LS and PO2
CFB COMOX Marine Rescue Section - Served in COMOX as a MS
HMCS GATINEAU - Served in GATINEAU as a MS
HMCS ORIOLE - Served in ORIOLE as a MS
MARPAC Manning List - Served in CHIGNECTO, TERRA NOVA and Whitehorse Cadet Camp as a MS
HMCS QU'APPELLE - Served in QU'APPELLE as as MS and PO2
CFFS (E) Seamanship Division - Served in the Seamanship Divsion as a PO2 and PO1
HMCS THUNDER - Served in THUNDER as Cox'n
* transferred to Naval Reserves
HMCS VENTURE - Served in VENTURE as a Seamanship Instructor
CFFS (E) Leadership Division - Served in the Leadership Division as the Naval Reserve SLC Lead Instructor
SEA TRAINING PACIFIC - Served in Sea Training as Minor War Vessels Cox'n & CBM
HMCS YELLOWKNIFE - Served in YELLOWKNIFE as Cox'n
* Retired Apr 2002

Basic Recruit Course 7302 at CFB CORNWALLIS
---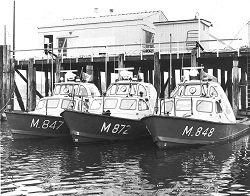 3 Bird Boats M847 Flamingo, M872 Black Duck and M848 Heron they were we used at the Marine Rescue Section in Comox, BC (1977). The Section was run and manned by naval personnel and civilians all ex RCAF. This was prior to the standing up of the Canadian Coast Guard Auxiliary Station Comox and in addition to working air force requirements we were used for all marine rescues in the area. I was there from 1977 to 1980 it was a great posting.
---