They made the Ultimate Sacrifice
Cecil Floyd Anderson

Leading Signalman, V8276, RCNVR

Born: 19 Apr 1919, Dunville, Ontario

Died: 18 May 1943, Algiers, Algeria

Book of Remembrance
ANDERSON, Cecil Floyd, L/Sig, V8276, RCNVR, DOW - 18 May 1943, HMCS LOUISBURG - Son of Floyd Milton Anderson and Gladys Pearl Anderson, of Port Colborne, Ontario.
L/Sig Anderson died 18 May 1943 from wounded received when his ship, HMCS LOUISBURG, which was on convoy duty in the Mediterranean, was sunk by bombs and torpedoes from Italian aircraft on 06 Feb 1943. He is buried in the Dely Ibrahim War Cemetery, Algeria.
Before joining the Navy he was He employed as a Plumber's Helper for L.J. Coughlan, Hamilton, Ontario. He also served in the Royal Hamilton Light Infantry, Wentworth Regiment from 06 May 1936 to 03 Jun 1938 and attainted the rank of Acting Corporal.
Ships served in:
HAMILTON DIVISION RCNVR - Enlisted 12 Sep 1939. Commenced Active Service 19 Oct 1939 as an OS, RCNVR
HMCS STADACONA - Drafted to STADACONA 01 Jan 1940 as an OS, RCNVR
* Rated O/Sig 01 Feb 1940
* Rated Sig 27 Jun 1940
HMCS HUSKY - Drafted to HUSKY 13 Jul 1940 as a Sig, RCNVR
HMCS STADACONA - Drafted to STADACONA 13 Jul 1940 as a Sig, RCNVR
HMCS RESTIGOUCHE - Drafted to RESTIGOUCHE 17 Oct 1940 as a Sig, RCNVR
HMCS STADACONA - Drafted to STADACONA 09 Dec 1940 as a Sig, RCNVR
HMCS RESTIGOUCHE - Drafted to RESTIGOUCHE 13 Jan 1941 as a Sig, RCNVR
* Rated A/L/Sig 01 May 1941
HMC SIGNAL SCHOOL - Drafted to HMC SIGNAL SCHOOL 18 Jul 1941 as an A/L/Sig, RCNVR
HMCS ST HYACINTHE - Drafted to ST HYACINTHE 01 Oct 1941 as an A/L/ Sig, RCNVR
HMCS LOUISBURG - Drafted to LOUISBURG 02 Oct 1941 as an A/L/Sig, RCNVR
HMCS AVALON - Drafted to AVALON 14 Apr 1942 as an A/L/Sig, RCNVR
* Rated L/Sig 01 May 1942
HMCS LOUISBURG - Drafted to LOUISBURG 13 May 1942 as a L/Sig, RCNVR
HMCS NIOBE - Transferred to NIOBE 07 Feb 1943 while in Hospital in Algiers - Wounded in Action
(CA01-CA02) Service file for Cecil Anderson - part 1 and 2
(CA03) Headstone for L/Sig Anderson in the Dely Ibrahim War Cemetery, Algeria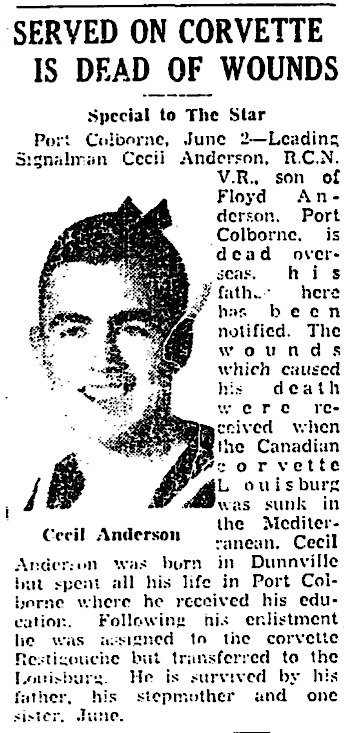 ( CA11) Article on the Death of L/Sig Anderson
---
Second World War Casualty Index