They made the Ultimate Sacrifice
Merl Alexander Banks

Able Seaman A4891, RCNR

Born: 16 Apr 1905, Torbrook Mines, Annapolis Co., Nova Scotia

Died: 06 Feb 1943 at sea

Book of Remembrance
BANKS, Merl Alexander, AB, A4891, RCNR, MPK - 06 Feb 1943, HMCS LOUISBURG - Son of Joseph D. and Amy Banks, of Torbrook Mines, Nova Scotia; husband of Doris F. Banks, of Kingston, Nova Scotia.
AB Banks died when his ship, HMCS LOUISBURG, which was on convoy duty in the Mediterranean, was sunk by bombs and torpedoes from Italian aircraft.
Prior to joining the Navy, AB Banks served in the BC Regiment DCOR as a Rifleman 30 Aug 1939 to 04 Aug 1941. He'd also worked as a civilian in the Merchant Marine. He attended the county school at Torbrook Mine and his hobby was reading. He married Doris Frances E. Jones in 1935 who survived him with a daughter Joan: three brothers, Claude serving in the armed forces in Italy, Leon of Boston, Mass., and Chester L. Banks of Toronto.
Ships served in:
TORONTO DIVISION RCNVR - Enlisted 05 Aug 1941 as an AB, RCNR
HMCS STADACONA - Drafted to STADACONA 19 Aug 1941 as an AB, RCNR
HMCS HOCHELAGA II - Drafted to HOCHELAGA II (Manning Pool) 10 Sep 1941 as an AB, RCNR
HMCS LOUISBURG - Drafted to LOUISBURG 02 Oct 1941 as an AB, RCNR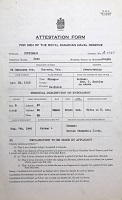 Service File for Merle Alexander Banks
---
Second World War Casualty Index