They made the Ultimate Sacrifice
Ronald Joseph McDonald

Able Seaman Layer Rating 3rd Class, V11491, RCNVR

Born: 14 Apr 1920, Saskatoon, Saskatchewan

Died: 06 Feb 1943 at sea

Book of Remembrance
MCDONALD, Ronald Joseph, AB, V11491, RCNVR, killed - 06 Feb 1943, HMCS LOUISBURG - Son of Martin James McDonald and Nellie McDonald, of Saskatoon, Saskatchewan.
AB McDonald died when his ship, HMCS LOUISBURG, which was on convoy duty in the Mediterranean, was sunk by bombs and torpedoes from Italian aircraft.
Prior to joining the Navy, Ronald was working as a butter cutter for Palm Dairies when he enlisted on September 04, 1940 at Saskatoon, Saskatchewan. His brother Percy served in the R.C.A.F. overseas and sister Margaret was an airwoman.
Ships served in:
SASKATOON DIVISION RCNVR - Enlisted 04 Sep 1940. Commenced Active Service 17 Dec 1940
HMCS NADEN - Drafted to NADEN 09 Apr 1941 as an OS, RCNVR
* Rated LR3 06 Jun 1941
HMCS CHEDABUCTO - Drafted to CHEDABUCTO 01 Oct 1941 as an OS, RCNVR
HMCS STADACONA - Drafted to STADACONA 23 Dec 1941 as an OS, RCNVR
* Rated A/AB 17 Dec 1941
HMCS SACKVILLE - Drafted to SACKVILLE 11 Jan 1942 as an OS, RCNVR
* Rated AB 23 Jan 1941
HMCS STADACONA - Drafted to STADACONA 18 Apr 1942 as an AB, RCNVR
HMCS LOUISBURG - Drafted to LOUISBURG 20 Jun 1942 as an AB, RCNVR
(RM01) Documents from the Service File of Ronald McDonald
(RM02) Article from the Saskatoon Star-Phoenix on the death of AB Ronald McDonald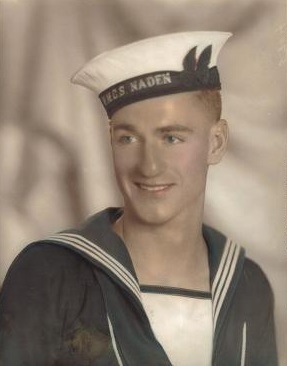 (RM03) AB R. J. McDonald
---
Second World War Casualty Index