They made the Ultimate Sacrifice
James Charles Ronald Stevenson

Leading Seaman, Acting Gunner's Mate, V5282, RCNVR

Born: 05 March 1912, Chesterfield, England

Died: 06 Feb 1943 at sea

Book of Remembrance
STEVENSON, James Charles Ronald, LS, V5282, RCNVR, MPK - 06 Feb 1943, HMCS LOUISBURG - Son of Frank B. and Fanny L. Stevenson, of Montreal, Quebec; husband of Gladys Florence Stevenson, of Verdun, Quebec.
LS Stevenson died when his ship, HMCS LOUISBURG, which was on convoy duty in the Mediterranean, was sunk by bombs and torpedoes from Italian aircraft.
LS Stevenson, 32, whose wife lives at 390 6th avenue, Verdun, has been officially reported missing, believed killed in action. He is the son of Fred Stevenson, of 7963 Berri street. Born in Chesterfield, England, he came to Montreal as a young boy. He was employed here as a steamfitter with the R.J. Leggeit Company. Previous to the outbreak of war he had been in the naval reserve for abut ten years and immediately went into active service. Mrs. Stevenson, whom he married in 1939, was formerly Miss Gladys Gettins of this city.
Ships served in:
MONTREAL DIVISION RCNVR - Enlisted 02 Oct 1933
HMCS STADACONA - Served in STADACONA 02 Sep 1934 - 06 Oct 1934 for annual training as an OS, RCNVR
HMCS STADACONA - Served in STADACONA 11 Aug 1935 - 23 Aug 1935 for annual training as an OS, RCNVR
HMCS STADACONA - Served in STADACONA 24 Aug 1935 - 29 Sep 1935 for annual training as an AB, RCNVR
HMCS SAGUENAY - Served in SAGUENAY 08 Jan 1936 - 29 Apr 1936 for annual training as an AB, RCNVR
HMCS STADACONA - Served in STADACONA 13 Jun 1937 - 25 Jul 1937 for annual training as an AB, RCNVR
* Rated A/LS 10 May 1938
HMCS STADACONA - Served in STADACONA 29 May 1938 - 16 Jul 1938 for annual training as an A/LS, RCNVR
* Rated LS 10 May 1939
HMCS STADACONA - Served in STADACONA 28 May 1939 - 29 Jul 1939 for annual training as a LS, RCNVR
* Rated A/PO 29 May 1939
HMCS STADACONA - Served in STADACONA 30 Jul 1939 - 31 Aug 1939 for annual training as and A/PO, RCNVR
HMCS STADACONA - Drafted to STADACONA 01 Sep 1939 as an A/PO, RCNVR
* Rated QR II 29 Sep 1939
* Rated LR II 01 Oct 1939
HMCS SKEENA - Drafted to SKEENA 08 Mar 1940 as an A/PO, RCNVR
* Lent to STADACONA from SKEENA 27 Mar 1940
HMCS STADACONA - Drafted to STADACONA 01 Apr 1940 as an A/PO, RCNVR
HMCS FRENCH - Drafted to FRENCH 16 Apr 1940 as an A/PO, RCNVR
HMCS STADACONA - Drafted to STADACONA 20 Jun 1940 as an A/PO, RCNVR
* Confirmed PO 30 Jul 1940
HMCS ANNAPOLIS - Drafted to ANNAPOLIS 24 Sep 1940 as an PO, RCNVR
* Rated A/GM 25 Sep 1940
HMCS STADACONA - Drafted to STADACONA 23 Mar 1941 as a PO, RCNVR
HMCS VENTURE - Drafted to VENTURE (Staff) 28 Jul 1941 as a PO, RCNVR
HMCS NIOBE - Drafted to NIOBE 25 Jan 1942 (via SS VOLENDAM) as a PO, RCNVR
HMS QUEBEC (Combined Operations Training Base, UK) - Drafted to QUEBEC via NIOBE until 18 Mar 1942 as a PO, RCNVR
HMS WESTERN ISLE (Flagship A/S Training School, Tobermory) Drafted to WESTERN ISLE 19 Mar 1942 as a PO, RCNVR
* Disrated to LS 17 Dec 1942
HMCS LOUISBURG - Drafted to LOUISBURG 17 Dec 1942 as a LS, RCNVR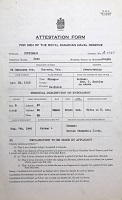 Documents from the Service File of James C.R. Stevenson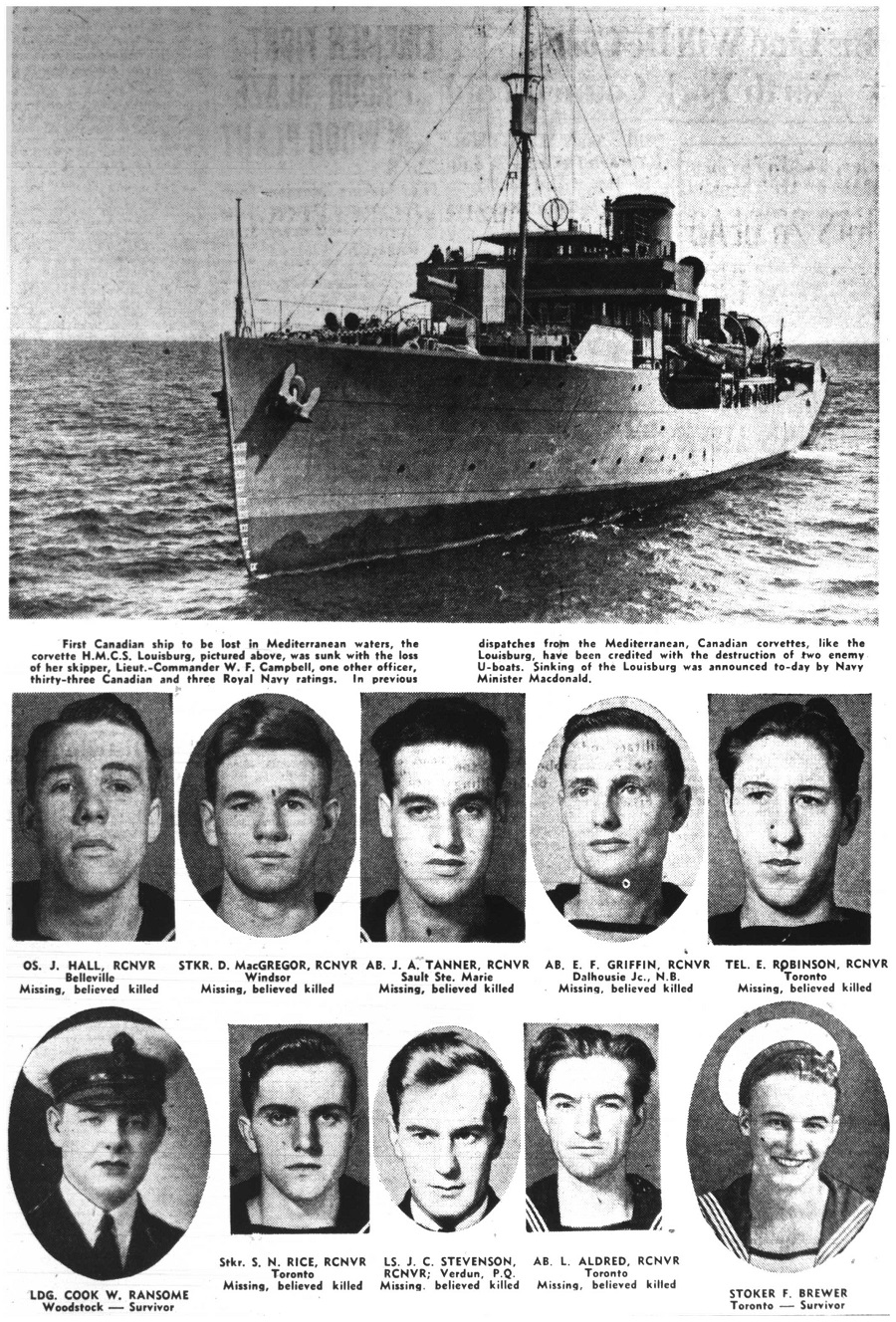 ---
Second World War Casualty Index