They made the Ultimate Sacrifice
James Ralph Conn, M.I.D.

Leading Steward, V67835, RCNVR

Born: 07 Dec 1914, Hillcrest, Alberta

Died: 16 Apr 1945 at sea

Book of Remembrance
CONN, James Ralph, L/Stwd, V67835, RCNVR, MPK - 16 Apr 1945, HMCS ESQUIMALT - Son of John Robert and Lillian Maude Conn. Brother of Rhoda Pedersen, of Ste. Anne de Bellevue, Quebec.
Leading Steward Conn died when his ship, HMCS ESQUIMALT, was torpedoed and sunk by U-190 off the approaches to Halifax harbour.
---
Citation for Mentioned in Despatches:
CONN, James Ralph, Leading Steward, V67835, Mention in Despatches (Posthumous), RCNVR, HMCS ESQUIMALT - Awarded as per Canada Gazette of 5 January 1946 and London Gazette of 1 January 1946.
"Leading Steward Conn showed exceptional courage in remaining in the upper mess deck helping others to get up from the lower mess deck despite the fact that HMCS Esquimalt was obviously sinking fast. When last seen, he was still thus engaged and it is presumed that he went down with the ship."
---
Ships served in:
HMCS MONTREAL - Enlisted 09 Aug 1943. Commenced Active Service 27 Sep 1943
HMCS CHIPPAWA - Drafted to CHIPPAWA 30 Sep 1943 as a Stwd, RCNVR
HMCS NADEN - Drafted to NADEN 29 Nov 1943 as a Stwd, RCNVR
HMCS CHIPPAWA - Drafted to CHIPPAWA 30 Sep 1943 as a Stwd, RCNVR
HMCS CARLETON - Drafted to CARLETON 14 Aug 1944 as a Stwd, RCNVR
HMCS STADACONA - Drafted to STADACONA 27 Sep 1944 as a Stwd, RCNVR
HMCS ESQUIMALT - Drafted to ESQUIMALT 17 Oct 1944 as a Stwd, RCNVR
* Rated L/Stwd 01 Feb 1945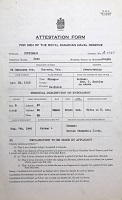 Documents from the Service File of James Conn
---
Second World War Casualty Index