They made the Ultimate Sacrifice
Arnold Douglas Hedstrom

Leading Sick Berth Attendant, V35221, RCNVR

Born: 24 Jan 1923, Calgary, Alberta

Died: 16 Apr 1945 at sea

Book of Remembrance
HEDSTROM, Arnold Douglas, L/SBA, V35221, RCNVR, MPK - 16 Apr 1945, HMCS ESQUIMALT - Son of Douglas and Anne E. Hedstrom, Smithers, BC.
L/SBA Hedstrom died when his ship, HMCS ESQUIMALT, was torpedoed and sunk by U-190 off the approaches to Halifax harbour.
Calgary Sailor Among Missing Esquimalt Crew
Arnold Hedstom Sole South Albert Victim of Sub
Ottawa, May 8 (CP)
In what has been described as the last desperate attack of the war in Canadian coastal waters, a German U-boat, lurking close to Nova Scotia, last month torpedoed and sank the Bangor-class minesweeper Esquimalt and five officers and 39 ratings are missing.
Leading Sick Berth Attendant Arnold D. Hedstrom, the only Southern Albert sailor reported missing, is the son of Mrs. A. Hedstom, 623 14th Ave W., Calgary.
Before joining the RCNVR in January, 1942, he was employed as a clerk with C.P.R. and before that attended Western Canada high school. His father and brother are in the Canadian Army and a sister is in the W.D., RCAF.
There were 26 survivors of this 23rd Canadian naval loss and fifth sweeper loss of the war. The survivors all suffered from exposure as a result of an unspecificed period of frail Carley floats in the icy Atlantic. A Halifax dispatch said this was the second time within a few months that daring German undersea raiders made their way through navy patrols to come practically within gunshot range of this port, base of operations for the North Atlantic sea war during nearly six years of fighting.
In the previous foray German subs nosed their way along Nova Scotia's coast, sinking the Canadian minesweeper Clayoquot, and several merchant ships were attacked. (partial transcription of article from the Calgary Herald)
Arnold's brother, Ronald E. Hedstrom also served in the RCNVR during the Second World War.
Ships served in:
HMCS TECUMSEH - Enlisted 05 Jan 1942. Commenced Active Service as a Prob SBA, RCNVR
HMCS DISCOVERY - Drafted to DISCOVERY 17 Jan 1942 as a Prob SBA, RCNVR
HMCS NADEN - Drafted to NADEN 19 Mar 1942 as a Prob SBA, RCNVR
* Rated SBA 18 May 1942
HMCS PRINCE HENRY - Drafted to PRINCE HENRY 15 Aug 1942 as a SBA, RCNVR
HMCS GIVENCHY - Drafted to GIVENCHY 01 May 1943 as a SBA, RCNVR
HMCS NADEN - Drafted to NADEN 25 May 1943 as a SBA, RCNVR
* Ratyed L/SBA 15 Jul 1943
HMCS STADACONA - Drafted to STADACONA 24 Nov 1943 as a L/SBA, RCNVR
HMCS NIPIGON - Drafted to NIPIGON 21 Dec 1943 as a L/SBA, RCNVR
HMCS STADACONA - Drafted to STADACONA 14 Mar 1944 as a L/SBA, RCNVR
HMCS ESQUIMALT - Drafted to ESQUIMALT 06 Apr 1944 as a L/SBA, RCNVR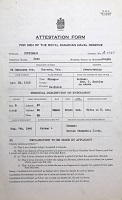 Documents from the Service File of Arnold Hedstrom
---
Second World War Casualty Index