They made the Ultimate Sacrifice
Roswell Alexander Ballantyne

Stoker 2nd Class, V78521, RCNVR

Born: 22 May 1925, Toronto, Ontario

Died: 18 Mar 1945 at sea

Book of Remembrance
BALLANTYNE, Roswell Alexander, Sto 2c, V78521, RCNVR, MPK - 18 Mar 1945, HMCS GUYSBOROUGH - Son of Thomas and Janet Ballantyne, of Toronto, Ontario.
Stoker Ballantyne died when his ship, HMCS GUYSBOROUGH, was torpedoed and sunk by U-868 in the Bay of Biscay with the loss of 53 of her crew. He dove into the water on the opposite side to which the stricken minesweeper was listing, and was reported to have reached a raft. He later died of exposure before the rescue ship arrived.
Stoker Ballantyne was among the six Toronto sailors who died on HMCS GUYSBOROUGH. The only son of Mr. and Mrs. Thomas Ballantyne, 1223 Dufferin Street, he enlisted in March 1944, two months before his 19th birthday. He attended Dovercourt Rd. School and worked a short time for Toronto Hydro-Electric System. His parents and one sister, Mrs. Helen Wilson, survive.
Ships served in:
HMCS YORK - Enlisted 09 Feb 1944. Commenced Active Service 07 Mar 1944 as a Sto 2c, RCNVR
HMCS CORNWALLIS - Drafted to CORNWALLIS 09 May 1944 as a Sto 2c, RCNVR
HMCS STADACONA - Drafted to STADACONA 09 Jul 1944 as a Sto 2c, RCNVR
HMCS HOCHELAGA II - Drafted to HOCHELAGA II 29 Jul 1944 as a Sto 2c, RCNVR
HMCS ST PIERRE - Drafted to ST PIERRE 22 Aug 1944 as a Sto 2c, RCNVR
HMCS PEREGRINE - Drafted to PEREGRINE 12 Dec 1944 as a Sto 2c, RCNVR
HMCS GUYSBOROUGH - Drafted to GUYSBOROUGH 31 Dec 1944 as a Sto 2c, RCNVR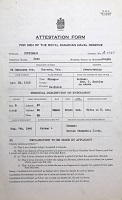 Documents from the Service File of Joseph Ballantyne
---
Second World War Casualty Index