They made the Ultimate Sacrifice
Dale George Downey

Stoker 1st Class, V57170, RCNVR

Born: 24 Nov 1923, Moncton, New Brunswick

Died: 18 Mar 1945 at sea

Book of Remembrance
DOWNEY, Dale George, Sto 1c, V57170, RCNVR, MPK - 18 Mar 1945, HMCS GUYSBOROUGH - Son of George Foster and Mary Kathleen (née Halfpenny) Downey, of Moncton, New Brunswick.
Stoker Downey died when his ship, HMCS GUYSBOROUGH, was torpedoed and sunk by U-868 in the Bay of Biscay with the loss of 53 of her crew.
He was survived by his parents and a sister Marion. He was a graduate of Moncton High School and an active Boy Scout. He worked for a short period at T. Eaton Company and apprenticed at the CNR shops before he enlisted. He was 21 when he died.
Webmaster's note: Dale's grandparents, Benjamin and Margaret (née MacPherson) Potter are my Gr-Grandparents - making us 2nd cousins once removed.
Ships served in:
Special Service Division RCNVR - Enlisted 17 Mar 1943. Commenced Active Service 17 Mar 1943 as a Sto 1c, RCNVR
HMCS STADACONA - Drafted to STADACONA 17 Mar 1943 as a Sto 1c, RCNVR
HMCS CORNWALLIS - Drafted to CORNWALLIS 19 Mar 1943 as a Sto 1c, RCNVR
HMCS STADACONA - Drafted to STADACONA 01 Jun 1943 as a Sto 1c, RCNVR
HMCS TECUMSEH - Drafted to TECUMSEH 30 Aug 1943 as a Sto 1c, RCNVR
HMCS CORNWALLIS - Drafted to CORNWALLIS 15 Apr 1944 as a Sto 1c, RCNVR
HMCS STADACONA II - Drafted to STADACONA II 08 Aug 1944 as a Sto 1c, RCNVR
HMCS WASKESIU - Drafted to WASKESIU 03 Oct 1944 as a Sto 1c, RCNVR
HMCS PEREGRINE - Drafted to PEREGRINE 08 Jan 1945 as a Sto 1c, RCNVR
HMCS GUYSBOROUGH - Drafted to GUYSBOROUGH 22 Feb 1945 as a Sto 1c, RCNVR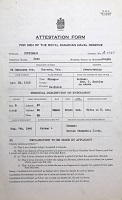 Documents from the Service File of Dale Downey
---
Second World War Casualty Index