They made the Ultimate Sacrifice
Alexander Mowat Gair

Leading Signalman, V24028, RCNVR

Born: 22 May 1919, Winnipeg, Manitoba

Died: 18 Mar 1945 at sea

Book of Remembrance
GAIR, Alexander Mowat, L/Sig, V24028, RCNVR, MPK - 18 Mar 1945, HMCS GUYSBOROUGH - Son of Robert and Marjorie I. Gair, of Winnipeg, Manitoba.
L/Sig Gair died when his ship, HMCS GUYSBOROUGH, was torpedoed and sunk by U-868 in the Bay of Biscay with the loss of 53 of her crew.
Leading Signalman Alexander Mowat Gair son of Mr. and Mrs. R. Gair of Winnipeg, who has been officially reported missing at sea. He was born in Winnipeg and attended Greenway, General Wolfe and Daniel McIntyre Collegiate schools. Prior to enlistment, he was employed by Searle Grain Company. He enlisted with the R.C.N.V.R. in May, 1940 and received his training at Victoria and Halifax. He has five brothers: PO Patrick Peter Gair stationed at Port Arthur; Cpl. Don R.C.A.F., at Vancouver and three other brothers recently discharged Sinclair Allan Gair from the navy, Jack from the air force, and Bruce from the army.
Ships served in:
WINNIPEG DIVISION RCNVR - Enlisted 20 Sep 1940. Commenced Active Service 25 Oct 1940
HMCS NADEN - Drafted to NADEN 03 Dec 1940 as an OS, RCNVR
* Rated O/Sig 31 Jan 1941
Fishermen's Reserve Vessel CANCOLIM - Drafted to CANCOLIM 26 Apr 1941 as an O/Sig, RCNVR
HMCS NADEN - Drafted to NADEN 11 Aug 1941 as an O/Sig, RCNVR
HMCS QUINTE - Drafted to QUINTE 29 Aug 1941 as an O/Sig, RCNVR
* Rated Sig 4 Sep 1941
Fishermen's Reserve Vessel HOWE SOUND - Drafted to Howe Sound 17 Sep 1942 as a Sig, RCNVR
HMCS GIVENCHY - Drafted to GIVENCHY 09 May 1943 as a Sig, RCNVR
HMCS STADACONA - Drafted to STADACONA 05 Jun 1943 as a Sig, RCNVR
HMCS ST HYACINTHE - Drafted to ST HYACINTHE 02 Jun 1943 as a Sig, RCNVR
* Rated A/L/Sig 15 Sep 1943
HMCS STADACONA - Drafted to STADACONA 18 Sep 1943 as an A/L/Sig, RCNVR
HMCS GUYSBOROUGH - Drafted to GUYSBOROUGH 07 Oct 1943 as a A/L/Sig, RCNVR
(AG01) OS Alexander Gair
(AG02) Sig Alexander Gair
(AG03) Documents from the Service File of Alexander Gair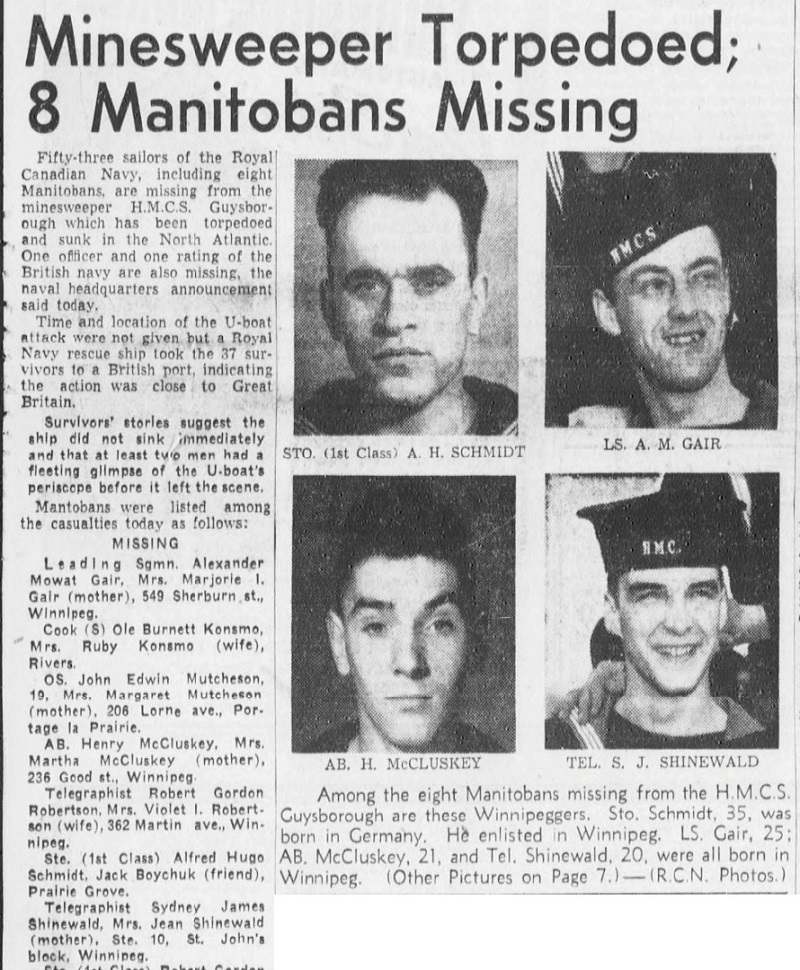 Article from the Winnipeg Evening Tribune
---
Second World War Casualty Index