They made the Ultimate Sacrifice
William Garvey

Signalman, V14500, RCNVR

Born: 29 May 1922, Victoria, British Columbia

Died: 18 Mar 1945 at sea

Book of Remembrance
GARVEY, William, Sig, V14500, RCNVR, MPK - 18 Mar 1945, HMCS GUYSBOROUGH - Son of Thomas Garvey, and of Blanche Gertrude Garvey, of Vancouver, British Columbia.
Signalman Garvey died when his ship, HMCS GUYSBOROUGH, was torpedoed and sunk by U-868 in the Bay of Biscay with the loss of 53 of her crew.
William's brothers, Thomas Riston Garvey and John Garvey also served in the RCNVR during the Second World War.
Ships served in:
VANCOUVER DIVISION RCNVR - Enlisted 22 Jun 1940. Commenced Active Service 01 May 1941
HMCS NADEN - Drafted to NADEN 13 Aug 1941 as a OS, RCNVR
* Rated O/Sig 02 Jan 1942
HMCS MALASPINA - Drafted to MALASPINA 10 Jan 1942 as a O/Sig, RCNVR
* Rated Sig 01 May 1942
HMCS NADEN - Drafted to NADEN 02 Jun 1944 as a Sig, RCNVR
HMCS CHATHAM - Drafted 29 Jun 1944 as a Sig, RCNVR
HMCS NADEN - Drafted to NADEN 15 Dec 1944 as a Sig, RCNVR
HMCS VENCEDOR - Drafted to VENCEDOR 24 Dec 1944 as a Sig, RCNVR
HMCS PEREGRINE - Drafted to PEREGRINE 13 Jan 1945 as a Sig, RCNVR
HMCS GUYSBOROUGH - Drafted to GUYSBOROUGH 07 Feb 1945 as a Sig, RCNVR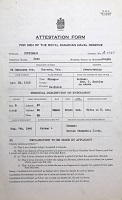 Documents from the Service File of William Garvey
---
Second World War Casualty Index