They made the Ultimate Sacrifice
Ole Burnett Konsmo

Cook (Seamen), V16766, RCNVR

Born: 24 Jan 1910, Grand Forks, North Dakota, USA

Died: 18 Mar 1945 at sea

Book of Remembrance
KONSMO, Ole Burnett, Cook (S), V16766, RCNVR, MPK - 18 Mar 1945, HMCS GUYSBOROUGH - Son of Ole Martin Konsmo, and of Inanda Benora Konsmo, of Shell Lake, Saskatchewan; husband of Ruby A. Konsmo, of Rivers, Manitoba.
Cook Konsmo died when his ship, HMCS GUYSBOROUGH, was torpedoed and sunk by U-868 in the Bay of Biscay with the loss of 53 of her crew.
Cook Ole Burnett (Barney) Konsmo of Shell Lake was the son of Ole Martin and Inanda Benora Konsmo who farmed just northwest of Shell Lake. Barney was born at Grand Forks, North Dakota, and farmed with his family at Shell Lake. He worked as a riveter for two months at Canada Car & Foundry, Thunder Bay, Ontario, and enlisted on February 14, 1942 at Thunder Bay, Ontario. Barney left a wife Ruby Areeta at Rivers, Manitoba, and his brother Oliver served in the Army.
Ships served in:
PORT ARTHUR DIVISION RCNVR - Enlisted 14 Feb 1942. Commenced Active Servcie 14 Feb 1942 as a Asst Cook, RCNVR
HMCS CHIPPAWA - Drafted to CHIPPAWA 17 Feb 1942 as an Asst Cook, RCNVR
HMCS NADEN for NSHQ - Drafted to NSHQ 13 Apr 1942 as an Asst Cook, RCNVR
HMCS NADEN - Drafted to NADEN 16 Apr 1942 as an Asst Cook, RCNVR
HMCS GIVENCHY - Drafted to GIVENCHY 09 Jul 1942 as an Asst Cook, RCNVR
HMCS WOLF - Drafted to WOLF 14 Jul 1942 as an Asst Cook, RCNVR
HMCS GIVENCHY - Drafted to GIVENCHY 12 Jul 1942 as an Asst Cook, RCNVR
HMCS UNICORN - On Division Strength 03 Aug 1942 - 02 Oct 1942
HMCS GIVENCHY - Drafted to GIVENCHY 03 Oct 1942 as an A/Ck (S), RCNVR
ML Q068 - Drafted to Q068 23 Oct 1942 as an A/Ck (S), RCNVR
* Rated Ck (S) 14 Jan 1943
HMCS GIVENCHY - Drafted to GIVENCHY 06 Mar 1943 as an A/Ck (S), RCNVR
HMCS GUYSBOROUGH - Drafted to GUYSBOROUGH 17 Mar 1943 as a Ck (S), RCNVR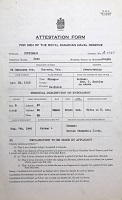 Documents from the Service File of Ole Konsmo
---
Second World War Casualty Index