In memory of those who have Crossed the Bar
Rodney Albert (Rod) Lyons

RCAF / RN Fleet Air Arm

Commander, RCN / C.A.F. (Navy)

Born: 09 Apr 1925 Died: 05 Apr 2023
LYONS, Rodney Albert - It is with great sorrow we announce the passing of our father, Rod Lyons, April 05, 2023, in Abbotsford, BC, with family at his side. Dad was born in Fort Frances Ontario, July 19, 1925, to Cecil Rhodes Linwood and Matilda (Kleven) Lyons. He was predeceased by his loving wife Heather (Williams), sister Elaine, brothers Allan and Morley, and special sister-in-law Betty. He is survived by his son Rodney Jr. (Janey); daughter Kirsten (Dave) Corbett; four grandchildren and eight great grandchildren.
Dad joined the RCAF in 1942 at age 17 and earned his "wings" as a Sergeant Pilot the following year. In 1944 he transferred to the Royal Navy Fleet Air Arm and flew Seafires from the British Fleet Carriers until the end of WWII. He returned to Canada while serving with the RCN in HMCS Magnificent and subsequently helped to form the Navy's first Reserve Squadron in 1947. Promoted to Lieutenant Commander in 1953, he served at NT Squadron Shearwater until 1961 when he became Executive Officer of HMCS St. Croix. Following a year at the Royal Navy Staff College in 1966 at Greenwich England, he returned again to Shearwater as Commanding Officer of VU32 Squadron from 1967 to 1971 and then became the Base Operations Officer until his retirement in 1977. "Cdr. Rod Lyons piloted the last aircraft off the last Canadian Aircraft Carrier, HMCS Bonaventure." After serving Canada for 35 years, Dad retired from the Canadian Forces and took on a new challenge as Director of Operations at the Halifax International Airport for twelve years.
Dad was one of the pioneers of the Hartlen Point Forces Golf Club and former president of the club for eleven years. He helped the club through many early negotiations and financial transactions ensuring the success of the golf club, including taking out a personal loan in 1970 so the club could meet its financial obligations and open for the season, (I'm not sure Mom knew about that one).
Dad wasn't only involved in golf. He was a very well known hockey player and an accomplished athlete. "He loved the competition of a good game and enjoyed the friendly rivalries." After a second retirement, Mom and Dad succumbed to the lure of the west coast to join both relatives and naval colleagues. After Mom passed, Dad enjoyed his final years with many dear friends, rarely missing a round at the Chilliwack Golf Club.
The family would like to thank the staff at Abbotsford Regional Hospital for their exceptional care of Dad. (Victory Memorial Park & Funeral Centre)
Ships served in:
HMCS MAGNIFICENT, 803 SQN - Appointed to MAGNIFICENT, 803 SQN 20 May 1948 aas a Lt (P), RCN
HMCS SHEARWATER, NT Squadron
HMCS ST CROIX - Served in ST CROIX as XO
HMCS SHEARWATER, VU 32 - Served in SHEARWATER 1967 - 1971 as CO of VU 32
HMCS BONAVENTURE - Piloted the last Aircraft off the BONAVENTURE
CFB SHEARWATER - Served in SHEARWATER 1971-1977 as Base Operations Officer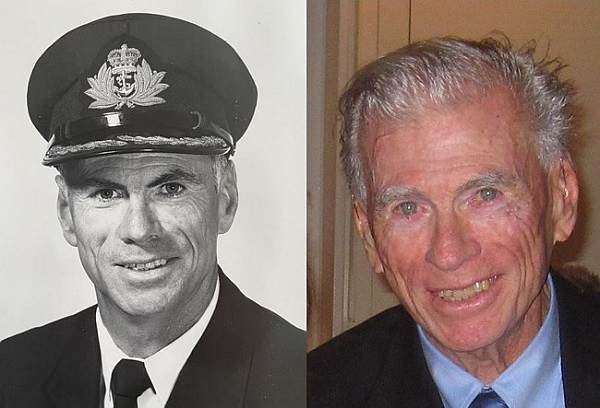 ---