In memory of those who have Crossed the Bar
James R. (Jim) Johnson, C.D.

Chief Petty Officer 1st Class Engine Room Artificer, RCN / C.A.F. (Navy)

Born: 03 Nov 1935, St. Jacques, Newfoundland

Died: 04 Sep 2022, Halifax, Nova Scotia
JOHNSON, James R. (Jim) - It is with profound sadness and broken hearts that the family of James "Jim" Johnson announce his passing on Sunday, September 4th, 2022 at the QEII Halifax Infirmary, after a brief unexpected admission.
Born in St. Jacques Newfoundland on November 3rd, 1935 (born on a Sunday, passed away on a Sunday). To say he was a proud Newfoundlander would be an understatement. He had an inordinate need to belong to some place (St. Jacques and Newfoundland) and to know who shares that place with him. That pride pushed him to research Newfoundland's Remembrance Day (July 1st in Newfoundland) Flower, the forget me not and then encourage his dear friend, writer/composer/singer Bud Davidge to write "The Little Blue Forget-Me-Not". Bud graciously invited Jim to his honorary doctorate ceremony and made sure to acknowledge Jim's significant contribution to the creation of the song.
He met the love of his life Glenda (Langille) in 1954 and they began a life together that spanned almost 66 years of marriage. For many years they enjoyed summers at their cottage in Malagash, where Glenda was born.
Having served on ten ships and five establishments, Jim spent almost 32 years in the Royal Canadian Navy. He retired in 1984 with the rank of C1ER (a rank that he held for over 11 years), the highest non-commissioned rank. His last posting was as Divisional Chief of the Nuclear, Biological, Chemical Warfare and Damage Control School in Halifax. He spoke with great pride of his time in the Navy but in particular about his time on the HMCS KOOTENAY, HMCS MAGNIFICENT, HMCS PROTECTEUR and HMCS HURON.
After retirement Jim was hired as Chief Engineer for the Captain William Spry Community Centre, a job which commenced some time before the facility opened. He worked there for 10 years before retiring a second time and celebrated with an Alaskan cruise.
Jim was an avid builder and not only had a knack for mechanical things but carpentry as well. He assisted many people in building homes and cottages but also built many wood working projects over the years.
As much as he was a proud Newfoundlander, he was a proud fisherman. He would walk miles a day through the brooks fishing trout or be seen off Malagash wharf fishing mackerel for hours. Many friends and family were well supplied with fish - fresh and home smoked.
He will be remembered for his love and devotion of family, his willingness to help anyone in need and quick-witted humor.
Jim is survived by his loving wife Glenda who will miss him dearly. He is also survived by his three sons, Alan (Beverly), Donald (Bonnie) and Kevin. Also surviving are his grandson Jesse and granddaughters Morgan (Ben), Mariah (Jon), step grandsons Aaron, Jonathan (Charl'y), Joseph, Nick and step great granddaughters Olivia and Evelyn, along with many neices, nephews, extended family and dear niece Debbie. Jim was always a dog person and had four grandpuppies, Maggie, Hope, Xena and Dipper.
Also surviving is his brother Cliff (Mary) Johnson, Ontario. He was predeceased by his parents Joseph and Netta (Noseworthy) Johnson, Brothers, Gus Johnson, Bill Johnson, Russell Johnson and sister Marie Roberts.
The family will receive visitors on Saturday, September 10th from 1-4pm at Maritime Cremation Centre, 67 Temple Terrace, Lower Sackville, NS.
Celebration of Life Service will be Sunday September 11th at 10am, St. Augustine's Anglican church, 290 Purcells Cove Road Halifax, NS. Cremation has taken place. Interment will be held at a later date. Family flowers only. In lieu of flowers, donations may be made to Malagash United Church or a charity of your choice. (Maritime Cremation, Lower Sackville, NS)
"Those we love don't go away,
They walk beside us everyday,
Unseen, unheard but always near
Still loved, still missed, and always dear."
Ships served in:
HMCS SCOTIAN - Enlisted 1953
HMCS STADACONA - 1954
HMCS CORNWALLIS - 1954
HMCS PENETANG - 1954-1955
HMCS MAGNIFICENT - 1955-1957
HMCS SIOUX - 1957-1958
HMCS OTTAWA - 1959
HMCS KOOTENAY - 1959-1961
HMCS VICTORIAVILLE - 1962-1964
HMCS MARGAREE - 1965-1968
HMCS FRASER - 1970-1973
HMCS PROTECTEUR - 1974-1976
HMCS HURON - 1978-1981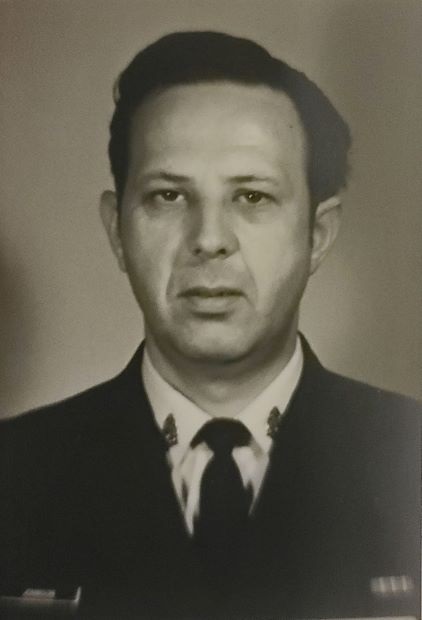 ---