In memory of those who have Crossed the Bar
Donald Clarence Hughes

RCNVR

Chief Petty Officer 1st Class, Boatswain, RCN

Born: 20 Sep 1919, Saint John, New Brunswick

Died: 14 May 1999, Halifax, Nova Scotia
HUGHES, Donald Clarence - of West Petpeswick, Musquodoboit Harbour, died May 14, 1999. He was born in Saint John, N.B., on September 20, 1919. Surviving is son, Donald J. Hughes. He was predeceased by his wife, Dorothy Elizabeth. Cremation has taken place. No funeral. Donations to Canadian Cancer Society. (Halifax Chronicle-Herald 17 May 1999)
Donald passed away at the Veteran's Hospital, Halifax, NS.
Donald joined the RCN as a Gunner at the start of WW2 and later became a Boatswain (Bos'n)
Ships served in:
HMCS RESTIGOUCHE - Drafted to RESTIGOUCHE 19 Dec 1939. Rated LS in Aug 1941.
* Transferred to the RCN in Sep 1941
HMCS BRUNSWICKER - Served in BRUNSWICKER Nov 1941 - Nov 1943 as an Instructor.
HMCS TRANSCONA - Drafted to TRANSCONA in Jan 1944
HMCS TORONTO - Drafted to TORONTO in May 1944 as Chief Bos'n's mate.
* Rated PO 01 Aug 1944
HMCS SASKATCHEWAN - Served in SASKATCHEWAN in 1945 as Cox'n
HMCS OSHAWA - Served in OSHAWA in 1945 for her transfer to Esquimalt.
HMCS LLOYD GEORGE - Served in LLOYD GEORGE as Cox'n
HMCS IROQUOIS - Drafted to IROQUOIS in Sep 1947
HMCS ST STEPHEN - Drafted to ST STEPHEN (at his own request) Sep 1947. Commissioning crew as a Weather Ship. Served in ST STEPHEN 1947-1949
HMCS IROQUOIS - Served in IROQUOIS in Korea in 1953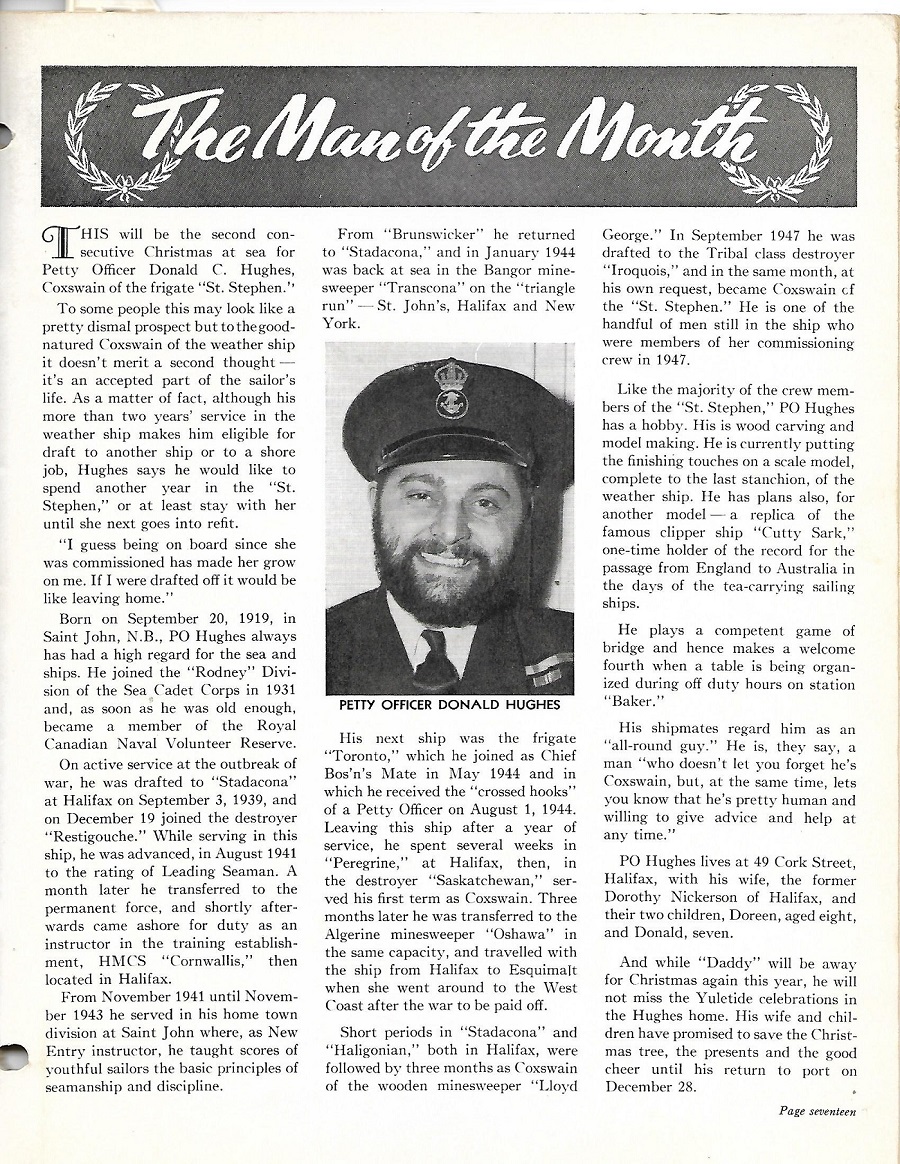 Man of the Month article from the Christmas 1949 issue of the Crowsnest
Click on the above article to view a larger image
---