They made the Ultimate Sacrifice
Carlton Joseph Jacques, M.I.D.

Engine Room Artificer 4th Class, V19139, RCNVR

Born: 20 Apr 1920, Windsor, Ontario

Died: 16 Apr 1945 at sea

Book of Remembrance
JACQUES, Carlton Joseph, ERA 4c, V19139, RCNVR, MPK - 16 Apr 1945, HMCS ESQUIMALT - Son of Nelson and Irene Jacques, of Windsor, ON; husband of Isa Grace Jacques and father of Carlton Jacques, of Pictou, NS; brother of Edward Charles Jacques, Pauline Hughes and Bob Jacques.
ERA Carlton J. Jacques died when HMCS ESQUIMALT was torpedoed and sunk off the approaches to Halifax Harbour by U-190 on 16 Apr 1945
Citation for posthumous award of Mentioned in Despatches: JACQUES, Carlton Joseph, Stoker Petty Officer, V19139, Mentioned in Despatches (Posthumous), RCNVR, HMCS ESQUIMALT - Awarded as per Canada Gazette of 5 January 1946 and London Gazette of 1 January 1946.
"For outstanding gallantry and bravery in action. At the time of the sinking of HMCS ESQUIMALT, Petty Officer Jacques remained for some time helping others to get out of the mess decks so that they could abandon ship. Later he left his carley float to swim round and help others who could not swim. As a result of these further exertions and the additional time in the water he died shortly afterwards."
Ships served in:
WINDSOR DIVISION RCNVR - Enlisted 01 Oct 1940. Commenced Active Service 04 Nov 1940
HMCS STADACONA - Drafted to STADACONA 19 Nov 1940 as a Sto 2c, RCNVR
M.T.E. PICTOU - Drafted to MTE PICTOU 04 Mar 1941 as a Sto 2c, RCNVR
* Rated A/Stoker 04 Nov 1941
HMCS STADACONA - Drafted to STADACONA 12 May 1942 as an A/Sto, RCNVR
HMCS HOCHELAGA - Drafted to HOCHELAGA (Manning Pool) 15 May 1942 as an A/Sto, RCNVR
HMCS LACHINE - Drafted to LACHINE 20 Jun 1942 as an A/Stoker, RCNVR
HMCS STADACONA - Drafted to STADACONA 25 Aug 1942 as an A/Sto, RCNVR
* Rated A/Sto PO 01 Oct 1942
HMCS YORK - Drafted to YORK 02 Oct 1942 as an A/Sto PO, RCNVR
HMCS NADEN - Drafted to NADEN 24 Dec 1942 as an A/Sto PO, RCNVR
* Rated Sto PO 01 Oct 1943
* Rated A/ERA 4c 14 Oct 1943
HMCS GIVENCHY - Drafted to GIVENCHY 19 Oct 1943 as an A/ERA 4c, RCNVR
HMCS STADACONA - Drafted to STADACONA 23 Oct 1943 as an A/ERA 4c, RCNVR
HMCS CAPE BRETON - Drafted to CAPE BRETON 01 Dec 1943 as an A/ERA 4c, RCNVR
HMCS STADACONA - Drafted to STADACONA 08 Dec 1943 as an A/ERA 4c, RCNVR
HMCS ESQUIMALT - Drafted to ESQUIMALT 29 Mar 1944 as an A/ERA 4c, RCNVR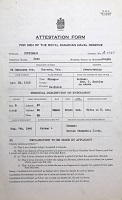 Documents from the Service File of Carlton Jacques
---
Second World War Casualty Index