---
HMCS CAPE BRETON K350
River Class Frigate
---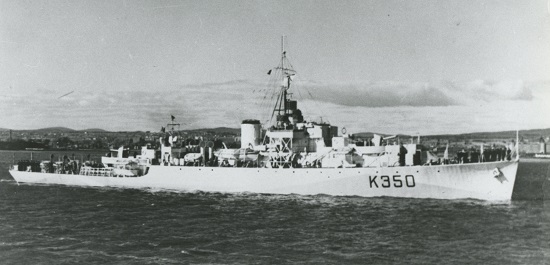 HMCS CAPE BRETON K350
DND / RCN Photo
Click on the above photo to view a large image
Battle honours and awards: Arctic 1944, Normandy 1944, Atlantic 1944-45
Laid down: 05 May 1942

Launched: 24 Nov 1942

Commissioned: 25 Oct 1943

Paid off: 26 Jan 1946

Fate: Hull sunk as a breakwater 1948
HMCS CAPE BRETON, a "River" Class frigate, was laid down in the Morton Engineering and Dry Dock Company yard at Quebec City on 5 May 1942. She was launched on 24 November that year, and commissioned on 25 October 1943. She left Quebec on 23 November, called at Sydney, N.S., in whose honour she had been named, and escorted a convoy to Halifax where she arrived on the 28th.
She had to go into dockyard hands for final additions and adjustments to her gear, and on 24 February 1944, she sailed as an additional escort to Convoy HX-280 to make her passage to Londonderry to join the Sixth Escort Group. On the passage, her asdic dome was damaged, and she had to go into dry-dock for repairs when she entered harbour. EG-6 had gone to sea on patrol with HM Aircraft Carrier VINDEX the day after CAPE BRETON had arrived, and she sailed to join them on 16 March. Another patrol followed this after two days in harbour; then the group was nominated to support a convoy back from Murmansk.
They had two weeks in Londonderry before they sailed for Scapa Flow on 17 April. The anti-submarine escort was heavy, it comprised twenty-one ships: EG-6 (four frigates), EG-8 (British, eight old destroyers and one corvette) and the Third Destroyer Flotilla (eight more modern British destroyers). Rear-Admiral H. R. McGrigor of the First Cruiser Squadron with his flag in HKS DIADEM was in command of the operation, and air cover was provided by HM Ships ACTIVITY and FENCER. The passage to the Kola Inlet was without incident, but the return, starting on 28 April, was strongly opposed.
At 1803 on 30 April, when the convoy was steering westward fifty miles south of Bear Island, and just clear of the sea ice, the SS WILLIAM S. THAYER carrying Russian naval passengers, was torpedoed. Two minutes later CAPE BRETON (four and a half miles ahead of the starboard column of the convoy) sighted a U-boat beyond some ice, and twice attacked it with her hedgehog. However, her movements were hindered by the ice, and she lost the contact. At 0727 the next day she sighted another U-boat when she was out on the starboard beam of the convoy. She made asdic contact, and attacked, but without visible result.
Early that morning, the aircraft had sunk U-277, and in the next two days they sank U-674 and U-959, but the escort vessels had no such luck. The convoy lost no more ships, and most of the escort entered Scapa Flow on 4 May leaving HMCS GROU and HMS LOTUS to take the merchantmen on to Loch Ewe.
The rest of May was spent in preparation for the part which EG-6 was to play in the invasion of Europe, and on the 27th it was at Moelfre Bay, Anglesea, standing by for D-Day. When the day came, the group was one of six which, along with two aircraft carriers, were engaged in Operation "CA", anti-submarine patrols in the entrance to the English Channel and the Bay of Biscay.
No U-boats managed to reach the convoys in the Channel, but the ships again had no luck, encountering no enemy submarines in Operation "CA". Later EG-6 was transferred to the Portsmouth Command for work in the Channel itself, and then, since the U-boats had had to abandon their bases in the Biscay ports, it sailed north for Scapa Flow on 25 September 1944, arriving on the 28th. Their duty now was a patrol between the Orkneys and Faeroes to intercept U-boats on passage from German or Norwegian bases to their Atlantic cruising grounds. On the evening of 14 October, HMCS ANNAN, of EG-6, sank U-l006 outward bound. [Note: a transcript of the communication of the engagement taken by HMCS CAPE BRETON Coder Rod Caverly states this battle took place on Monday, October 16, 1944].
On 19 October, EG-.6 was relieved of the patrol, and returned to Londonderry. Here CARE BRETON left the group and sailed as a relief for HMCS STONETOWN in C-8 Group on passage to Halifax escorting Convoy ON-261. She took the Gulf section of the convoy into the St. Lawrence, handed it over to the river escort and turned back to Halifax, arriving on 2 November. She was sent on to Shelburne on the 6th to be taken in hand for refit, and remained there until 20 March 1945.
On passage to Halifax that day, CAPE BRETON made contact with a U-boat, but, being just out of refit, she did not have a full outfit of ammunition aboard, and her organization was not "worked up". This enabled the enemy to make his escape unharmed. When she was fully ready to go to sea, CAPE BRETON sailed for Bermuda on 7 April to "work up" there, and remained until the 27th. Calling at Sydney and St. John's (where she cleaned boilers), she made the passage to Londonderry, the latter part of the way escorting HX-354. She had left St. John's on 8 May 1945 V-E Day, so instead of joining EG-9 as had been planned, she was ordered to Vancouver, via Bermuda and the Panama Canal, to refit for tropical service, so that she could take part in the last campaign against Japan.
There was still a possibility that U-boats would attack shipping in the Atlantic Ocean, so when CAPE BRETON gained an asdic contact three days out from Londonderry, she attacked it, but it soon proved to be "non-sub", that is, not a U-boat.
She was taken in hand for refit by the Burrard Drydock Company at North Vancouver on 26 June, and was still there when the Japanese surrendered on 14 August. Her refit was stopped, and by 1 October CAPE BRETON was in Esquimalt sending her stores ashore. She was paid off on 26 January 1946, and sold to Wagner, Stein and Greene Co., of Victoria, who dismantled her and scuttled the bare hull as part of a breakwater.
---
---
Commanding Officers
LCdr Alexander McAllister McLarnon, RCNR - 25 Oct 1943 - 03 Dec 1944
A/LCdr John Crispo Leckie Annesley, RCN - 05 Jan 1945 - 24 Sep 1945
---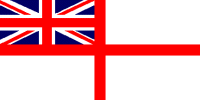 In memory of those who have crossed the bar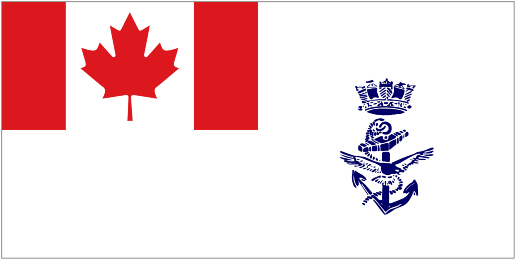 They shall not be forgotten
---
Former Crew Members
Carr, Stanley, Lt (E), RCNVR - 07 Jul 1943

Drohan, Charles

Durley, Thomas Richard, Lt (El), RCNVR - 21 Feb 1944

Germaniuk, Peter (Gery)

Holms, John Edward Vandeleur, Lt, RCNVR - 05 Mar 1945

Hunt, Charles Gordon - 1944-45

Jackson, Wesley (alive in 2021 age 100)

Jessome, Ambrose

MacCharles, Aubrey

McKay, Donald Douglas, Slt, RCNVR - 01 Feb 1945

Simon, David, ERA

Weed, Joseph Dodsworth, Lt (E), RCNVR - 01 Apr 1945

Woolverton, Cecil Kirk, Lt, RCNVR - Jan 1945
---
Photos and Documents
HMCS CAPE BRETON K350 off the North Cape 1944

From the collection of H.R. Grant MacLauchlan, CPO, RCNVR

Courtesy of Julia MacLauchlan

Article on a fund set up to provide items of comfort for the crew of HMCS CAPE BRETON K350

The Sydney Local New, Sydney, NS - 29 Nov 1943

Researched by / Courtesy of George Newbury

HMCS CAPE BRETON K350 pulling away

Photo taken from HMCS RUNNYMEDE K678

Photo from the WWII collection of Kirk Wipper

HMCS CAPE BRETON K350

From the collection of Ed Callary, Lt, RCNVR / RCN(R)

Courtesy of Stephen Callary
---