They made the Ultimate Sacrifice
Thomas Edward Davis

Petty Officer Quarter Rating II, V22485, RCNVR

Born: 17 Mar 1921, Toronto, York Co., Ontario

Died: 14 Oct 1944 at sea

Book of Remembrance
DAVIS, Thomas Edward, Petty Officer, V22485, RCNVR, killed - 14 Oct 1944, HMCS MAGOG - son of Mr. and Mrs. Thomas E. Davis, Toronto, ON.
Suddenly, on active service, Petty Officer Thomas E. (Ted) Davis, (V22485), RCNVR, aged 23 years, dear son of Mr. and Mrs. T.E. Davis, 30 Red Deer Ave., Birch Cliff, and brother of Dorothy, of Toronto, and Pte. Donald M. Davis, RCAMC, Italy. Resting at the William Sherrin Funeral Home, 873 Kingston Rd., Toronto. Service in the chapel Monday at 3 p.m. Interment Scarboro Memorial Park. (Naval honors). (The Toronto Star, 20 Oct 1944)
Thomas Edward Davis lived at 30 Red Deer Avenue prior to World War II, and his final resting place is less than five kilometres from his home. That's because Davis was killed in Canadian waters on October 14, 1944 when his ship, HMCS MAGOG was torpedoed and severely damaged by U-1223. He was 23-years old. He is buried in the Resthaven Memorial Garden, Toronto, ON.
Ships served in:
RCNVR DIVISION TORONTO - Enlisted 13 Nov 1940. Commenced Active Service 01 May 1941
* Rated QR III 03 Sep 1941
HMCS ELK - Served in ELK 05 Sep 1941 - 01 Nov 1941 as an OS, RCNVR
HMCS DRUMMONDVILLE - Served in DRUMMONDVILLE 12 Nov 1941 - 22 May 1942 as an OS and AB, RCNVR. Rated AB 29 Jan 1942
ML Q057 - Served in Q057 02 Jul 1942 - 13 Aug 1942 as an AB, RCNVR
HMCS FORT WILLIAM - Served in FORT WILLIAM 23 Aug 1942 - 13 Dec 1942 as an AB and A/LS, RCNVR. Rated A/LS 01 Aug 1942 (backdated)
HMCS MATAPEDIA - Served in MATAPEDIA 05 Feb 1943 - 27 Apr 1943 as an A/LS, RCNVR
HMCS CLAYOQUOT - Served in CLAYOQUOT 04 May 1943 - 14 Aug 1943 as an A/LS, RCNVR. Rated LS 01 Aug 1943
* Rated QR II 24 Sep 1943
HMCS MAGOG - Drafted to MAGOG 07 May 1944 as an A/PO, RCNVR
(TD01-TD03) Certificate of Service
(TD04) Report of Death (TD05) CO's report on the death of PO Davis (TD06) Telegram to PO Davis' father informing him that his son was killed in action (TD07) Letter to PO DAVIS' father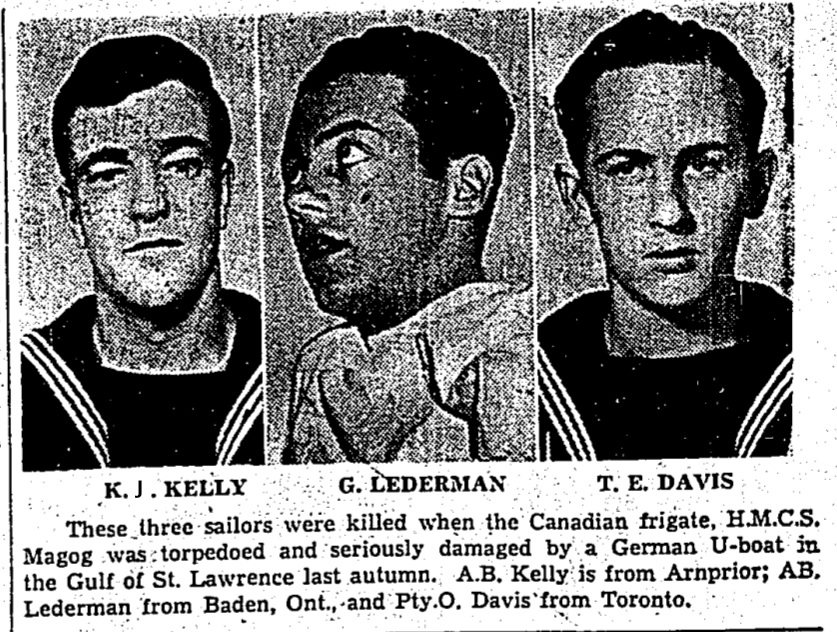 Article from the Toronto Star Apr 1945
---
Second World War Casualty Index