In memory of those who have Crossed the Bar
Ernest Maurice Chadwick, M.I.D.

Commander, RCN

Born: 06 May 1921, Victoria, British Columbia

Died: 19 May 2008, Victoria, British Columbia
CHADWICK, Ernest Maurice - 87 - Leader, Sailor, Painter. He survived 'mutiny' on HMCS Uganda to command destroyers in the Cold War.
A senior officer aboard Canada's biggest ship during the Second World War, E.M. Chadwick watched the crew make military history by voting itself out of the conflict. In retirement he became a marine artist.
Just 17 days before Japan surrendered to the Allies on Aug. 14. 1945, HMCS Uganda slipped away from the fighting in the Pacific and headed home to the naval base at Esquimalt B.C.
It was not a happy voyage, to say the least. Six weeks earlier, 600 sailors out of Uganda's crew of 900 had voted not to volunteer to continue the war against the Japanese, even though they'd spent five months fighting the enemy as part of the 4th Cruiser Squadron of the British Pacific Fleet. Astonishingly, the RCN's most powerful ship of the Second World War was "the only ship in recorded naval history whose own company had actually voted her out of a war" wrote Tony German in his 1990 book The Sea is at Our Gates- A History of the Canadian Navy.
Uganda's executive officer, LCdr Ernest (Chad) Chadwick was mortified. After spending almost all of the war at sea fighting the Germans and the Japanese, he felt he deserved to be present at the end to help finish the job. Mr. Chadwick tried his best to convince his shipmates to sign on the dotted line and stay in the war, but many sailors were fed up for a variety of reasons. Uganda had been built for northern climates and was badly ventilated, which made living difficult in the heat of the Far East. Fresh water was always in short supply and the food, provided by the Royal Navy, was poor. The controversy was an administrative disaster, so the brass decided to take the easy way out and recall Uganda.
The son of an Anglican clergyman who wanted him to study medicine, E.M. Chadwick grew up in Victoria. The call of the sea proved too strong and he spent most of his free time sailing his open sloop in the waters off Vancouver Island. By then, he had also started producing accomplished water colours and drawings - which he would revisit decades later.
Al 17, he decided he wanted to be a naval officer and passed the entrance examination for the Royal Navy's Vindictive program, which trained young men from the dominions for a career in the "Senior Service." There were no opportunities for him in the RCN of that era, since it boasted less than a dozen ships.
After graduating, he was posted to HMS Revenge, a battleship sporting 15-inch guns. In August of 1939, he and Revenge took part in the reserve fleet review, where King George VI inspected the ships preparing for war. "I was midshipman of [Revenge's] launch at the time and distinctly recall lying to and saluting as the Royal Barge steamed down the lines, and meeting King George's eyes as he passed a few yards away," wrote Mr. Chadwick.
The Second World War erupted the following month and by 1941 Mr Chadwick had transferred to the RCN. His first ship was HMCS Skeena, where he earned a "mention in dispatches" for his part in the sinking of U-588 in the North Atlantic on July 31, 1942. "This officer displayed great coolness and skill during the long period of attacks under difficult conditions." the citation read "He proved himself to be capable of rapid and accurate thinking."
After Skeena, Mr. Chadwick served on Gatineau, a River-class destroyer he got to command for 39 glorious days at the end of 1943. He was just 22, and was at that time the RCN's youngest commanding officer. His tender age didn't prevent him from growing a luxurious beard, though. He kept it for the rest of his life.
And then came HMCS Uganda, 11,700-tonne cruiser originally commissioned by the Royal Navy in 1942 and acquired by the RCN two years later. With the latest steam turbines and nine six-inch guns, the Uganda should have been the hardest-hitting ship in the fleet. Instead, after the so-called "mutiny," the cruiser meekly set a course for home.
What should have been a triumphant return became a sad and pathetic voyage. Stopping in Pearl Harbour to refuel, Uganda was ignored by the U.S. Navy, wrote Marc Milner in his 1999 book Canada's Navy: The First Century. "No admirals paid their respects, no bands played, and no ceremony was observed." For Mr. Chadwick, the whole sorry episode left an unpleasant taste in his mouth. "With our tails between our legs and wounded pride we slunk back to Esquimalt," he wrote decades later in an unpublished memoir. "The salt was real, rubbed in our wounds when we were greeted in Esquimalt by bands playing and cheering crowds "welcome back, you heroes!' I am sure, most of my shipmates, had great difficulty in looking anyone in the eye."
Even so, he decided to make the navy his post-war career. On Sept. 27. 1947, assumed command of HMCS St. Stephen. A sailor's sailor who led by example, his orders were to take the river-class frigate to the Labrador Sea and provide weather forecasts for the International Civil Aviation Organization. The airlines had started flying over the Atlantic and needed accurate weather reports. Transmitting every three hours and assisting aircraft with radar fixes - when the radar actually worked, Mr. Chadwick noted acidly in a memoir he and his crew coped with the atrocious weather on Station Baker usually encountered between Greenland and Labrador. He loved it, though, because it was an independent command and no one was looking over his shoulder. For the next two years, he recorded his daily battle with the elements."22 Dec. 1947: Wind still rising from NW up to 85. Heaviest seas yet during morning and forenoon, Every rivet shrieking with strain ... frequently rolling over 49 degrees to leeward with frightful buffets - like driving into a brick wall."
During the Cold War Mr. Chadwick filled several staff positions but got plenty of sea time commanding two modern destroyers, Nootka and Sagnenay. It was the golden age of the post-war RCN, with the fleet boasting 20000 men and 50 ships. Captains like Mr. Chadwick were a vital part the fleet.
In 1968, Mr. Chadwick retired with the rank of commander after just 30 years of service. He was only 47.
Immensely proud of sailor father, Nick Chadwick remembers him as a "bit of a martinet who wanted things done properly. He represents a link to an earlier age when service came first [and] being a gentleman was important. He epitomized an age when God and country meant some thing."
Settling in Victoria, Mr. Chadwick returned to his paints and built a reputation as a marine artist. "His paintings captured the mystery of the sea, the beauty of birds of prey, sea buds and wildlife keenly observed." said his eldest son Michael Chadwick. Over the years, he produced hundreds of works depicting birds and ships at sea in water-colour, oils and acrylics.
Ernest Maurice Chadwick was born in Victoria B.C. on May 6, 1921. He died there of natural causes on May 19, 2008. He was 87. He leaves daughters Diann (Trevor, Kate, Andrew) and Creina and sons Michael (Samara, Claire), Richard (Rebecca, Melanie, Christopher, Rena) and Nicholas (Catherine,
---
CHADWICK, Ernest Maurice (Chad) - Served his country in peace and war, died peacefully May 19, 2008 in Victoria. Predeceased by his loving wife Olga (nee Munro) of 57 years. Will be sadly missed by his children, Diann (Dakin), Michael, Richard, Creina and Nicholas; and also missed by his grandchildren Trevor, Andrew, Katherine, Creina, Samara, Claire, Rebecca, Melanie, Christopher, Rena, Catherine and Henry and by six great grandchildren. Attended Brentwood College. Prior to the Second World War he accepted a commission in the Royal Navy under the Vindictive program. He served on the H.M.S Revenge before accepting a posting as a convoy officer the Royal Canadian Navy in 1942. He served with distinction, was mentioned in dispatches, during the Battle of the Atlantic, finishing the war in the Pacific on HMCS Uganda. Subsequently, he continued as an officer in the Royal Canadian Navy with postings notably on Tribal Class Destroyers, Royal Roads Military College, HMCS St. Stephen (the weather ship) and with D.N.D (posted to the North Atlantic Treaty Organization, Paris and London) before retiring in 1968. He returned with his family to Victoria B.C. to embark on a fruitful career as a marine artist. His works of ships and marine wildlife can be found in collections across Canada. Funeral Service to be held at Christ Church Cathedral, Victoria, B.C. at 10:00 am on Saturday, May 24th, 2008. In lieu of flowers, memorial donations may be made to a charity of your choice.
---
Citation for Mentioned in Despatches: CHADWICK, Ernest Maurice, Sub-Lieutenant, Mention in Despatches, RCN, HMCS SKEENA – Awarded as per Canada Gazette of 28 November 1942 and London Gazette of 25 November 1942.
"This Officer displayed great coolness and skill throughout the long period of attacks under difficult conditions. He proved himself to be capable of rapid and accurate thinking, and through his calmness maintained a complete sense of confidence in the A/S team, the success of whose work contributed to the destruction of the enemy U-Boat."
---
Ships served in:
HMS REVENGE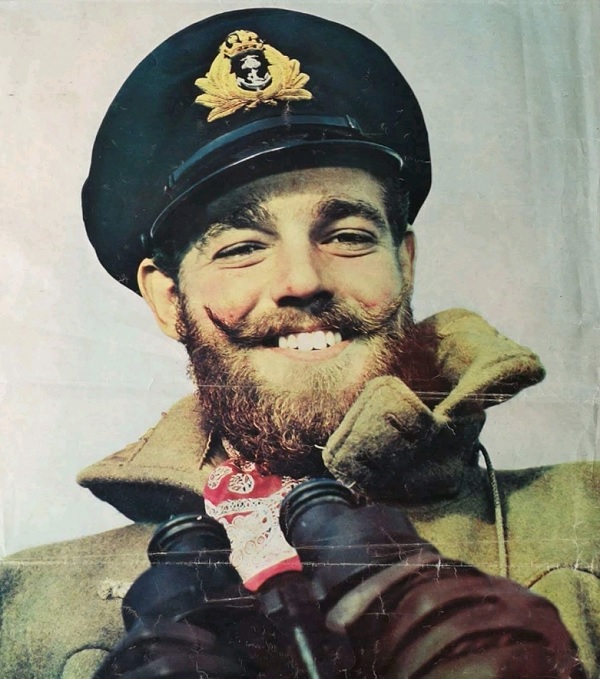 ---