In memory of those who have Crossed the Bar
Wallace Ormand Rombough, C.D.

V81754, RCNVR

Petty Officer 1st Class, Marine Engineer, E-27737, RCN / C.A.F. (Navy)

Born: 15 Sep 1926, Winnipeg, Manitoba

Died: 23 Nov 2006, Victoria, British Columbia
ROMBOUGH, Wallace Ormand (Happy) - born in Winnipeg, MB, September 15, 1926 and ended his incredible journey on November 23, 2006 in Victoria, BC. Predeceased by his son Robert; sister Beryl and her husband Walter; brother Ken; sister June; and brother in-law Lloyd. Survived by his loving wife of 59 years, Marjorie and children, John (Deana), Cathy (Gary), Beth (Carlos), Bill (Anne); daughter-in-law Sheryl; ten grandchildren; one great-grandchild; and sisters, Tannys, Marilyn (Earl), Muriel (Don); sister in-law Edith; and brother in-law Peter. In January 1944, Wally enlisted in the RCNVR where he served in the Second World War in England with the fleet air arm. After the war, Wally returned to his family and the C.P.R. in Winnipeg to continue his career as a Machinist. In August 1947, Wally and Marj wed and soon after the family grew with the birth of their first son John in 1953. In 1954, he rejoined the Navy and was stationed to the West Coast where the three settled into their home in Victoria, BC. This journey took the young family to the East Coast and finally back to the West, all the while the family grew with the birth of four more children. Wally served on many different ships, the Big O , Stadacona and the New Glasgow just to name a few. He achieved rank of PO1, ERA and ending his Navel career as an instructor for the Fleet School, CFB Esquimalt. After seeing many world sites, the well-travelled sailor decided it was time to retire from the Navy. He continued to be busy and joined the SunLife Assurance Company until he finally retired in 1987. Wally contributed to his community by being one of the founding members and served as the chairman of the Juan de Fuca Recreation Commission. The Commission was responsible for laying the foundation for the Juan de Fuca Recreation Center through the procurement of land. Wally was a devoted husband, proud father and was elated to have grandchildren as well as a great grandchild. He was known as Happy to his close friends because of his happy-go-lucky nature and his great kibitzing.
Awards and decorations: Defence Medal, CVSM & Clasp, War Medal 1939-45, CD & Clasp
---
On 23 Apr 1943 he joined the 5th Reserve Armoured Division, Royal Canadian Army Service Corps. On 13 Mar 1944 he transferred to the RCNVR (service number V-81754) and was demobilized Aug 1945. He re-enlisted in the Navy at HMCS CHIPPAWA on 08 Aug 1954.
---
Ships served in:
HMCS CHIPPAWA - Enlisted 08 Aug 1954 as a PO2
HMCS ONTARIO - Served in ONTARIO 04 Jan 1955 - 25 Aug 1955 as a P2ER3
HMCS NEW GLASGOW - Served in NEW GLASGOW 01 Mar 1956 - 14 Nov 1957 as a P2ER3, P1ER3 AND P1ER4
HMCS FORTUNE - Served in FORTUNE 02 Dec 1957 - 20 Jan 1959 as a P1ER4
HMCS ST LAURENT - Served in ST LAURENT 02 Jul 1959 - 30 Sep 1969 as a P1ER4 and P1ER4A
HMCS STETTLER - Served in STETTLER 15 Mar 1963 - 25 Aug 63 As a P1ER4
HMCS GATINEAU - Served in GATINEAU 16 Sep 1963 - 09 Nov 1964 as a P1ER4
HMCS KOOTENAY - Served in KOOTENAY 10 Nov 1964 - 24 Jan 1965 as a P1ER4
HMCS COWICHAN - Served in COWICHAN 28 Apr 1967 - 12 Sep 1968 as a PO1 Mar Eng
HMCS COLUMBIA - Served in COLUMBIA 30 Sep 1969 - 20 Sep 1970 as a PO1 Mar Eng
HMCS PROVIDER - Served in PROVIDER 05 Jan 1973 - 22 Aug 1976 as a PO1 Mar Eng
---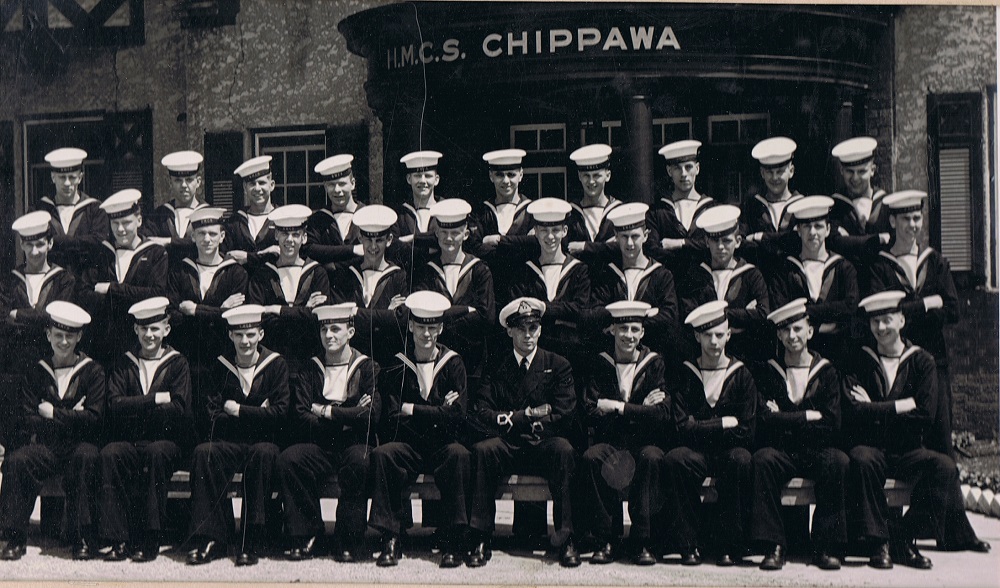 New Entry Training at HMCS CHIPPAWA
Click on the above photo to view a larger image
Click here to view the photo with recruits and staff numbered for identification
(15) OS Wally Rombough
---
Click on the above photos to view larger images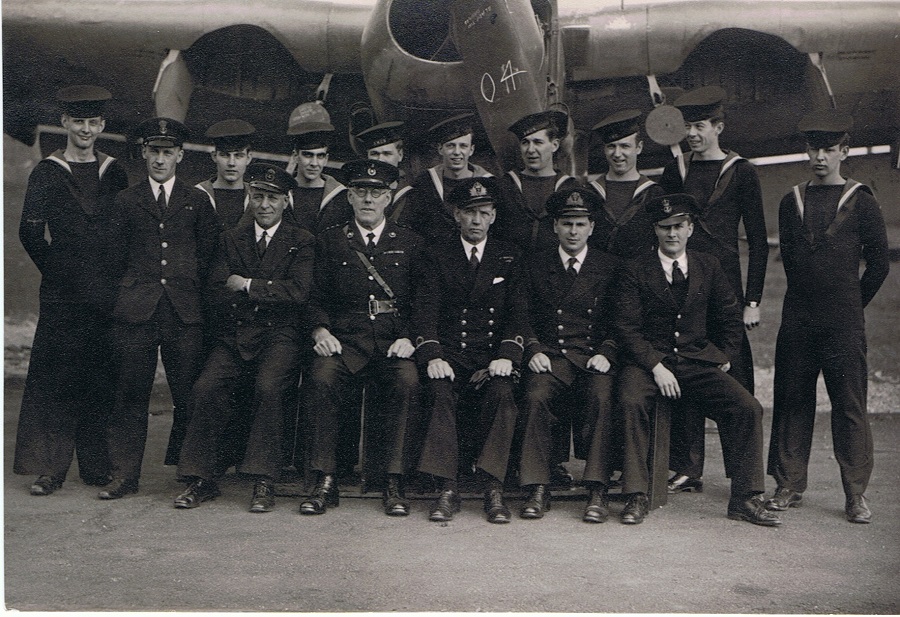 Mill Meece, Stafford Under Lyme England 1944
Click on the above photo to view a larger image
Wally Rombough - Standing, 1st on right
---
---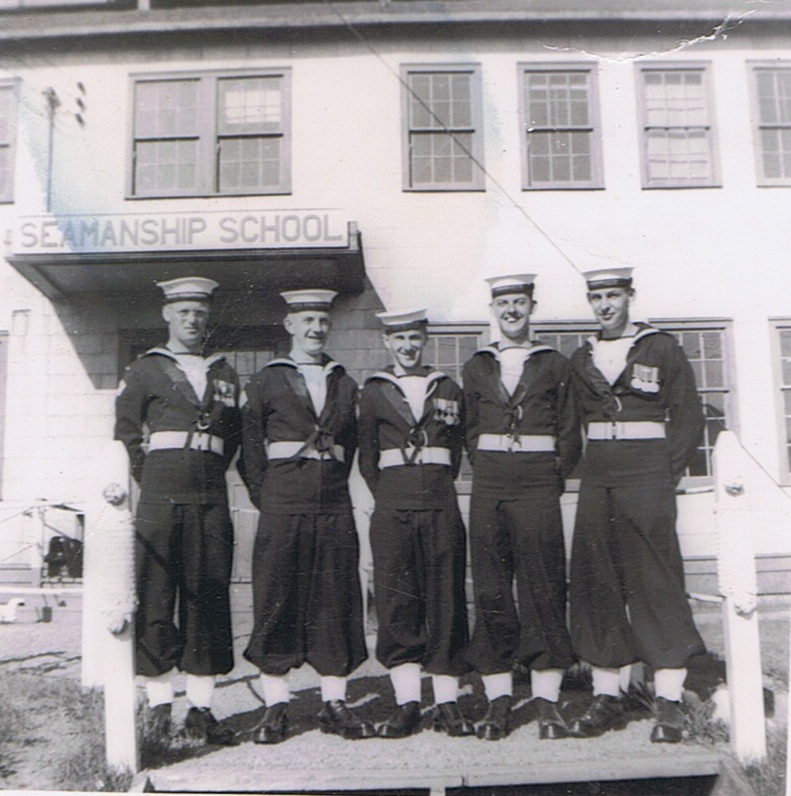 L-R: Pap Clark; Bill Grant; Dick MacGarrigle; D. Sherlock; WO Rombough
at the seamanship school, HMCS CORNWALLIS
---
RCASC, 1944 Ski Troop
Click on the above photo to view it without numbers
(9) Rombough, Wally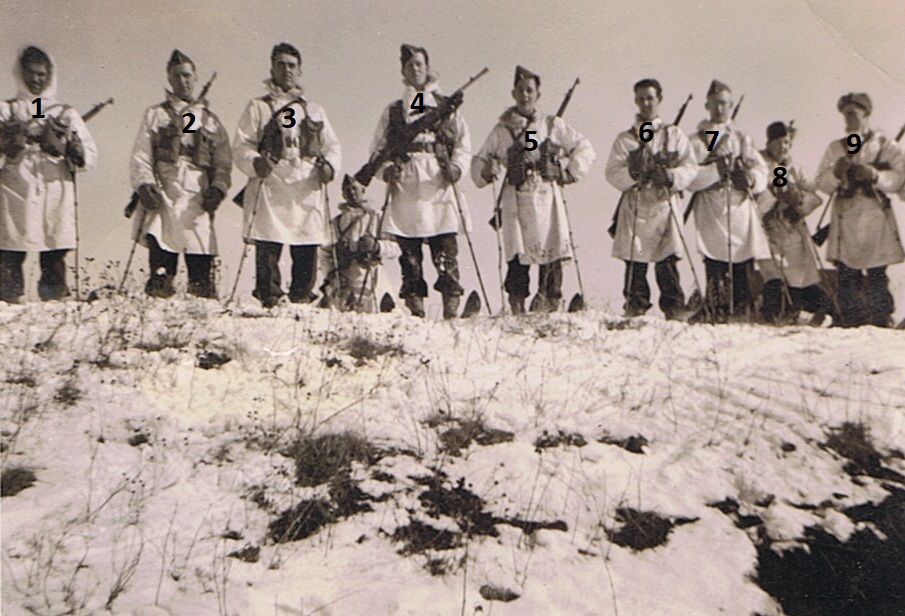 RCASC, 1944 Ski Troop
Click on the above photo to view it without numbers
(6) Rombough, Wally
---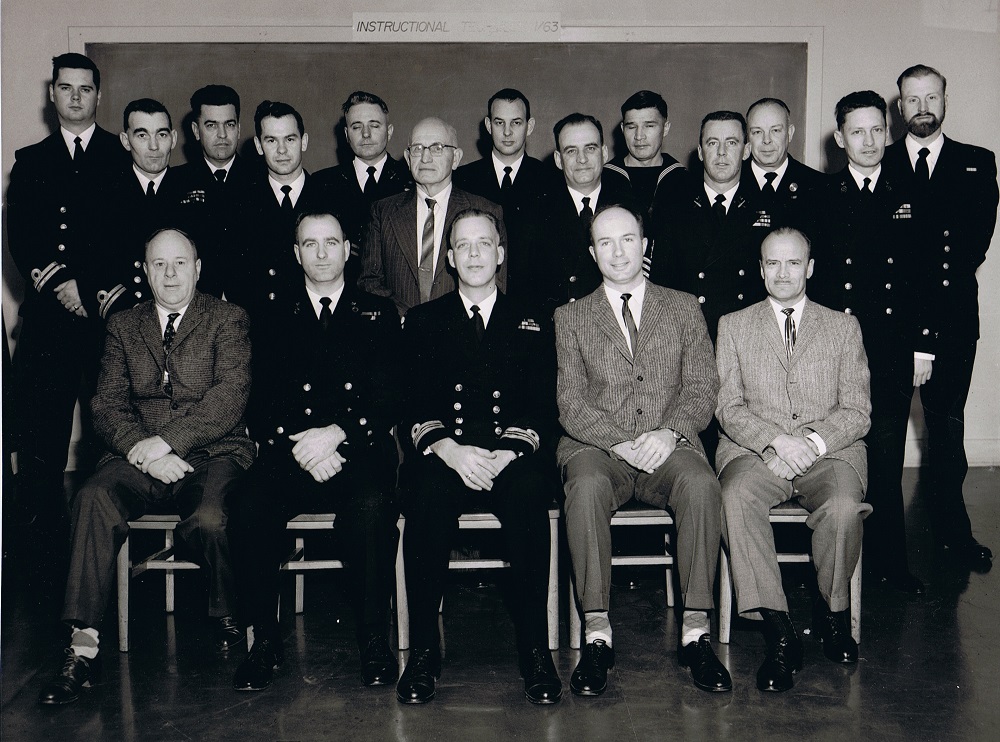 Instructional Techniques Course 1/63
Click on the above photo to view a larger image
Wally Rombough - back row, centre
---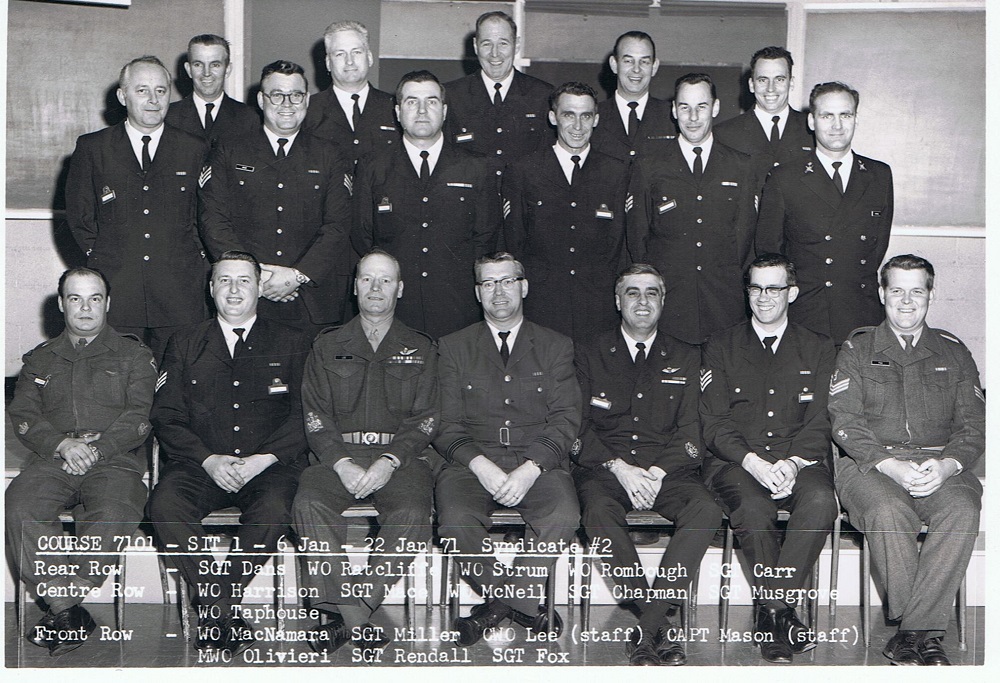 SIT 1 Course 7101
Syndicate # 2
06 - 22 Jan 1971
Click on the above photo to view a larger image
Front Row: WO MacNamara; Sgt Miller; WO Lee (staff); Catp Mason (staff); Sgt Carr
2nd Row: WO Harrison; Sgt Mace; WO McNeil; Sgt Chapman; Sgt Musgrove; WO Taphouse
3rd Row: Sgt Dans; WO Ratcliffe; WO Strum; WO Rombough; Sgt Carr
---