---
HMCS COLUMBIA 260
Restigouche Class Destroyer
---
Built by Burrard Dry Dock Ltd., Vancouver, COLUMBIA was commissioned on 07 Nov 1959, and soon afterward was transferred the east coast. In 1960 she represented Canada at Nigerian Independence observances, returning home on 25 Oct 1960. On 29 Apr 1961 COLUMBIA and RESTIGOUCHE made a port visit at Washington, DC. From 18 Jan 1965 to 14 Jul 1965 COLUMBIA participated in the 1st NATO Matchmaker Squadron exercises in European waters. In Mar 1967 she was transferred to Esquimalt. Paid off on 18 Feb 1974, COLUMBIA was fitted to "no-thrust wheels" so that her engines might be run at dockside. Sold to the Artificial Reef Society of BC on 15 Jun 1996, she was sunk as an artificial reef off Maude Island, Campbell River on 14 Jun 1997.
---
Photos and Documents Ship's company photos Commissioning book
HMCS COLUMBIA - Public relations information booklet
HMCS COLUMBIA - First Year 07 Dec 1960 - This is a document put together by the Cox'n of HMCS COLUMBIA for her 1st Anniversary on 7 December 1960
---
Commanding Officers
---
Captain for the day
Captain for the day is a tradition in the RCN where during the ship's Christmas celebrations, the Commanding Officer changes places with the youngest member of the ship's company.
Jim Anderson - 1959
Hogan, Douglas - 1971
---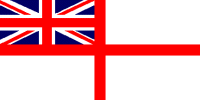 In memory of those who have crossed the bar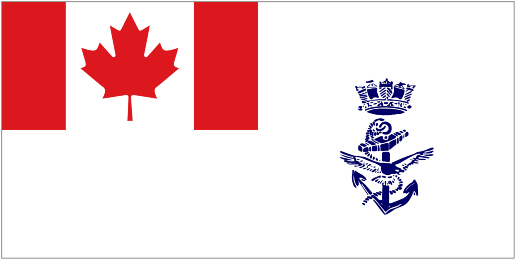 They shall not be forgotten
A
B
C
D
E
F
G
H
J
K
L
M
N
O
P
Q
R
S
T
V
W
Z
---
Former Crew Members
Elliott, Robert George (Bob), 43386-H, AB

Harrison, Thomas W. - 1963

La Fave, John 33169-H

Logan, Don, Sig - 29 May 1963 - 12 Sep 1963

McFarland, Doug - 1969-1970

Montgomery, Bill, Hull Mechanic - 1964

Mundell, Robert, LS, 44240-H, RCN - Served in Columbia when the Canadian flag became the Naval Ensign

Sleigh, Mike, OSSN/ABSN - 1966-1967

Stow, Peter, NavO - 1965-1967

Stuart, Bob 1969 - 1970

Thome, Robert (Bob) ABRP1 - Nov 1964-Sep 1965. Served onboard for Matchmaker '65

Walsh, Bill, Cook, RCN - 1965

Williams, Brian L.

Wills, Al, FC - Sep 1970 - Feb 1974
---
Photos and Documents
---
NATO MATCHMAKER SQUADRON
18 Jan 1965 - 14 Jul 1965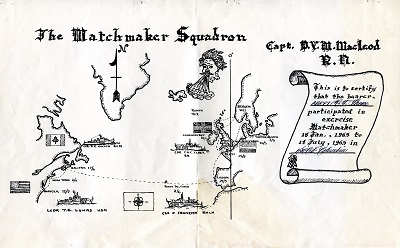 MM01
(MM01) Matchmaker Squadron Certificate
The Matchmaker Squadron entering Ponta Delgada, Azores
L-R: HMCS COLUMBIA 260, HNLMS OVERIJSSEL D815, USS HAMMERBERG 1015 and HMS LEANDER F109
(MM06) The NATO emblem on the funnel of HMCS COLUMBIA 260 with USS RICHARD E. KRAUS 849 in the background during EX POLESTAR
(MM07) Newspaper article on Matchmaker 1965
(MM08) Matchmaker Squadron ship's jackets. The jackets were given to all members of HMCS COLUMBIA. Note the Maple Leaf on the Canadian flag. "This was shortly after we had just raised the new Canadian flag on Feb 15, 1965 and apparently the company making the jackets did not know what a "maple leaf" looked like."
(MM09-MM10) On the morning of 12 Jun 1965, HMCS COLUMBIA encountered the sailing vessel "Tinkerbelle". "I (ABRP Bob Thome) was reporting contacts that particular morning and this small unknown motionless contact kept popping up on my screen so, as we were the closest, we left our position in the convoy to check it out." Documents MM09 and MM10 are excerpts from the book "Tinkerbelle - The story of the smallest boat ever to cross the Atlantic nonstop" by Robert Manry on Tinkerbelle's encounter with HMCS COLUMBIA
Courtesy of Robert (Bob) Thome, AB.RP1, RCN, ret'd
---
---
Committal at sea for the Last Tot onboard HMCS COLUMBIA on 30 Mar 1972
(TM01) Honour guard for the Last Tot formed up on the quarter deck of HMCS COLUMBIA (TM02-TM03) Pallbearers carrying the casket of the Last Tot (TM04) The casket is placed on the committal board - the Ensign is at half-mast (TM05) The casket is ready for committal to the sea (TM06) The ship's CO, Cdr Eric Makin, reads the eulogy (TM07) The CO awards the Tot a service medal - posthumously (TM08) The CO places the medal on the casket (TM09) The Last Tot is committed to the deep (TM10) A moment of silence (TM11) The Cox'n reads a final tribute to the Tot and Splices the Mainbrace (TM12) The XO leads the men in prayer for the loss of the Tot
Courtesy of Tony Morgan
---
HMCS COLUMBIA 260
Public relations photos
From the collection of Nigel Whiteley, LCdr, RCN, ret'd
DND/RCN photos
---
Sinking of the former HMCS COLUMBIA as an artificial reef off Maude Island, Campbell River, BC
Source: Artificial Reef Society of British Columbia
---