In memory of those who have Crossed the Bar
Andrew Lloyd Mack

Chief Petty Officer First Class Marine Engineer

RCN / C.A.F. (Navy)

Born: 26 Sep 1936, Carberry, Manitoba

Died: 16 Mar 2023, Victoria, British Columbia
MACK, Andrew Lloyd - age 86, of Victoria, BC, passed away unexpectedly on March 16, 2023. Lloyd was born, the oldest of five children to Norman and Thelma Mack, September 26, 1936 in Carberry Manitoba.
Lloyd worked various jobs in his youth including the construction of the Trans Canada Highway. He then enrolled as an engineer in the Royal Canadian Navy, January 7, 1957. After 36 years of service, primarily on the west coast, Lloyd retired in 1992 as a Chief Petty Officer 1st Class.
Lloyd and Elaine were married in 1963 in Sidney, Manitoba and settled in Victoria, BC where they raised their family. Lloyd and Elaine were making plans for their upcoming 60th wedding anniversary in May.
Lloyd is survived by his wife Elaine Mack, children, Aleda (Nick) Richards, Teresa Mack, Warren (Georgia) Mack, Karla (Gowan) Armstrong and granddaughters, Breanna Richards (Jacob Joyce), Shayna Richards, Kailen Armstrong, Kara Richards, Makenna Armstrong, Anika Armstrong, Katelyn Mack, and Ashley Mack. He will also be lovingly remembered by his siblings Muriel (Don) McIntosh, Donna Graham (predeceased Keith Graham), Bob (Angela) Mack and sister-in-law Cathy Mack (predeceased George Mack) and many nieces and nephews.
Lloyd enjoyed a long and happy retirement. He especially enjoyed spending time with his granddaughters and being outdoors either camping, gardening or helping his family on their farms in Manitoba.
An Open House Reception will be held April 2, 2023 starting at 2pm. Please contact Karla Armstrong at 250-329-8128 for details. A future service in Carberry, Manitoba will be announced at a later date.
In lieu of flowers, donations can be made to the Royal Canadian Legion #91 (Poppy Fund) or the War Amps of Canada. (The Victoria Times Colonist 25 Mar 2023)
Ships served in:
HMCS CHIPPAWA - Enlisted 03 Jan 1957
HMCS CORNWALLIS - Jan 1957 - May 1957
HMCS NADEN - May 1957 - Jun 1957
HMCS ONTARIO - Jun 1957 - Jan 1958
HMCS NADEN - Jan 1958 - Apr 1958
HMCS ATHABASKAN - Apr 1958 - Mar 1959
HMCS SAGUENAY - Mar 1959 - May 1960
HMCS NADEN - May 1960 - Jul 1960
HMCS SAGUENAY - Jul 1960 - Jan 1961
HMCS NADEN - Jan 1961 - Jul 1961
HMCS JAMES BAY - Jul 1961 - Aug 1962
HMCS HOCHELAGA - Aug 1962 - Oct 1962
HMCS MACKENZIE - Oct 1962 - Oct 1964
HMCS NADEN - Oct 1964 - Apr 1966
HMCS ORIOLE - Apr 1966 - Oct 1968
CFFS ESQUIMALT - Oct 1968 - Apr 1969
HMCS GRILSE - Apr 1969 - Oct 1969
CFB ESQUIMALT - Oct 1969 - Apr 1970
HMCS CHAUDIERE - Apr 1970 - Feb 1972
HMCS QU'APPELLE - Feb 1972 - Mar 1973
HMCS KOOTENAY - Mar 1973 - Jan 1974
NBCD SCHOOL - Jan 1974 - Jan 1976
HMCS TERRA NOVA - Jan 1976 - Apr 1980
SHIP REPAIR UNIT (Pacific) - Apr 1980 - Feb 1982
CFFS ESQUIMALT - Feb 1982 - Mar 1983
HMCS YUKON - Mar 1983 - Sep 1983
HMCS MIRAMICHI - Sep 1983 - May 1984
HMCS MACKENZIE - May 1984 - Jan 1986
FLEET DIVING UNIT (Pacific) - Jan 1986 - Jul 1989
TRAINPAC HQ - Jul 1989 - Nov 1991
(Left) OS Mack at HMCS CORNWALLIS (Right) CPO1 Mack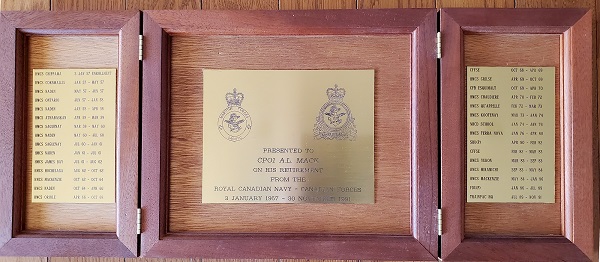 Retirement plaque presented to CPO1 Andrew Mack
---