They made the Ultimate Sacrifice
George Frank Adam

Mechanician 1st Class, 21348, RCN

Born: 06 Jun 1912, Regina, Saskatchewan

Died: 18 Mar 1945, Cap Finistère, Bay of Biscay, France

Book of Remembrance
ADAM, George Frank, Mech. 1c, 21348, RCN, killed - 18 Mar 1945, HMCS GUYSBOROUGH - Son of James Adam and Laura Mabel Davey; husband of Hilda Claire Neville; father of Lauren Ann, Kathleen Goldie and George Michael James Adam. Mechanician George Adam had 2,017 days of service, including 973 overseas. The province of Saskatchewan named Adam Lake in his honour, located at 56°26'N/105°19'W.
Mechanician George Adam died when his ship, HMCS GUYSBOROUGH, was torpedoed and sunk by U-868 in the Bay of Biscay with the loss of 53 of her crew. His body was recovered and buried in the Bilbao British Cemetery, Spain.
Awards and Decorations: Coronation Medal, Canadian Service Medal and Clasp, 1939-1943 Star, 1939-1945 Star, Atlantic Star, War Medal 1939-1945.
Ships served in:
HMCS NADEN - Enlisted 01 Sep 1933 as a Sto 2c, RCN
HMCS SKEENA - Served in SKEENA 23 Nov 1933 - 21 Jun 1935 as a Sto 2c and Sto 1c, RCN. Rated Sto 1c 01 Aug 1934
HMS DANAE - Served in DANAE 06 Jul 1935 - 16 Aug 1935 as a Sto 1c, RCN
HMCS SKEENA - Served in SKEENA 19 Aug 1935 - 12 May 1936 as a Sto 1c
HMCS FRASER - Served in FRASER 23 Nov 1937 - 25 Apr 1938 as a Sto 1c, RCN
HMCS OTTAWA - Served in OTTAWA 17 Jan 1939 - 15 Jun 1940 as a A/L/Sto, L/Sto and A/Sto PO, RCN. Rated L/Sto 01 Nov 1939. Rated A/Sto PO 15 Jun 1940
HMCS BELLECHASSE - Served in BELLECHASSE 13 Dec 1941 - 16 Dec 1941 as a Sto PO, RCN
HMCS SARNIA - Served in SARNIA 14 Aug 1942 - 21 Apr 1943 as a Mech. 2c and Mech 1c, RCN. Rated Mech 1c 17 Dec 1942
HMCS TECUMSEH - Served in TECUMSEH 19 May 1943 - 01 Jun 1944 as a Mech 1c, RCN
HMCS GUYSBOROUGH - Drafted to GUYSBOROUGH 31 Dec 1944 as a Mech 1c, RCN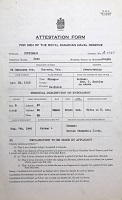 Documents from the Service File of George Adam
---
Second World War Casualty Index