In memory of those who have Crossed the Bar
Beverley Gerald Campbell

Chief Petty Officer 2nd Class Cook, 28656-E

RCN / C.A.F. (Navy)

Born: 01 Aug 1936 Died: 26 May 203
CAMPBELL, Beverley Gerald - Bev passed away peacefully at home May 26 2023. He leaves his loving wife of 62 years Helen, son Keith (Jan), daughter Karen, grandchildren Bryan, Colleen, Sam and Caitlyn (Chad), great-granddaughters Nadine and Colbie, brother Don (Doris) and many nieces and nephews.
Bev served in the Royal Canadian Navy as a cook for 35 years, retiring as CPO 2nd class. His first ship 1954 was the HMCS Cayuga and his last ship was the HMCS Provider. His last posting ended in 1989 at Royal Roads. After retirement from the Navy, Bev spent 10 years cooking for the residents at North Park Manor.
On retirement, Bev and Helen enjoyed traveling to Hawaii, Costa Rica, Cuba, Greece, Turkey, Czech Republic, Austria, Hungary, Russia, cruising Alaska and Eastern Canada including the Maritimes. They ended their travels on the Rocky Mountaineer.
Bev (sometimes known as Haggis) loved his family and home. Gardening was his passion, but he was happiest with his golden retriever Abby at his side. He had a great sense of humour, was optimistic, kind and generous.
Bev loved watching hockey. Being a faithful fan of the Vancouver Canucks, he patiently waited for a Stanley Cup win each year.
Bev grew up in Glen Valley on a dairy farm with five other siblings. He lost both parents at an early age and his stepmother raised him until he joined the Navy.
Many thanks to the Veteranís Lodge where he enjoyed the day program with wonderful staff, fellow Veterans and the best ever soup at lunch.
No service by request. Family gathering will be held at a later date. (McCall Gardens Funeral and Cremation Service)
Ships served in:
HMCS NADEN - 4 Drafts
ROYAL ROADS - 2 drafts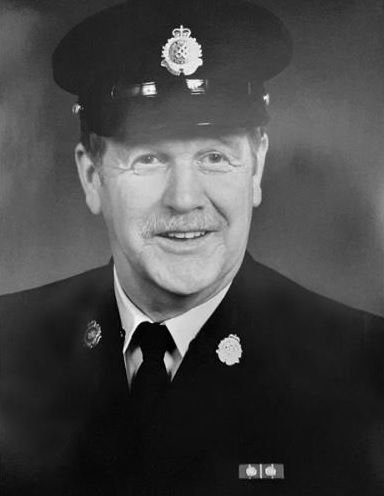 ---