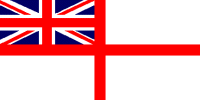 For Posterity's Sake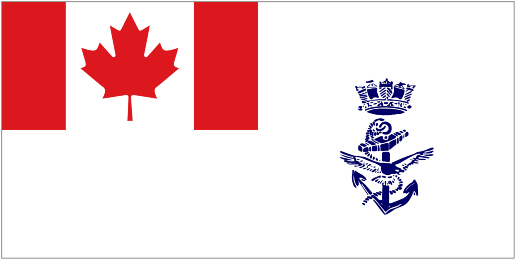 A Royal Canadian Navy Historical Project
HMCS MAHONE J159 / 192
Unofficial wartime gunshield badge circa 1942/43

HMCS Mahone J159

From the collection of Les Fontaine

Click on the above photo to view a larger image

Unofficial wartime gunshield

badge circa 1944/45
Laid down: 13 Aug 1940

Launched: 14 Nov 1940

Commissioned: 29 Sep 1941

Paid off: 06 Nov 1945

Re-acquired by RCN: 1951

Transferred to the Turkish Navy: 29 Mar 1958

Paid off: 1972

Fate: Unknown
Commissioned at Vancouver on 29 Sep 1941, she left Esquimalt on 11 Nov 1941 for Halifax, when upon her arrival on 17 Dec 1941, she was assigned to WLEF. Between May 1942 and Jan 1943, she served with Halifax Force, then underwent a major refit at Liverpool, N.S., from 19 Jan to 03 Apr 1943. She was then transferred to Gaspé Force because of U-boat activity in the St. Lawrence, but returned to Halifax Force in Nov 1943, and soon afterward went to Sydney Force. On 28 Jan 1944, she was rammed by SS Fort Townshend off Louisbourg, N.S., and after temporary repairs was sent to Halifax for further repair work which lasted 4 months. Early in Jul 1945 she proceeded to Bermuda to work up, returning to Halifax a month later. Mahone was paid off at Halifax on 06 Nov 1945, and laid up at Shelburne. In 1946 she was placed in strategic reserve at Sorel until 1951, when she was re-acquired by the RCN, which kept her in reserve at Sydney until 29 Mar 1958. That day marked her transfer to the Turkish Navy as Beylerbeyi, and she remained in service until discarded in 1972.
Photos and Documents Ship's company photos The Ship's Bell
Commanding Officers

Lt D.M. Stewart, RCNR - 29 Sep 1941 - 03 Dec 1942

Lt William James Gilmore, RCNVR - 04 Dec 1942 - 09 Jan 1944

Lt William Turner, RCNR - 10 Jan 1944 - 28 Mar 1944

Lt Lyle Robert Hoar, RCNVR - 05 Jun 1944 - 25 Mar 1945

Lt Norman Russell Chappell, RCNVR - 26 Mar 1945 - 20 Aug 1945
Captain for the day

Captain for the day is a tradition in the RCN where during the ship's Christmas celebrations, the Commanding Officer changes places with the youngest member of the ship's company.

James E. (Jim) Houston, RCNVR - Dec 1943
In memory of those who made the ultimate sacrifice

Lest We Forget

BOYD, Harold Kelly

L/Stores Ass't, V37248, RCNVR

died - 09 Oct 1945

DURON, Cyril

Cook (S), V13735, RCNVR

died - 28 Jan 1944

MOONEY, John Lawrence

Cook (S), V30149, RCNVR

died - 17 Aug 1942

VAN OOYEN, Dirk

Stwd, V8608, RCNVR

MPK - 28 Jan 1944

VARNEY, Douglas Charles

ERA, V40240, RCNVR

MPK - 28 Jan 1944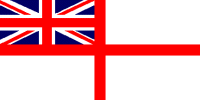 In memory of those who have crossed the bar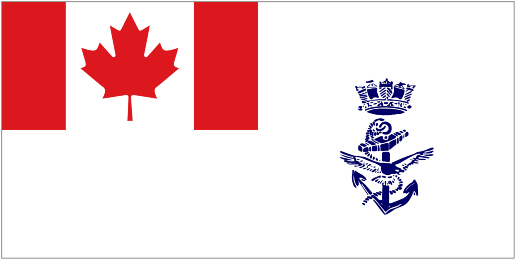 They shall not be forgotten
A-B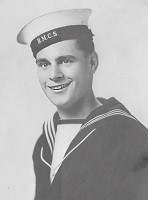 1923-1997
Served in Mahone 30 Oct 1941 - 23 Mar 1943 as Sto 1c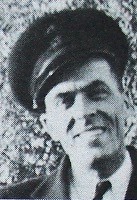 Baceda, Frank J.
____-____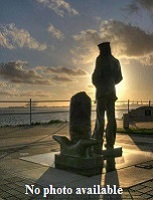 Basil, Jim
____-____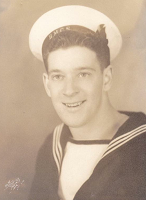 1920-2005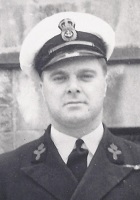 1914-1988
Served n Mahone 10 Jul 42 - 02 Aug 1942 as a S.P.O., RCNVR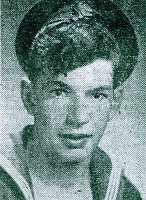 C-D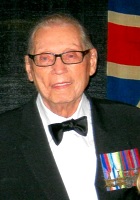 1922-2019
E-F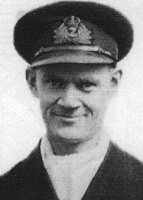 1913-1993
Served in Mahone in 1942 as XO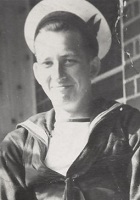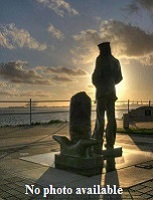 Forbes, R. Burnett
G-H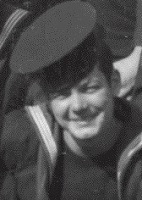 1925-2005
K-N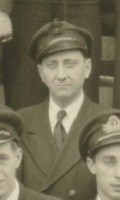 Kofsky, Jack
____-____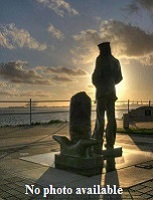 ____-2002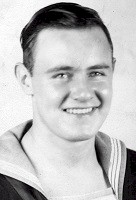 ____-1984
O-P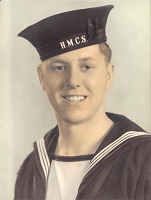 ____-2006
S-T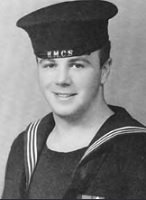 1922-2000
Served in Mahone during WW2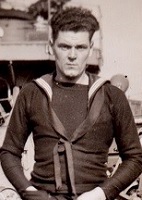 1920-2012
Served in Mahone during WW2
U-Z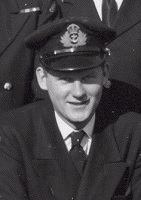 ____-1994
Former Crew Members

Aikenhead, Alex - 1942

Anderson, Swede, Stoker - 1942

Angus, George A., Lt - Oct 1945 - Dec 1945

Arnst, Henry (Hank), Sto - 1943

Baird, A. Kenneth

Beatty, Lawrence Campbell, A/Lt, RCNVR - 05 Feb 1945

Boycd - 1943

Brown, Albert Whitworth, Slt, RCNVR - 25 Apr 1942

Brown, Clifford Francis, Slt, RCNVR - 22 Mar 1943

Buntoh

Coray, Frank, Stoker - 1942

Cooke, Doc

Crilly, John James, Slt, RCNVR - 25 May 1945

Cunningham, Frederick Alexander, Slt, RCNVR - 21 Jun 1942

Daly, William Patrick, Slt (E), RCNVR - 14 Feb 1944

Dobing, Fred, LTO - Apr 1942 - Mar 1943 / Jul 1945 - Sep 1945

Duquette, J.O. (Pat), AB - 10 Dec 1943 - 02 Apr 1944

Etherington, Mark Philip, Lt, RCNVR - 29 Jan 1945

Fandry - 1943

Franklin - 1943

Gardner, Donald Hambidge, A/Lt, RCNVR - 01 Jun 1945

Gibson, William Simpson, Slt (E), RCNVR - 23 Apr 1943

Gilmore, William James, Lt, RCNVR - Jan 1943

Hagglund, Ralph, Sto 1 - Oct 1941 - Dec 1941

Harley, John Edmund, Slt (E), RCNVR - 16 Jul 1942

Heath, Kenneth David, Lt, RCNVR - 01 Jun 1942

Hepburn, Bernard Rickart, Slt, RCNVR - 23 Jun 1942

Hill, Alexander Minett, Slt, RCNVR - 08 Feb 1945

Holmes, Harry - 1944

Irwin, Patrick Hamilton, Slt, RCNVR - 21 Feb 1944

Laplante, Sto - 1943

Lavigne, French

MacPherson, Ken, Tel (S.O.) - in transit Jun 1945

May, Gus - 1943

McLaren, William (Bill), PO, ERA - 1944

Moore, Hank - 1943

Neilson, Robert, A/Wt (E), RCNVR - 25 Jun 1943

Passmore - 1943

Pitkethly, Doug, Stoker - 1942

Roberts, George A. (Bunny), Sig - 1941 - 1942

Ross, Duncan Boston, Lt (E), RCNVR - 07 Apr 1942

Simpson, Randy - 1944

Slater, Herbert Ronald, Slt, RCNVR - 02 Jun 1944

Sloboda, Mike

Stevenson, W., AB ST - 28 Apr 1941 - 20 Apr 1942

Van Luven

Waites

Walker, Dale, Tel - 1943 - 1944

Watson, Willie, Stoker - 1942

Williams

Young, Earle - 1944
Photos and Documents
"Fighting the Battle of the Atlantic - HMCS Mahone 1942"

Fred Dobing sitting on a depth charge on HMCS Mahone

From the collection of Sid Dobing

Courtesy of Brian Dobing

Fred Dobing in Halifax - 1942

From the collection of Sid Dobing

Courtesy of Brian Dobing

HMCS Mahone J169

From the collection of Eric Baird

Courtesy of Roger Clarke

Newspaper article "Frank Baceda Talks to Children About Life on a Minesweeper"

Courtesy of Anne Gafiuk

(DL01) Don Lane and unknown shipmate from HMCS Mahone (DL02) Don Lane and Gus May, HMCS Mahone (DL03) HMCS Mahone shipmates, 1943 - Don Lane (front 1st on right), Gus May (rear, 1st on right) (DL04) HMCS Mahone shipmates ashore, 1944 - (L-R) Randy Simpson, Earle Young, Bill McLaren, Don Lane, Harry Holmes (DL05) Don Lane and North, HMCS Mahone (6) Van Luven, Moore, Buntoh, Williams, Waites during boiler cleaning, HMCS Mahone (DL07) Doc Cooke, Don Lane, and Frenchy Lavigne, HMCS Mahone (DL08) Don Lane and unknown shipmate, HMCS Mahone

(DL09) Glen Atkinson, HMCS Mahone (DL10) Lane, Young and North, HMCS Mahone (DL11) Moore, Lane and French, HMCS Mahone (DL12) Rick Price??, HMCS Mahone

From the collection of Don Lane

Courtesy of Harold Wright

(AA01) HMCS Mahone circa 1942/43. RCN Photo (AA02) Gunshield art on HMCS Mahone circa 1942/43 (AA03) HMCS Mahone circa 1942/43 (AA04) "Hard-a-Port!!" - HMCS Mahone leans to Starboard as the vessel goes hard-a-port. circa 1943/43. Note the minesweeping gear on the extreme right and left of the photo (AA05) Re-loading a depth charge at sea - HMCS Mahone circa 1942/43 (AA06) Stokers Willie Watson and Frank Coray in the Boiler Room of HMCS Mahone, 1942 (AA07) Stokers Doug Pitkethly, Willie Watson and Frank Coray in the Boiler Room of HMCS Mahone, 1942 (AA08) Stokers Doug Pitkethly and Swede Anderson in the Boiler Room of HMCS Mahone, 1942

(AA09) Mike Sloboda waiting for leave to commence, HMCS Mahone, circa 1941-42 (AA10) Mike Sloboda ready for action stations, HMCS Mahone, circa 1941-42 (AA11) Depth charge practice, HMCS Mahone, Circa 1942 - On back of photo "Ring left by depth charge - a moment later it geysered up forty feet in the air" (AA12) HMCS Mahone - Spring 1943 - ready to depart on shore leave. L-R: Stoker Laplante, Fandry, Boyce, Hank Moore, Passmore, Henry (Hank) Arnst (AA13) At sea on HMCS Mahone - circa 1942-43. Franklin (first name not know), Mike Sloboda & Hank Arnst (AA14) Petty Officer: ERA William (Bill) McLaren on HMCS Mahone (AA15) Gun practice on HMCS Mahone, Spring, 1943. 4-inch shell on the loading tray. Photo taken from the ammunition hatch. The hatch combing is visible as the bottom of the photo (AA16) Gun practice on HMCS Mahone, Spring, 1943. 4-inch shell being rammed home by hand. Photo taken from the ammunition hatch. The hatch combing is visible as the bottom of the photo

From the collection of Albert Abercrombie

Courtesy of Bill Abercrombie

(LF01 - LF02) Les Fontaine on HMCS Mahone (LF03) HMCS Mahone iced-up (LF04) Sailors on the sweep-deck of HMCS Mahone. Note the ice field in the background that they just finished transiting. (LF05) Comm rates on HMCS Mahone (LF06) Les Fontaine (left, sitting of paravane) and shipmates on HMCS Mahone (LF07) SPLICE THE MAINBRACE!! Les Fontaine on V.E. Day on HMCS Mahone at sea. (LF08) SPLICE THE MAINBRACE!! VE day at sea on HMCS Mahone. Les Fontaine, centre, facing camera with cigar and drink and no cap.

From the collection of Les Fontaine

Source: Crestwood School - interview with Les Fontaine

HMCS Mahone J159 outboard of HMCS Royalmount K677, St. John's, Newfoundland - date unknown

From the collection of Robert David Masters

Courtesy of Cathy Masters

(left to right) - HMCS Royalmount K677, unknown corvette, HMCS Mahone J159, unknown tug at St. John's, Newfoundland - date unknown

From the collection of Robert David Masters

Courtesy of Cathy Masters

Sailors relaxing on the upper decks on HMCS Mahone J159 - photo looking aft

From the collection of Richard (Dick) Price

Courtesy of Dan Clermont

Two unknown sailors on HMCS Mahone J159

From the collection of Richard (Dick) Price

Courtesy of Dan Clermont

Unknown sailors on HMCS Mahone J159

From the collection of Richard (Dick) Price

Courtesy of Dan Clermont

Richard Price (left) and unknown shipmates on HMCS Mahone J159

From the collection of Richard (Dick) Price

Courtesy of Dan Clermont

Richard (Dick) Price (Back row, left) and unknown shipmates on HMCS Mahone J159

From the collection of Richard (Dick) Price

Courtesy of Dan Clermont

Richard Price (left) and unknown shipmates on HMCS Mahone J159

From the collection of Richard (Dick) Price

Courtesy of Dan Clermont

Richard (Dick) Price (back row, right) and unknown shipmates on HMCS Mahone J159

From the collection of Richard (Dick) Price

Courtesy of Dan Clermont

Unknown sailors on HMCS Mahone J159

From the collection of Richard (Dick) Price

Courtesy of Dan Clermont

Inside the bridge of HMCS Mahone J159

From the collection of Richard (Dick) Price

Courtesy of Dan Clermont

Unknown sailors on HMCS Mahone J159 and the jetty

From the collection of Richard (Dick) Price

Courtesy of Dan Clermont

Unknown sailors on HMCS Mahone J159

From the collection of Richard (Dick) Price

Courtesy of Dan Clermont

Richard (Dick) Price on HMCS Mahone J159

From the collection of Richard (Dick) Price

Courtesy of Dan Clermont

Two unknown sailors from HMCS Mahone J159 in front of a building at the Navy League Training Base / Royal Canadian Sea Cadets Nelson (Northwest Arm, Halifax)

From the collection of Richard (Dick) Price

Courtesy of Dan Clermont

Two unknown sailors from HMCS Mahone J159, Northwest Arm, Halifax

Note the Dingle Memorial Tower in the background

From the collection of Richard (Dick) Price

Courtesy of Dan Clermont

Two unknown sailors from HMCS Mahone J159, Northwest Arm, Halifax

From the collection of Richard (Dick) Price

Courtesy of Dan Clermont

Two unknown sailors from HMCS Mahone J159, Northwest Arm, Halifax

From the collection of Richard (Dick) Price

Courtesy of Dan Clermont

Two unknown sailors on duty on HMCS Mahone J159

From the collection of Richard (Dick) Price

Courtesy of Dan Clermont

Unknown sailor on duty on HMCS Mahone J159

From the collection of Richard (Dick) Price

Courtesy of Dan Clermont

Richard (Dick) Price (centre) and unknown shipmates

From the collection of Richard (Dick) Price

Courtesy of Dan Clermont

Unknown sailor as duty Quartermaster on HMCS Mahone J159

From the collection of Richard (Dick) Price

Courtesy of Dan Clermont

Richard (Dick) Price (left) and two shipmates on HMCS Mahone J159

From the collection of Richard (Dick) Price

Courtesy of Dan Clermont

Unknown sailors on HMCS Mahone J159

(by the looks of the photo they are in warmer waters)

From the collection of Richard (Dick) Price

Courtesy of Dan Clermont

Unknown sailors sleeping on the upper deck of HMCS Mahone J159 - circa 1942

From the collection of Richard (Dick) Price

Courtesy of Dan Clermont

Richard (Dick) Price (left) and unknown shipmate (also a stoker) on HMCS Mahone J159

From the collection of Richard (Dick) Price

Courtesy of Dan Clermont

Unknown sailors on HMCS Mahone J159

From the collection of Richard (Dick) Price

Courtesy of Dan Clermont

---

Sailors from HMCS Mahone J159 lined up on the jetty

From the collection of Richard (Dick) Price

Courtesy of Dan Clermont

Richerd (Dick) Price (Centre) and unknown shipmates on HMCS Mahone J159

From the collection of Richard (Dick) Price

Courtesy of Dan Clermont

HMCS Mahone J159 with a wire trailing behind the ship (possibly towing a paravane) with unknown sweeper manoeuvring astern of her

From the collection of Richard (Dick) Price

Courtesy of Dan Clermont

Unknown aircraft carrier seen from HMCS Mahone J159

From the collection of Richard (Dick) Price

Courtesy of Dan Clermont

Richard (Dick) Price (Centre) and unknown shipmates

From the collection of Richard (Dick) Price

Courtesy of Dan Clermont

Unknown sailor on HMCS Mahone J159

From the collection of Richard (Dick) Price

Courtesy of Dan Clermont

A few sailors from HMCS Mahone J159 ashore - place unknown

From the collection of Richard (Dick) Price

Courtesy of Dan Clermont

HMCS Mahone J159 at anchor

From the collection of Richard (Dick) Price

Courtesy of Dan Clermont

Unknown sailor on HMCS Mahone J159

From the collection of Richard (Dick) Price

Courtesy of Dan Clermont

Stokers on HMCS Mahone J159

From the collection of Richard (Dick) Price

Courtesy of Dan Clermont

"Gone Fishing"

Unknown sailor from HMCS Mahone J159

From the collection of Richard (Dick) Price

Courtesy of Dan Clermont

Unknown sailors from HMCS Mahone J159 out to do a bit of fishing

From the collection of Richard (Dick) Price

Courtesy of Dan Clermont

Unknown sailors from HMCS Mahone J159

From the collection of Richard (Dick) Price

Courtesy of Dan Clermont

Unknown sailors from HMCS Mahone J159

From the collection of Richard (Dick) Price

Courtesy of Dan Clermont

Unknown sailor on HMCS Mahone J159

(Looks like its dhobey day)

From the collection of Richard (Dick) Price

Courtesy of Dan Clermont

HMCS Mahone J159 iced up in the North Atlantic

From the collection of Richard (Dick) Price

Courtesy of Dan Clermont

Ship's seen from HMCS Mahone J159

From the collection of Richard (Dick) Price

Courtesy of Dan Clermont

Webmaster's note: The third ship from the right appears to have the pendant number I83 which is HMS Broke - since HMCS Broke was sunk on 10 Nov 1942, this photo predates that and the ship with pendant number H99 would be HMS Hero - renamed HMCS Chaudiere H99 on 15 Nov 1943. The pendant number for the ship across the harbour (far left of photo) look like I04 which would be HMCS Annapolis.

Unknown sailor on HMCS Mahone J159

From the collection of Richard (Dick) Price

Courtesy of Dan Clermont

Unknown sailors on HMCS Mahone J159

From the collection of Richard (Dick) Price

Courtesy of Dan Clermont

Richard (Dick) Price with the ship's badge for HMCS Mahone circa 1944-45

From the collection of Richard (Dick) Price

Courtesy of Dan Clermont

Richard (Dick) Price on HMCS Mahone J159 - circa 1944-45

From the collection of Richard (Dick) Price

Courtesy of Dan Clermont

Richard (Dick) Price (standing, right) and unknown shipmates on HMCS Mahone J159

From the collection of Richard (Dick) Price

Courtesy of Dan Clermont

Richard (Dick) Price (right) with unknown shipmate

From the collection of Richard (Dick) Price

Courtesy of Dan Clermont

Stanley Baxter on HMCS Mahone J159, Sydney, NS

From the collection of Stanley Baxter

Courtesy of Darlene Baxter

HMCS Mahone J159 at Sydney, NS circa Jun-Jul 1945

From the collection of Marcel Chasse

Courtesy of Robert Chasse