In memory of those who have Crossed the Bar
Robert (Bob) Steeb

Chief Petty Officer 1st Class Engine Room Artificer, C.A.F. (Navy)

Lieutenant (Navy), C.A.F. (Navy)

Born: 21 Nov 1958, Kitchener, Ontario

Died: 18 Sep 2022, Williams Lake, British Columbia
STEEB, Robert (Bob) - It is with great sadness that the family of Robert (Bob) Steeb announce his passing on Sunday September 18, 2022 at the age of 63, after a courageous battle with lung cancer.
Bob is remembered by his wife of 40 years Brenda, his daughter, Jacquelyn (Daniel), his granddaughter, Skyler, his brother, Richard (Charlene) many Aunts, Uncles, and cousins. Bob was predeceased by his parents, Arthur and Tiiu.
Bob was born in 21 November 1958 in Kitchener, Ontario and at the age of 17 began his 29 years career with the Royal Canadian Navy. The majority of his career was spent on the East Coast.
Bob rose through the ranks quickly and throughout his career he attained various positions including CERA in HMCS Fredericton and Coxswain in HMCS Toronto. He also served in Sea Training. He served in both Gulf Wars and countless NATO deployments. He took his Commission from the ranks in 2000 and retired from the Navy as a Lieutenant on 14 January 2005.
Bob then went on to work in the Public Service as a Gearing and Gas Turbine Inspector at HMC Dockyard Fleet Maintenance Facility until 2015 when he went on the be Senior Mechanical Technical Inspector at the Project Management Office for the Artic and Offshore Patrol Ships until he chose to fully retire in 2019.
Bob was an intelligent and knowledgeable man, who was well respected and recognized by everyone who he was privileged to work with during his military and civilian careers.
Post-retirement, Bob & Brenda re-located to Williams Lake, B.C. to be closer to their daughter & granddaughter and to take the opportunity to explore the West Coast of Canada. Bob could always be found tinkering in the garage, striving to make his lawn the envy of the neighborhood or adventuring through the "Enchanted Forest" with his granddaughter.
Throughout his 63 years Bob touched the lives of many and will be greatly missed by his family, friends and co-workers.
The family wishes to send a special thank you to the staff of Deni House for their care and compassion during Bob's final days.
A memorial will be held in Nova Scotia. Details will be released at a later date.
In lieu of flowers please consider a donation to your local SPCA.
"My flesh and my heart may fail, but God is the strength of my heart and my portion forever". Psalms 73:26
Ships served in:
HMCS TORONTO - Commissioning crew as a CPO2 CERA
HMCS FREDERICTON - Served in FREDERICTON as CPO2 CERA
HMCS TORONTO - Served in TORONTO as Cox'n.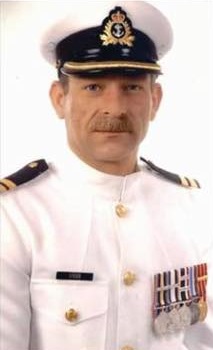 ---